By: Aaron Lai
April 7, 2017
As you may have known, my colleague Jonathan Kwan recently got a new cellphone plan, which launched him into the 2017 era of having an adequate amount of data. Moving from his paltry 200MB to a reasonable amount of 2GB has allowed him to do a few things. For one, he no longer freaks out about running out of data or asks others to search up things for him on the go. Secondly, as of April 3rd, he has Snapchat. I have had this application for quite a while; using it for random photos and things. While the original intention of Snapchat is for sending expiring photos of sometimes not-safe-for-work material, I just use it as a photo messenger. For the longest time, Jonathan would tease me for having this app, calling me a "teenage girl" for using it. I was undeterred by this, and I knew one day he would turn around. Some might say he joined late, and while he may have missed out on things, like not seeing those annoying news articles in your feed, the important part is that he has it. Similarly, when it comes to our review units, I think compact computers is one area where APH Networks has been late getting into. While we have done some mITX cases in the past, such as the Lian Li PC-Q07 from 2009, I never felt like we have given it the sufficient amount of attention it deserved. Fast forward to today, and I am now looking at all the compact computer enclosures I can get my hands on. While I might be catching up, the small builds are becoming more and more prevalent, making me wonder what else they can put into such a small box. Today we have another small enclosure in the SilverStone Milo ML09. Will it be another hit as we have seen from other mITX cases? Read on to find out!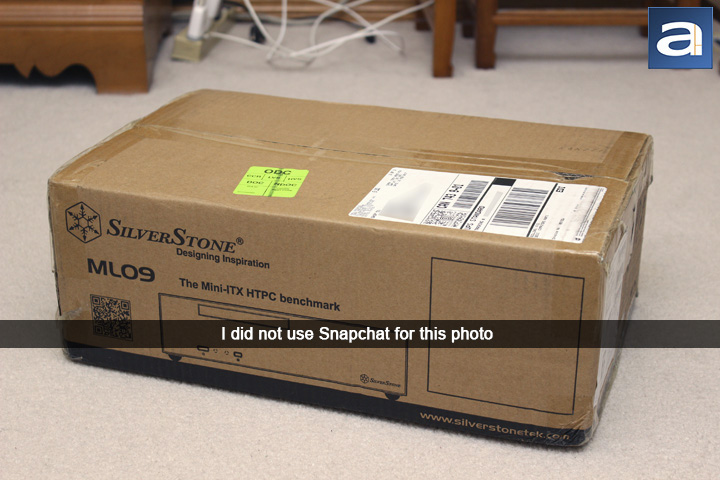 Today's review unit of the SilverStone Milo ML09 arrived via UPS Standard from SilverStone's offices in Chino, California. Otherwise, the box arrived in average condition, with a large bruise seen on one of the corners. Hopefully nothing is awry inside. Along with the mini ITX case, we also received some other SilverStone products, which have been and will be covered in the weeks to come. This includes two power supplies, and a much larger ATX case, the Redline RL06 Pro my colleague Ben covered. Otherwise, let us take a closer look at the contents of the box.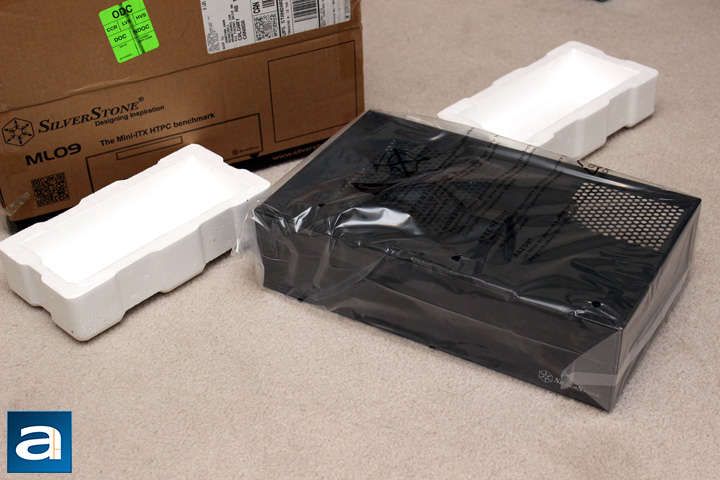 Slicing open the Silverstone Milo ML09 retail container, we have the Milo ML09 in black wrapped in a plastic bag and held with two foam brackets. These brackets took the brunt of the damage, as seen in a crushed corner, but thankfully the product inside is in good condition. The front panel, which is glossy, is also protected with a plastic wrap to prevent any surface smudges or scratches in transit.
Before moving onto the case itself, let us take a look at the specifications, as provided from SilverStone:
Model No.: SST-ML09B (black)
Material: Acrylic and plastic front panel, 0.8mm steel body
Motherboard: Mini-ITX, Mini-DTX
Drive bay: External - Slim optical 12.7mm or 9.5mm x 1 (9.5mm compatibility limited to tray type, replaceable with 3.5" HDD x 1, 2.5" HDD x 2,or 120mm fan x 1); Internal - 2.5" x 4
Cooling system: Side 2 x 80mm fan slot; Top: 1 x 120mm fan, 1500rpm, 18dBA
Expansion slot: 2
Front I/O port: USB 3.0 x 2, audio x 1, MIC x 1
Power supply: 1 x Optional standard SFX
Expansion card: Single or dual slot low profile up to 6.9" (175mm), width restriction-2.95" (74mm)
Limitation of CPU cooler: 37~70mm (variable based on use of multipurpose bracket)
Net weight: 2.07kg
Dimension: 350mm (W) x 99 mm (H) x 205 mm (D), 7 Liters, 350mm (W) x 109 mm (H) x 205 mm (D) (includes feet), 13.78" (W) x 3.9" (H) x 8.07" (D), Liters, 13.78" (W) x 4.29" (H) x 8.07" (D) (includes feet)
Extra: Support Kensington lock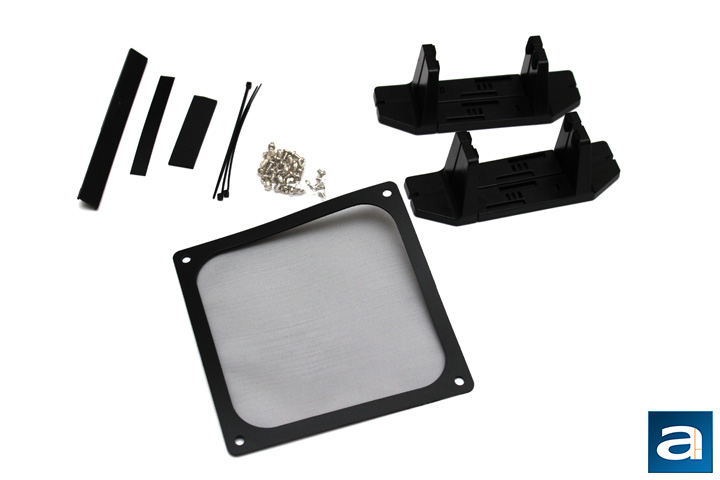 As for accessories included with the SilverStone Milo ML09 are a bag with all the screws, two vertical stands to help the Milo ML09 stand up vertically, plastic cover for the front slot loading drive, some spacers for internal components, three zip-ties for cabling, and finally a large fan filter for the top intake, as you will see soon enough. The fan filter is also magnetic, so it can stick to the side of the case. Not in the photo, but included with the case, are four rubber feet, which are intended to be stuck to the bottom of the Milo ML09. Interestingly enough, there actually was no manual included with my mini ITX case, and while it is not a necessity, it would have been nice in helping to identify some of these accessories. This will probably be included with your Milo ML09, and thankfully, the manual can also be found on SilverStone's website if you end up losing it.
---
Page Index
1. Introduction, Packaging, Specifications
2.
Physical Look - Outside
3.
Physical Look - Inside
4.
Installation and Conclusion