By: Aaron Lai
August 7, 2015
Last weekend was our annual church-wide summer camp, and it was a great time of hanging out with friends, and getting away from the city. Editor-in-Chief Jonathan Kwan mentioned in his SanDisk Ultra II review about some of his conference traditions, but there were some differences this time around. For example, none of us had a case of missing identity by swapping nametags, nor did we buy engine oil for the fun of it. On the other hand, the consumption of instant noodles was ever present. Even though I did not personally eat the noodles submerged in a solution of monosodium glutamate and yummy-ness, many others including Jonathan slurped the midnight snack down. However, if there was any year to eat these noodles, it was definitely this year. This year, our camp accommodations were at a premium, and they became unavailable within the first week of registration. Unfortunately, this meant some regulars did not attend, and others had to find alternative methods. One family who was part of this group ended up driving their recreational vehicle, and set up camp in a parking lot. On the last night of the camp, about thirty people went down to their place, where they set up their barbecue, roasted sausages, and prepared other condiments to go with the noodles. These small additions turned a simple snack like instant noodles into something much more lavish. As I have said before, there is ordinary in the extraordinary, and this was fully manifested, or noodle-fested, here. When we come to today's product of the SilverStone MS08, a similar story can be found. The product at hand is a relatively simple way to accommodate more drives in your system. It may look ordinary, but I can only wonder if there are possibly more hidden perks or additional features to turn this enclosure into something more. I guess we will find out as we dig deeper into the SilverStone MS08 today!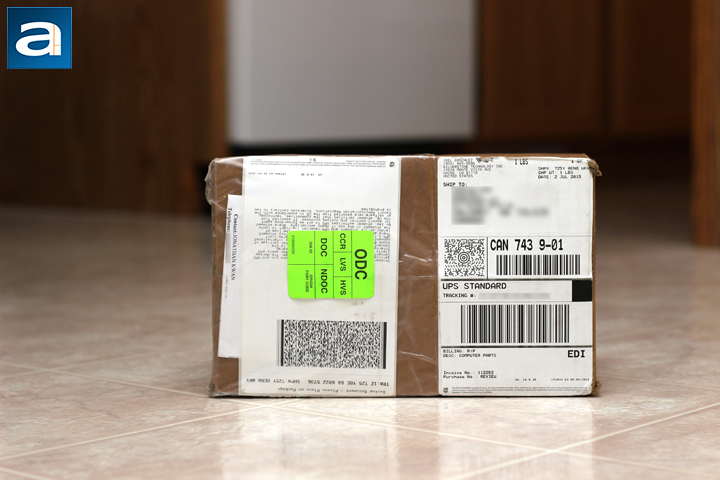 Today's review unit of the SilverStone MS08 arrived from SilverStone Technology's offices down in Chino, California. We have received many packages and review units from SilverStone, and majority of them were shipped from this origin. Bringing our unit almost twelve hundred miles north to our APH Networks location in Calgary, Alberta was the friendly people at UPS. Thankfully the corrugated cardboard box looks intact without any major scratches or dents to take note of. United Parcel Service is generally a good shipping company as they deliver products on time in satisfactory condition. Otherwise, there is not much else to note, so lets actually look at the product.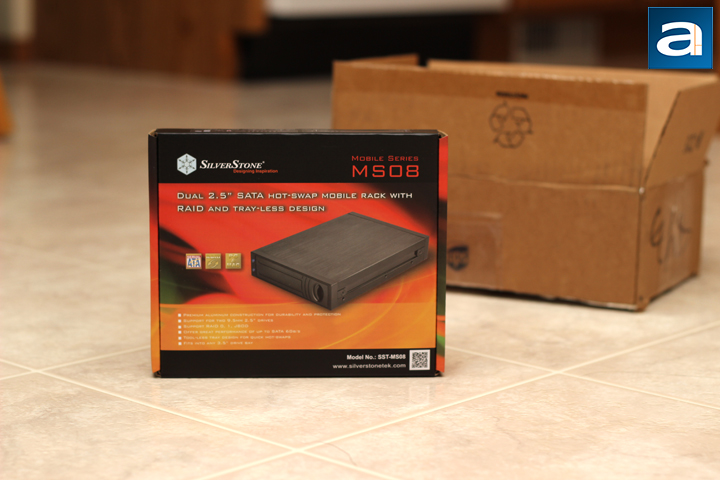 Inside the shipping container is the SilverStone MS08, wrapped in a bit of packing paper to avoid any scratches. The retail container of the MS08 is quite colorful, despite the product looking more utilitarian than aesthetically pleasing. The box holds an orange, red, and black design, with random flares on the background that look like flames. The front shows SilverStone's logo at the top left, with the product name on the right side. A long but comprehensible product description line is underneath. The product is shown, scaled down on the right side. Underneath, there are more specifications listed. Even more specifications are listed on the sides of the box, with other translations of these words on the back. On a side note, the back shows two solid state drives as an example for how to use this product, and it seems SilverStone has posed two OCZ drives for their sample photo.
Before we open this box, let us take a look at these features and specifications, as obtained from SilverStone's website:
Features
- Premium aluminum construction for durability and protection
- Supports for two 9.5mm 2.5" drives
- Supports RAID 0, 1 , JBOD
- Offer great performance of up to SATA 6Gb/s
- Tool-less tray design for quick hot-swaps
- Fits into any 3.5" drive bay
Specifications
- Model No.: SST-MS08B
- Enclosure material: Aluminum + Plastic
- Color: Black
- Power requirement: 5V via SATA 15pin power connector
- HDD size support: 2.5" SATA HDD / SSD
- HDD interface support: SATA I / II / III
- Minimum System Requirements: Windows XP, Vista, 7, 8, 8.1 (32-bit/64-bit), Mac OS 10.x, Linux
- Enclosure interface: SATA 6Gb/s
- RAID mode support: RAID 0, RAID 1, JBOD
- Net Weight: 194g±20g
- Dimension: 146mm (D) x 102mm (W) x 25.4mm (H)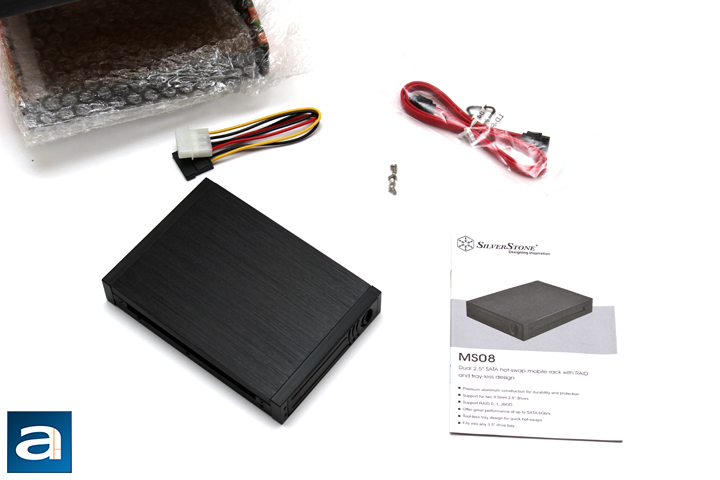 Inside the retail box is the SilverStone MS08, wrapped in some deflated bubble wrap. Sadly, as you may have heard in recent news, new bubble wrap will not be individual pockets of air, so they cannot be used for stress-relief anymore. But anyway, in addition to the hot-swap rack, there is one bag of four Phillips head screws for mounting the rack, 4-pin Molex to 15-pin SATA connector, and flat red SATA cable for connecting the rack to the motherboard. A small product manual is also included for basic user instructions. SilverStone packaging is not generally anything crazy, but it is always quite functional, and the simplicity of the MS08's packaging is good to see here.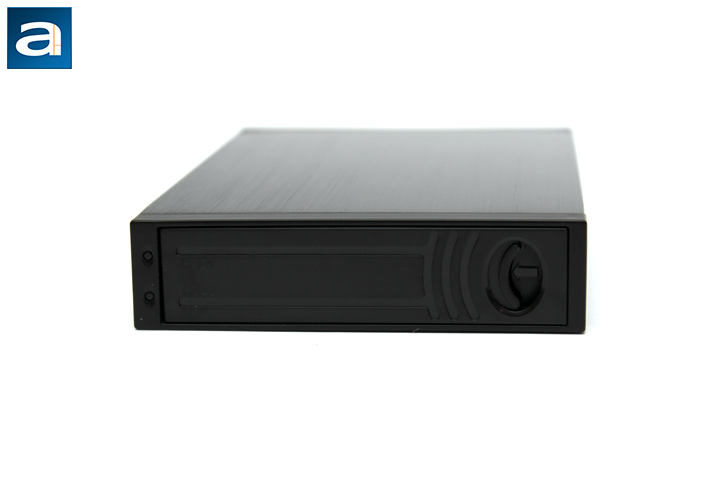 The product in question today is listed under the "MS" lineup, which refers to SilverStone's Mobile Series. This does not refer to anything about smartphones, but rather about external storage or swappable hard drive racks. To me, there really is nothing mobile about this, as it needs to be installed inside a desktop. However, its real function is to hold two 2.5" solid state drives in order to quickly move it from one desktop to another. I guess this alone makes it a bit more mobile. When we look at the MS08, there is nothing really crazy about the design or the implementation, but I have to say there is nothing wrong with it either. The materials used for the construction are primarily plastic for the front and back panels, and aluminum to enclose the possible two SSDs inside. Build quality is pretty solid, but there are a few things to note, and I will do so when I get to each part.
The front of the drive bay features a plastic swinging door, which opens via a push latch. The latch feels a tad cheap, but I am not too surprised at this. As it is made up of all plastic with some metal springs, I would expect nothing more. I would prefer some sort of locking mechanism as often seen with mobile racks, and unfortunately there is none here. Two LED lights are located on the far left side of the front, which are used to indicate activity. Of course, if this drive bay is inside your computer, you probably will not see it unless it mounts in a way the front panel is visible. However, I am still glad they have included it, as those who are looking to use this product will probably have a case with a front opening. In terms of front panel design, there are a few accented lines, which is filled in with a glossy plastic rather than a matte finish. Finally two small labels of "HDD1" and "HDD2" are written beside the lights. Overall the design is clean, but nothing stands out either.
As for mounting locations, there are several screw holes in various places, including the sides of the SilverStone MS08 and the bottom. This accommodates for the most common ways of mounting a 3.5" storage drive into a case. Whether mounting the drive onto a drive tray, or directly onto the case as we have seen in the Fractal Design Core 3300, SilverStone has allowed for either with the MS08.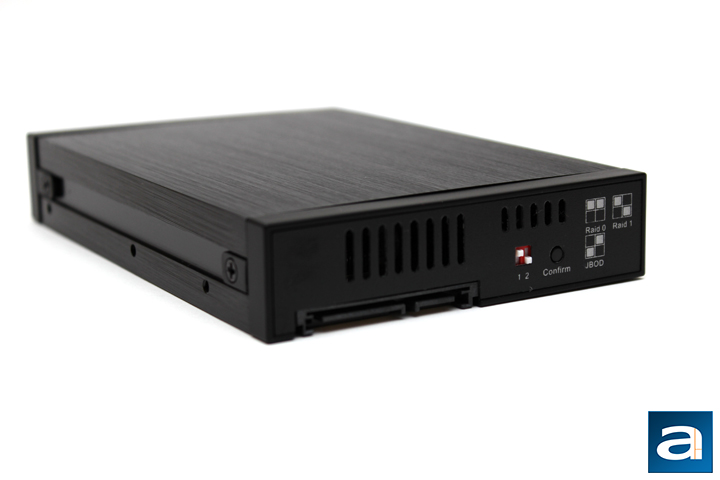 Flipping to the back we are greeted with the other plastic panel, with several things to look at. First, there is the fifteen pin SATA power connection next to the SATA data connector. The MS08 supports up to SATA 6Gb/s. Above the connections are some ventilated areas, which allow for some airflow into and out of the enclosure. However, as there is no opening at the back of the MS08, this is more of an exhaust when the 2.5" drives start heating up. Finally, there are two switches and a push button. These two switches allow users to change the way the data is stored into the given hard drives. Depending on the switch position, you can choose any of these three options: RAID 0, RAID 1, and JBOD. Thankfully, SilverStone has also labeled these positions on the back for reference's sake. Finally, the push button is required to confirm your selected option. SilverStone notes the MS08 must be powered in order to make changes, so be sure to provide some juice to the enclosure before making any adjustments.
The MS08, as listed in the specifications, supports drive configurations of RAID 0, RAID 1, and JBOD. For a quick reference, RAID 0 increases read and write speeds by taking the two drives and striping the data across both drives. Theoretically, with two identical drives, this should result in double the read and write performance, but real life performance may be slightly less. However, if one drive fails, all of the data will be lost. RAID 1, on the other hand, duplicates the data onto both drives. Read speed will increase, but you only get the capacity of one drive. The improvement here is reliability, as you can still access the data if one of the storage devices fail. Finally, JBOD means "Just a Bunch of Disks", and allows for individual access to each drive, or a single volume spanned across both drives without any RAID extras.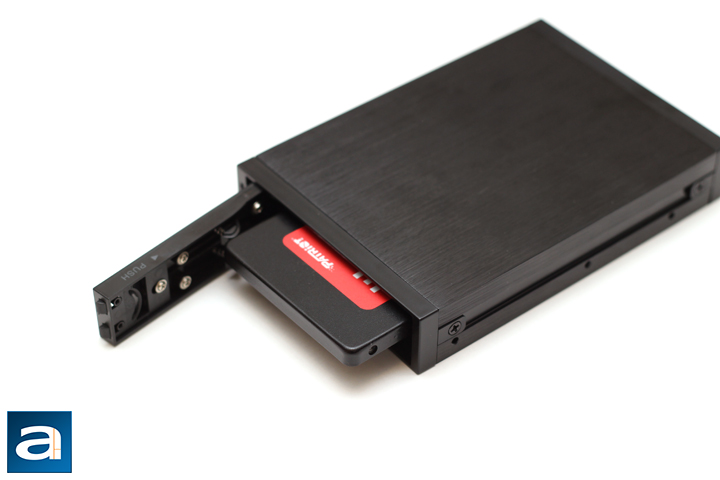 When I opened up the latch, a few more interesting things came to light. Firstly, on the back of the swinging plastic doors are two protruding plastic tabs, held forward by metal springs. These are intended to keep the drive pushed onto the SATA connectors inside the enclosure. Sliding in the Patriot Ignite, I immediately noticed a set of foam padding on the left side. This is intended to hold your choice of storage in place, while reducing any possible vibrations created between the drive and the enclosure. I should note I felt like the slots were a bit too big, as the 7mm thick Ignite had some wiggle room. I would prefer a more solid solution, but at least this keeps the rack tray-less with less moving parts. In addition, as the MS08 is purposed for 9.5mm in addition to 7mm 2.5" drives, it is only understandable they have to make more room to fit the thicker storage option. I then pushed the Patriot Ignite in all the way. Suddenly, I realized I did not know how to eject the drive. Luckily, SilverStone has labeled the swinging latch with a "Push" and an arrow, indicating users to push the door into the hinge. This activates a mechanism, which in turn pops both HDD 1 and 2 out of the slots. While this is quite an ingenious solution, it does bring up a few problems. For one, the mechanism is entirely made up of plastic, with the exception of some screws, and the tactile feedback of the pushing door feels somewhat cheap. This goes back to my wish for a full aluminum enclosure, rather than half plastic, half metal. Secondly, the only way to eject one drive is to eject both at a time. I would prefer for a way to eject one drive at a time. These might be small quips, but they still should be noted.
Plugging the drive into my system is just a matter of connecting the power and data SATA connectors, and then the drive functions as usual. All the drive configuration options work quite well, and act as you would expect from any normally attached drive. One thing to note is you will need to enable AHCI within your motherboard's BIOS if you have not done so already to utilize the hot swap feature. Otherwise, you will have to reboot your system every time to get your system to recognize a new drive.
-----------------------------------------
With the SilverStone MS08, this 3.5" drive bay comes with a lot more than expected. Starting from the appearances, this mobile rack is fully enclosed, unlike some other offerings from competition, which means it should be a bit more durable and able to protect the drive. In addition, it comes with a completely tray-less design for less fumbling around with extra parts, and faster hot swapping overall. LED activity lights are also a nice thing to see, especially when some other products do not even have this. Finally, this mobile rack has several drive configurations built in, including RAID support. While most mobile racks allow for RAID configuration, only a few like the MS08 actually implement it directly on the rack. On the other hand, there are a few things I would change about the MS08. For one, it would be good to see a few more ventilation holes, especially since drives can start to warm up during operation. While the aluminum choice for enclosure is appreciated, I would wish SilverStone used it for the entire product. Plastic is found here and while it is not necessarily flimsy, it makes a bit too much noise resulting in a less than substantial solution. I would also like to see their ejection implementation to allow users to remove one drive at a time, rather than both concurrently. Finally, seeing a lock on the drive cage would be nice, especially if this is to be used in an industry setting. When we look at the market, the SilverStone MS08 is priced quite competitively at a little under $40 USD. While there are cheaper options around, not many come with the full feature set we have found in the MS08. SilverStone continues to implement good products and accessories, and a little tweaking in the design department would make the MS08 an excellent buy.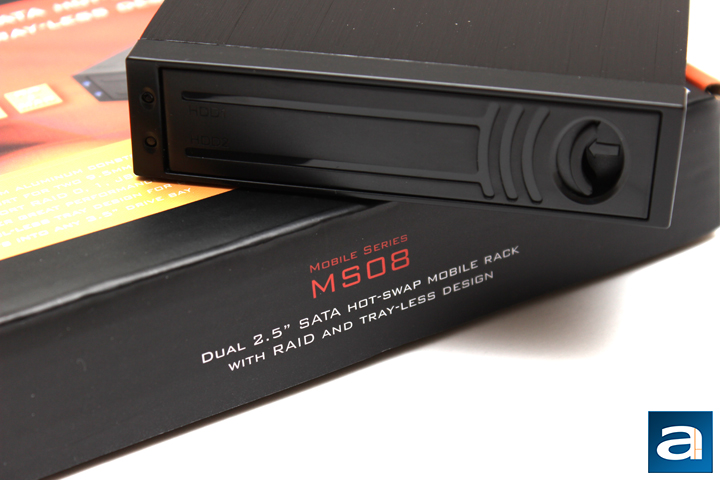 SilverStone provided this product to APH Networks for the purpose of evaluation.
APH Review Focus Summary:
7/10 means Great product with many advantages and certain insignificant drawbacks; but should be considered before purchasing.
6/10 means A product with its advantages, but drawbacks should not be ignored before purchasing.
-- Final APH Numeric Rating is 6.8/10
Please note that the APH Numeric Rating system is based off our proprietary guidelines in the Review Focus, and should not be compared to other sites.
The SilverStone MS08 is a great option for swapping your small drives all at a reasonable price.
Do you have any comments or questions about the SilverStone MS08? Drop by our Forums. Registration is free, and it only takes a minute!