By: Hai Wang
December 6, 2019
In the automobile industry, cooling is an important aspect to be considered when designing a new engine. Intuitively, a cooling system should be able to take out the heat from the block so the vehicle can operate at the right temperature. An air-cooled engine such as the one you can find from an old Volkswagen Beetle uses air as the medium to transfer heat from the engine to the atmosphere. Aside from the air-cooled mechanism, a liquid-cooled engine utilizes a radiator and coolant to dissipate heat. Nowadays, liquid-cooled engines are more popular than the air-cooled engine due to the better cooling performance. However, the cooling system design is not only about how much it can bring down the temperature, but also how reliable the system is. A good automobile cooling system delivers excellent cooling performance in a hot environment, while it can also work at extremely low temperatures. After all, a car with frozen coolant is the last thing you want during the winter. Interestingly, the same methods of cooling down a combustion engine can also be used for computers. For CPU cooling, we can choose either an air-cooled or liquid-cooled cooler. Again, a liquid-cooled CPU cooler is more promising than air-cooled ones, thanks to its generally better performance at all kinds of application scenarios. For today's review unit, the SilverStone Permafrost PF240-ARGB liquid CPU cooler, the manufacturer claims it features not only an automotive grade radiator, but also an automotive grade chip for sine wave generation. It seems to me the SilverStone engineers have ambitions to build their CPU cooler, which is mostly for indoor use, as tough as those automobile cooling systems that are designed to withstand the harsh outdoor environments. Can those automotive-grade parts make the PF240-ARGB a great CPU cooler? Let us read on and find out.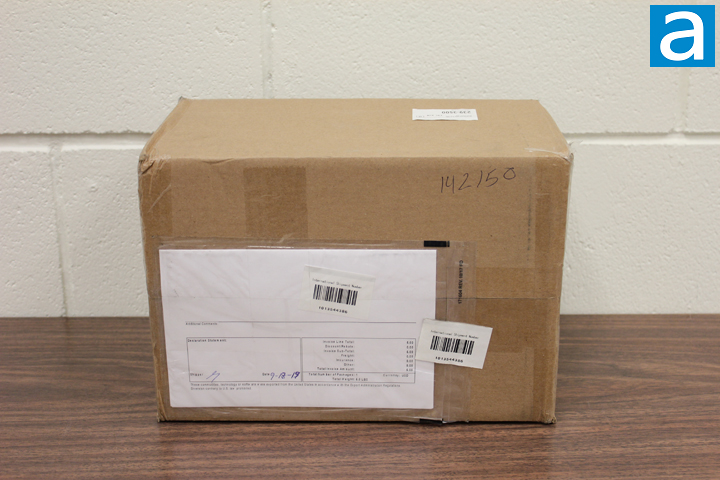 Today's review unit was shipped to us here in Calgary, Alberta, Canada via UPS Standard. This package arrived from SilverStone North America's office in Chino, California, USA. The shipping box was mostly in good condition. Even though you may see small dents by the corners of the parcel, there were no signs of unacceptable damage on the shipping box itself. Well done United Parcel Service!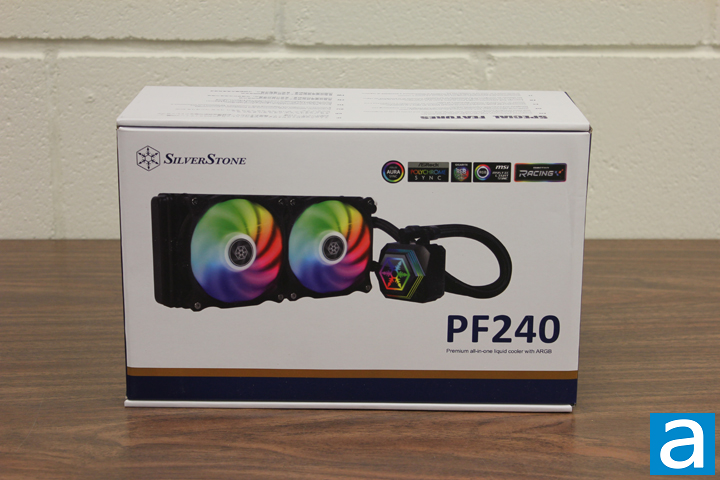 On a well-designed retail package, you can find a nice photo of the product. The box of the SilverStone Permafrost PF240-ARGB is no exception. The picture of the CPU cooler is located on the front of the container with a white background. From the picture, you can roughly know what you will get from SilverStone -- a water-cooled CPU cooler with two RGB fans. Of course, you will also get the installation kits for various Intel and AMD sockets. They are just not shown in the front cover of the retail box. SilverStone's company logo is printed at the top left corner, while the product's name, PF240, is printed at the bottom right of the box. Above the product's photo, the wide variety of the RGB motherboard support of this product are provided. If you turn to the side panels of the retail package, more information about the product is presented, such as its dimensions. Overall speaking, the retail package design of the Permafrost PF240-ARGB is simple and effective. Customers will be able to find the useful information about this product without any trouble.
For you to know the SilverStone Permafrost PF240-ARGB a little bit more, the specifications of the cooler from the official website are listed below:
Model No.: SST-PF240-ARGB
Water block Dimension: 61mm (L) x 61mm (W) x 50mm (H) / 2.4" (L) x 2.4" (W) x 1.97" (H)
Water block Material: Copper base with plastic body
Pump Motor speed: 3400±10% RPM
Pump Rated Voltage: 12V
Pump Rated Current: 0.39A
Fan Dimension: 120mm (L) x 120mm (W) x 25mm (D) / 4.72" (L) x 4.72" (W) x 0.98" (D)
Fan Speed: 600~2200RPM
Fan Noise level: 7.4~35.6 dBA
Fan Rated Voltage: 12V
Fan Rated Current: 0.32A
Fan Max airflow: 94CFM
Fan Pressure: 3.53mm/H2O
Fan Connector: 4 Pin PWM & 4-1 Pin ARGB (5V LED)
Radiator Dimension: 272mm (L) x 120mm (W) x 28mm (H) / 10.71" (L) x 4.72" (W) x 1.1" (H)
Radiator Material: Aluminum
Tube Length: 400mm
Tube Material: Rubber
Application: Intel Socket: LGA775/115X/1366/2011/2066, AMD Socket: AM2/AM3/AM4/FM1/FM2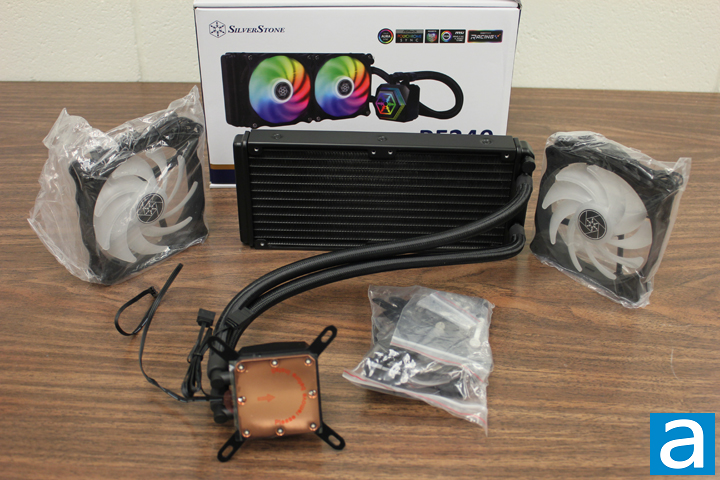 Upon opening the retail box, you will find everything is well packed. I paid special attention to the fins on the radiator, since they are relatively fragile. I did not find any damage on the fins, meaning the packing provides great protection to its contents. Aside from the all-in-one water cooler, two addressable RGB 120mm fans are another set of major components you can find in the retail box. The installation of SilverStone Permafrost PF240-ARGB requires smaller accessories, and they are all contained in a plastic bag. A bunch of screws, tube of thermal paste, some plastic washers, and mounting kits for both Intel and AMD sockets are found in this bag. This time, I did not find the printed installation guide. However, this document can be found on the product's website.
---
Page Index
1. Introduction, Packaging, Specifications
2.
Physical Look - Hardware; Installation
3.
Test Results
4.
Conclusion