By: Hai Wang
February 14, 2020
It is interesting to see most the gaming-oriented computer cases have at least one tempered glass panel. I understand the reason behind it is to show off the fancy RGB parts inside. However, not everyone likes to see bright RGB components all the time. Imagine you are a college student who needs to share a dorm with a roommate, and you often have to work on reports late into the night. You would want your RGB gaming rig to become a low key machine for productivity work, so you roommate will not complain about the light. For some computer cases and motherboards, it is possible to control the RGB feature through buttons. But the problem is you often need to engage the control button for a number of times before you can turn the RGB off, and going back to your preferred RGB mode also requires many tries. Therefore, we really need to think about what we truly need before we buy a computer chassis. To this end, I would like to buy a computer case of my preferred design style to have both tempered-glass and no glass panel versions to choose from. For today's review unit, the SilverStone Precision PS14-E, it is actually an enhanced version of the SilverStone Precision PS14 I reviewed in October 2017. You can definitely see these two products do share some design features. Besides that, the newer PS14-E has the option to choose either a tempered glass side panel or a normal steel side panel, while the PS14 I reviewed does not offer such a choice. Is it a great computer case overall with the new enhancements? Let us read on and find out.
Today's review unit was shipped from Chino, California, USA to us here in Calgary, Alberta, Canada via FedEx Ground. Chino is the location of SilverStone's office in North America. Although you may see a beat up corner on the parcel, there were actually no signs of unacceptable damage on the shipping box itself that may make you nervous about the safety of the case. After more than a thousand miles of transportation, I can take one hit on the corner. Usually, a good retail package design can draw people's attention and make the product itself stand out among hundreds of other products on the shelf. However, the realm of computer cases is different. Most of the time, the dealer will either directly put sample cases on the shelf or just demonstrate some fully built computers using those chassis. Therefore, it is mostly unnecessary to have a fancy retail package for a computer tower. At least for me, I would not buy a computer case just because it looks great on the box. The retail package of SilverStone Precision PS14-E is simply a brown cardboard box. It shows a nice sketch of the case's front panel. At the front side, the company's name is present on top of the box. The model name "Precision Series PS14-E" is located on the right side of the product sketch, as you can see from the above picture. Overall, the retail package looks very eco-friendly, and it prompts us to open the package to see what is inside the box.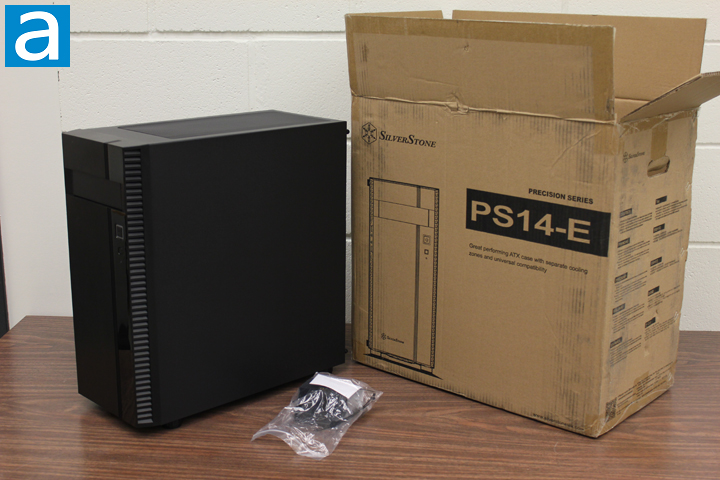 Upon opening the box, you will see the case is wrapped inside a big plastic bag. The plastic bag is strong enough to prevent the paint from getting scratches. You can keep the plastic bag, since it can be reused if you want to take your computer to some other places. An extra layer of protection has always been a good thing. Since the whole chassis is supported by two pieces of foam brackets around the case, there is no direct contact from the shipping package, therefore no damage is found on the case. As a budget case, there are not a lot of things in the box other than the computer case and a user's manual. The bag that contains all the hardware is located somewhere inside the case. We just need to take the tempered glass panel off and see.
Before we do anything else, let use quick look at the specifications of the mid-tower from its official website:
-Model No.: SST-PS14B-E (Black), SST-PS14B-EG (Black, tempered glass)
-Material: Plastic front panel, steel body
-Motherboard: SSI-CEB, ATX, Micro-ATX
-Drive bay External: 5.25" x 1; Internal: 3.5" x 2, 2.5" x 2
-Cooling system: Front 120mm fan slot x 3 (support 140mm fan x 2); Rear 120mm fan x 1 (support 140mm fan x 1); Top 120mm fan slot x 2 (support 140mm fan x 2)
-Radiator support: Front 120mm / 140mm / 240mm / 280mm / 360mm x 1 (5.25" drive bay unavailable*); Rear 120mm / 140mm x 1; Top 120mm / 240mm x 1 (5.25" drive bay unavailable*)
-Expansion slot: 7
-Front I/O port: USB 3.0 Type-A x 2; Audio x 1; MIC x 1
-Power supply: Standard PS2(ATX)
-Expansion card Support up to 14" (357mm), width restriction – 7.2" (183mm)
-Limitation of CPU cooler: 177mm
-Limitation of PSU: 190~210mm
-Net weight: 5.7kg
-Dimension: 210mm (W) x 469mm (H) x 438mm (D), 43.1 Liters; 8.27" (W) x 18.46" (H) x 17.24" (D), 43.1 Liters
---
Page Index
1. Introduction, Packaging, Specifications
2.
Physical Look - Outside
3.
Physical Look - Inside
4.
Installation and Conclusion