By: Ben Joubert
December 31, 2015
Quite a few times, I have heard the phrase thrown around, "Bigger is always better". Having a quick look at some general things we use daily, it is kind of true. Everything is getting bigger and bigger. Take a quick look at food portion sizes at some of the fast food restaurants, and you will see it is simply gigantic. Another thing I noticed since I have been in Canada is how big the cars are. All the trucks are massive, and with my tiny Subaru, it feels really intimidating. This is especially felt when they fly past me at a traffic light, and my car shakes. Historically, with something like warfare, bombs have also just been getting bigger. It slowed down a bit when they developed the atomic bomb, however, this was also the most destructive one yet. Is bigger always better? This is questionable, as it depends on what you are applying this phrase to. A quick look at the smartphone industry reveals all the hardware inside are getting smaller, so they can fit as many features as possible inside. I personally enjoy it when my hardware gets smaller, specifically when building a small form factor PC. Big components can cause clearance issues too, as I have said before in my review of the Scythe Ninja 4. Thus, sometimes big is not necessarily great. Today, we have an impressively thin CPU cooler, the SilverStone Tundra TD02-SLIM; not to be confused with the previously reviewed SilverStone Tundra TD02-LITE. SilverStone has gone even further to make their radiators even thinner. Is going thinner better in this case? Are we going to see similar performance as before? Read to find out if the Tundra TD02-SLIM performs as well as its thicker counterparts, the Tundra TD02-LITE.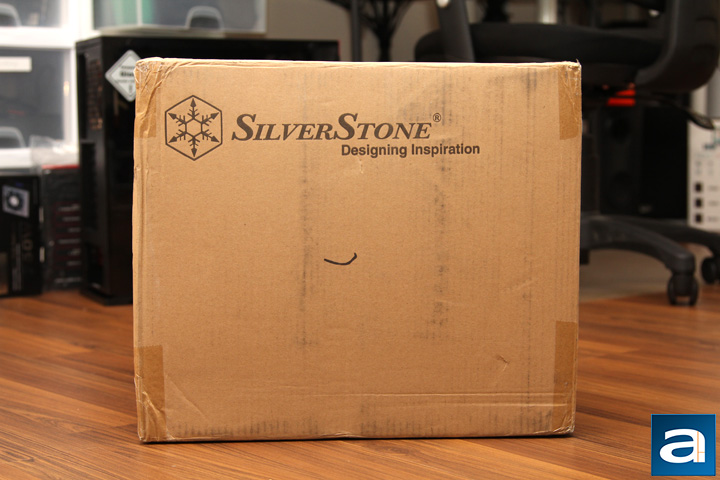 Our review unit arrived today along with its single fan radiator sibling, the TD03-SLIM, in a nice big brown corrugated box. It was shipped by UPS Standard, and as you can see, the box arrived in decent condition here at the APH Networks offices in Calgary, Alberta, Canada. The corners were a bit beat up, with a few smaller dents spread across the rest of the box. However, the contents inside were tightly packed, with lots of foam peanuts to ensure the products were safely transported. As always, it is a welcomed sight when opening the big brown box, and all the contents inside are safe, and not damaged.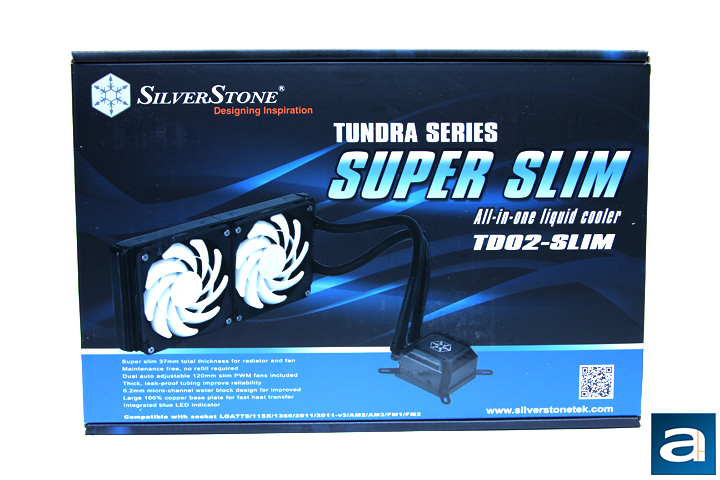 Now, there is something very different on the outside of this box than the SilverStone LITE products we have previously reviewed here at APH Networks. The retail package is in color, while previous units like the SilverStone Tundra TD02-LITE and TD03-LITE have been in a very simple brown box. However, the design of the box has not changed much, since everything is still nice and simply laid out. The colors chosen emphasize the product should be effective at cooling your CPU, with different shades of blue for the water cooling part, and white probably because it is named Tundra. The biggest letters quickly inform of what makes the cooler special, with "SUPER SLIM" being highlighted. At the bottom left of the box, some of the great selling points of the product is stated, as well as the socket compatibility. On the back, there are all the features in different languages, while on the top, there are more technical specifications on both the radiator and the fan.
Here are some of the specifications, as obtained from the manufacturer's website:
Specifications
Model No.: SST-TD02-SLIM
Water block dimensions: 65mm (L) x 65mm (W) x 39.2mm (H)
Water block material: 100% Copper base plate, with a plastic body
Pump motor speed: 2500±200 RPM
Pump rated voltage: 12V
Pump rated current: 0.28A
Radiator dimensions: 273mm (L) x 120mm (W) x 22mm (H)
Radiator material: Aluminum
Tube length: 310mm
Tube material: rubber
Socket compatibility: Intel Socket LGA775/115X/1366/2011/2011-v3
AMD Socket AM2/AM3/FM1/FM2
Fan Specifications
Dimensions: 120mm (L) x 120mm (W) x 15mm (D)
Speed: 800~2200RPM
Noise level: 16.5~27.4 dBA
Rated Voltage: 12V
Rated Current: 0.02 ~ 0.15A
Max airflow: 13.1 ~ 35.85CFM
Pressure: 0.31 ~ 1.84 mmH2O
Bearing type: long life sleeve bearing
Connector 4 Pin PWM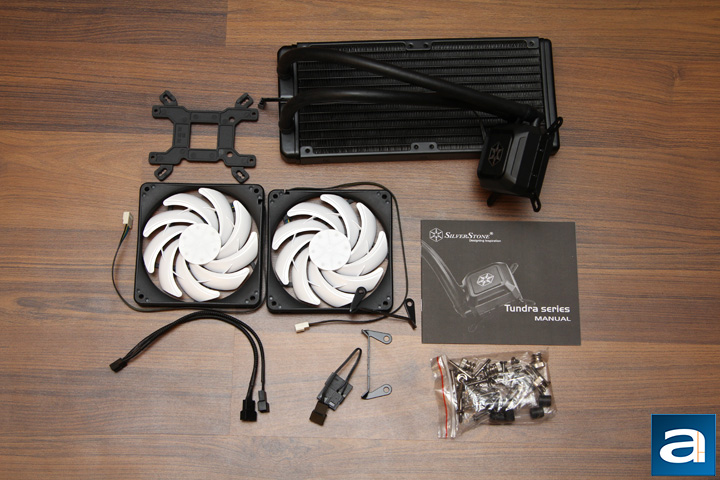 SilverStone does an excellent job with packaging the cooler. Everything is tightly packed to make sure there is no movement inside. The fans, as well as the radiator and water block, are covered in plastic to protect it from any scratches. Overall, I am happy with the packaging. Inside a little white box is everything required for installation, including all the different screws, backplate for the motherboard, along with other mounting tools for AMD sockets. Also included is a fan connector splitter and Molex connector, which is great for motherboards without multiple fan headers. A short manual is also packaged with clear installation instructions. The manual also helpfully specifies every part that should be in the box, and identifies it for a smoother installation process. The two PWM fans come in at 15mm in depth, which, comparing to other fans, is very thin, and ensures the TD02-SLIM is deserving of its name.
---
Page Index
1. Introduction, Packaging, Specifications
2.
Physical Look - Hardware; Installation
3.
Test Results
4.
Conclusion