By: Jonathan Kwan
August 16, 2008
From the initial introduction of USB flash drives to present day, this is one innovation that changed the way people carry data around. Back in the days of floppy drives and floppy disks with a formatted capacity of roughly 1.38MB, to the age of CD-RWs that was never able to take precedence as the prominent portable storage medium, and ending up to present day's popularity of USB flash drives -- how did it all come to be? Computer enthusiasts first embraced this new type of products years ago as a symbol of geekiness and a sort of unashamed pride. Bringing on 16MB, 32MB, and 64MB drives, I still vaguely remember how 'advanced' I was with a stunningly large 512MB SanDisk Cruzer Micro. "It's so compact and convenient," as we used to call it. Times have changed, and I still remember us praising the OCZ Mini-Kart over two years ago on how unbelievably small it is. How two years can mean so much in the technology world! This time, however, Super Talent makes its attempt to redefine the market of unbelievably tiny USB flash drives with the Pico-C -- but while they're at it, they are unwilling to lose the capacity war with the drive available up to 8GB of storage, and claims to be a winner in performance as well. Huge ambitions? We'll see how they live up to that.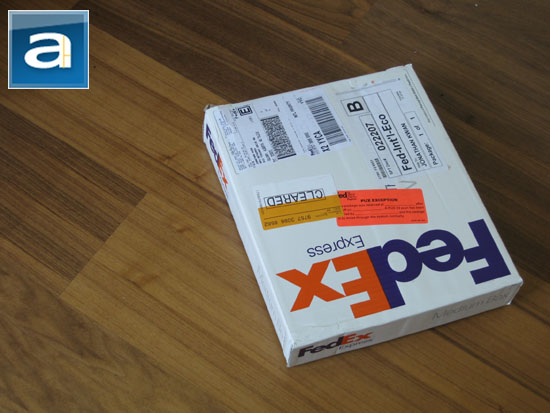 Our review unit of the Super Talent Pico-C 8GB 24k gold plated USB flash drive came in a FedEx Medium shipping box from Super Talent's offices in California. Using FedEx International Economy, everything arrived in great condition, thanks to their shipping department's careful use of packaging material.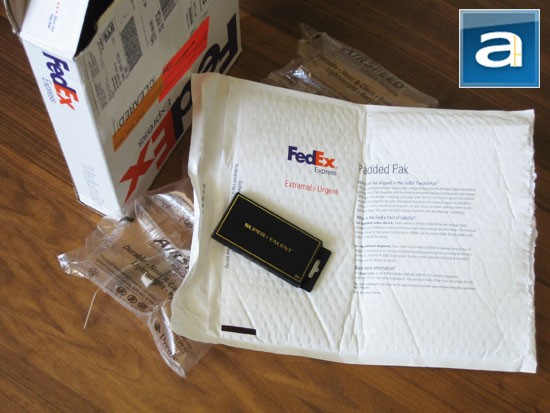 Super Talent sent us a retail package of the Pico-C flash drive. It's interesting to see how such products has moved beyond a geek toy to a fashion statement -- in this context, Super Talent has done a great job of keeping up with the trend, as demonstrated by the packaging. The small, stylish retail box is presented with a predominantly black color background; highlighted by trims of gold for the borders and the Super Talent brand text. Features are printed at the back with white text, while the cover can be flipped open.
Before we move on, let's take a look at the specifications of the drive, as taken from Super Talent's website:
• Weight less than 6g
• Up to 30MB/s (200X) data transfer rate
• Fully compatible with USB 2.0 and 1.1
• Powered by USB bus - no external power is required
• Durable solid-state storage - 10 years data retention
• Hot Plug & Play – enable you to install and uninstall Pico anytime
• PICO-C: Water resistant, rugged
* Special Limited Edition: 24k gold plated PICO-C
• Available in capacities ranging from 1GB to 8GB.
Our particular review unit is the 24k gold plated Pico-C drive with an impressive 8GB storage capacity.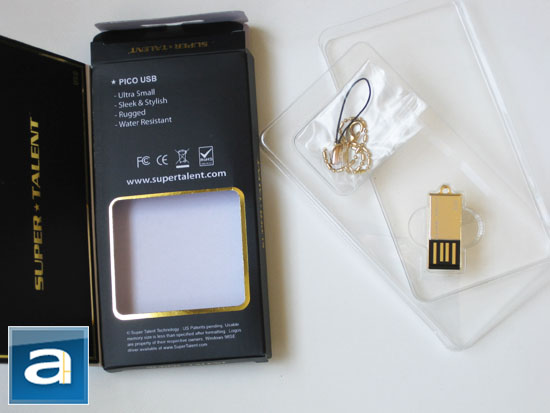 Flipping open the front cover reveals some feature highlights of the product, printed in white text to compliment its black background color. A cut-open window is implemented towards the bottom of the packaging that shows the Pico-C drive itself -- secured behind a plastic shell. The inner plastic shell can he slid out either through the top or the bottom. Out of the box, you will receive the following:
- 1x Super Talent Pico-C drive
- 1x Lanyard
Yep, that's it. Nothing excessive, but we're sure that's all you need when using a flash drive anyways haha.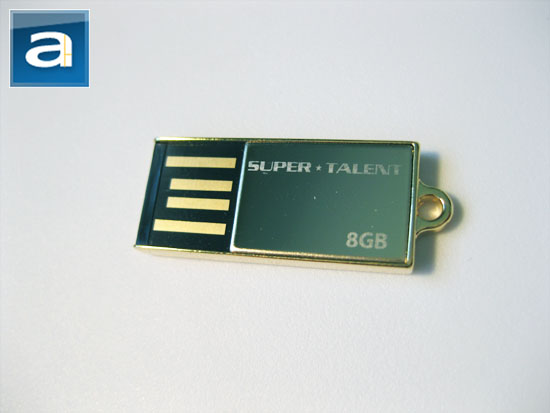 Words, nor even pictures, can fully describe how tiny the Super Talent Pico-C is. It sure lives up to its name -- but you'll have to actually see it to truly comprehend its incredibly small size. Let's put it this way -- you see the USB connectors at the top? Imagine something about two and a half times longer, then you get the Pico-C. Measured at 2.7cm length (Excluding the clip at the back), 1.2cm width, and just 3mm thick and weighing 4.7g, it's not amazing technological wise with up to 8GB of storage capacity, but also a work of art.
The thickness of the slightly leveled connector part of Super Talent's Pico-C drive is done to fit perfectly into the gap between the USB electrical pins and the bottom of the port itself, so the drive will hold into place like a standard drive (But without the top part). Super Talent's logo and drive capacity is printed on various parts of the remaining surface of the USB flash drive. The controller chip inside the Pico-C is USBest's UT-165 and uses chip-on-board technology.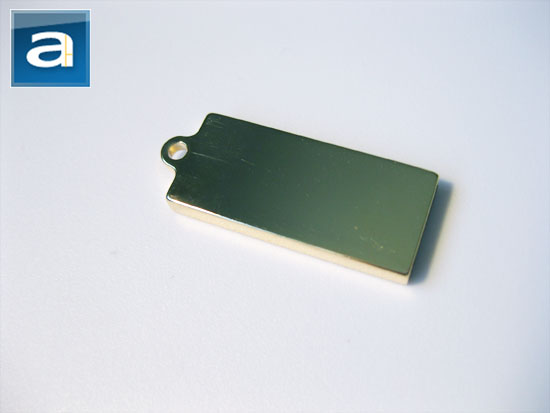 Turning the Super Talent Pico-C Gold 8GB flash drive around reveals a completely blank back. The entire casing of Super Talent's Pico-C drive is made of a "gold plated steel case" (But really it feels like plastic), so the bottom part that opposes the side of the USB pins are especially prone to scratching after some time. That said, the drive is solidly built and does not feel flimsy at all. The only thing missing is an activity LED, it would be excellent if Super Talent could implement an activity LED to the Pico-C -- but this is not an overly huge issue, credited to the drive's incredibly small physical size. An included lanyard can be attached to the back of the Super Talent Pico-C drive -- I would highly recommend this, otherwise due to the microscopic size of this drive, it's extremely easy to lose.
The Pico-C USB flash drive is available in two different versions -- besides capacity variants, the 'regular' Pico-C is chrome, while a 'special edition' is 24k gold plated as indicated by its gold colored casing. Our particular unit used for review is the 24k gold plated version -- to differentiate it from the standard version, the 'Gold' version is physically colored gold as you can see in our photos.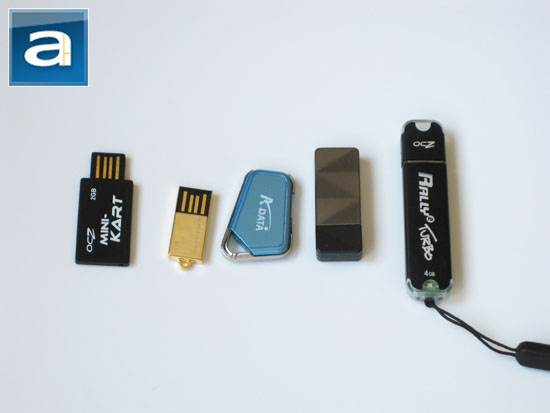 A quick size comparison -- from the left, OCZ Mini-Kart 2GB, Super Talent Pico-C Gold 8GB, A-DATA PD17 1GB, A-DATA N701 4GB, and an OCZ Rally2 Turbo 4GB. The Pico-C drive is meant to be small in size, and compared to everything we have here at APH Networks, it's certainly the winner without doubt. Its slim profile won't interfere with nearby USB ports as well during usage. Let's see if its small physical size can really compete with the big guys in performance.
-----------------------------------------
The Tests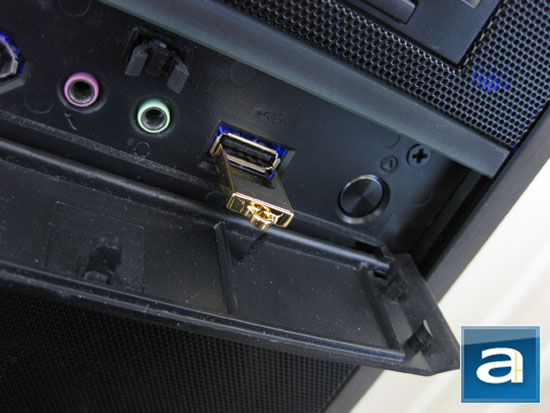 Test System
CPU: Intel Core 2 Duo E7200 @ 3.16GHz (333MHz*9.5 - 1333MHz FSB QDR)
CPU Cooling: Asus Silent Knight II
Motherboard: Gigabyte EP45-DQ6
RAM: OCZ Reaper HPC PC2-8500 2x1GB
Chassis: Tagan A+ Black Pearl WCR
Power: Thermaltake Toughpower Cable Management 650W
Video: Asus EN8800GT TOP 512MB
Optical Drive: Pioneer DVR-108 16X DVD Writer
Hard Drive: Seagate 7200.7 160GB 8MB Cache
Operating System: Microsoft Windows XP Professional SP3
There are no measured USB performance difference comparing ICH7R, ICH8R, ICH9R, and the ICH10R Southbridge with the Gigabyte EP45-DQ6 used in our benchmark today.
In our first set of benchmarks, we used our in-house developed testing methods to reflect real life performance. In our APH Networks Multi File tests, it utilizes a set containing 515 files with a total combined file size of 399 MB (418,666,235 bytes) to measure the drive's ability to read/write small files. The Single File benchmark involves a single, identically sized 399 MB file (418,666,235 bytes) to measure the drive's ability to read/write one large file to gather its maximum real life performance data.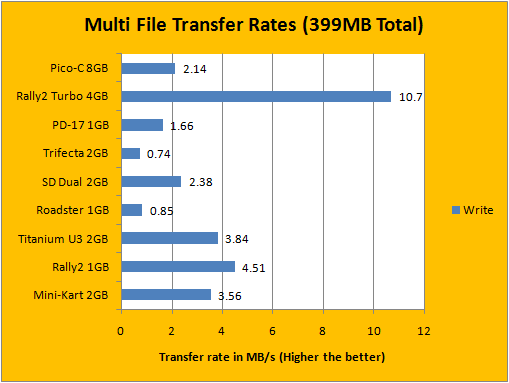 In our Multi File write benchmark, the Super Talent Pico-C didn't stand a chance against the big guys -- where the OCZ Rally2 Turbo took a huge lead in this area with over 10MB/s in writing all those files. Scoring in at 2.14MB/s, the performance is only average amongst the drives we've reviewed in the past -- but we'll have to say nothing quite matches the Pico-C in size.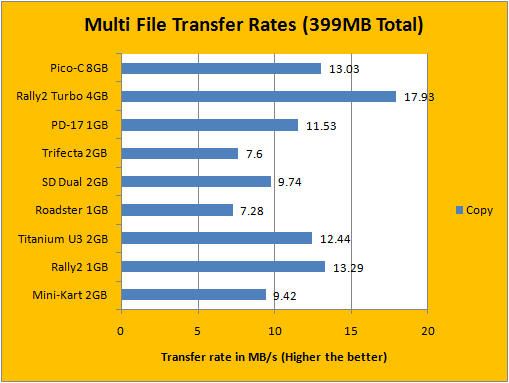 On the other hand, Super Talent highlights the Pico-C's ability to read quickly at "up to 30MB/s" -- that's the maximum we'll have to see about in our Single File read benchmark, but we are glad to tell you that the Pico-C is far from slack even in our Multi File read benchmark. Pulling 13.03MB/s copying over 515 files, there's still some gap between the Pico-C and the Rally2 Turbo, but it's pretty darn close to the original Rally -- and even beat the Cruzer Titanium U3 slightly. We're impressed.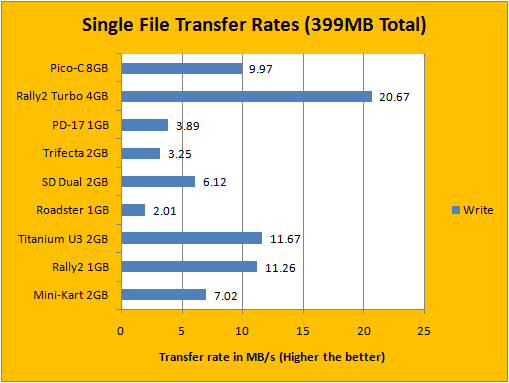 The maximum tested write speed with the Pico-C is done with our Single File write test; and completing in 40.04 seconds, that translates to a performance number at 9.97MB/s -- again, not particularly fast, but it's impressive for a drive of this size. It's almost as fast as the original OCZ Rally2 and the Cruzer Titanium U3, while beating out everything else in its class.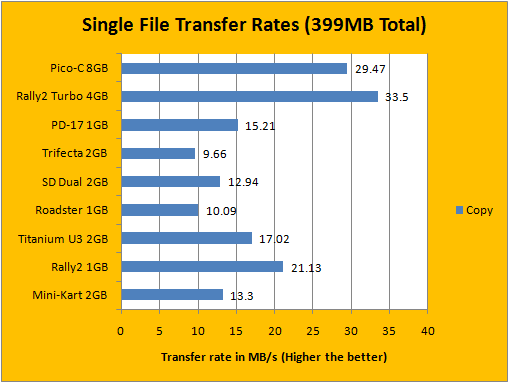 This is where our Super Talent Pico-C Gold 8GB really, really shone. The impressive Multi File read benchmark finished in 13.54 seconds, giving it an impressive measured read speed performance at 29.47MB/s -- it's as close to Super Talent's specifications as it would get, not to mention that it is a scant approximate 4MB/s behind the hardcore OCZ Rally2 Turbo. This is the kind of performance you don't expect nor usually get in a flash drive that's, you know, so insanely tiny.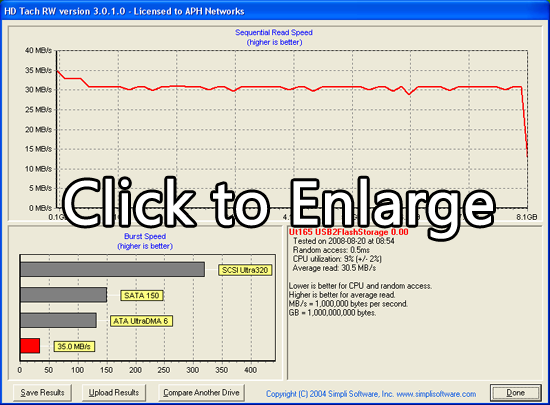 We ran HD Tach on our Super Talent Pico-C Gold drive a couple times to ensure that results are accurate. Read speed is generally consistent across the drive; with the exception of that little burst at the beginning of the drive and a sharp drop at the end. That said, HD Tach measured its sustained read speed at an impressive 30.5MB/s -- which is quite close to what we have as well. Random access is also really good at 0.5ms, unlike the UT-161 controller in some earlier OCZ USB flash drives (The Super Talent Pico-C Gold 8GB uses the newer UT-165 controller).
-----------------------------------------
It was really hard to write this review, especially when it comes to using terms in reference to size, because I'll never know who's reading haha. But in all seriousness, the Super Talent Pico-C Gold 8GB is really, really impressively small/tiny/microscopic or whatever you want to call it. It's unbelievable. Point being, you know how some people say some guys use large [insert item here] to compensate for the small size of their [insert what you're thinking here]? Well, I guess the Super Talent Pico-C can be used as your statement to prove something ;) Okay really now, what I'm trying to say is that the Super Talent Pico-C is really impressive for its size and performance. With extremely competitive read speeds that's unexpected for its size, and a very reasonable price of just over $30 at press time for the 8GB Gold version, it's really something you don't want to miss. What we'd like to see is likely an activity LED implemented somehow, and improved write speed to make it an all round winner. Oh yeah, while it's a solid drive in build quality, we'd definitely appreciate it if it doesn't feel like it's made of plastic -- you know, the scratches aren't pretty.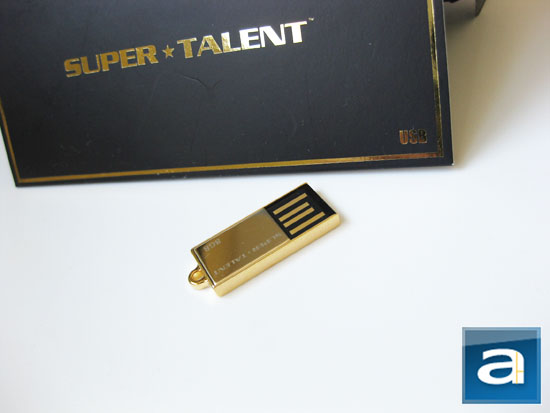 Special thanks to Joe and Tiffany over at Super Talent for making this review possible.

APH:Renewal Award | APH Review Focus Summary:
8/10 means Definitely a very good product with drawbacks that aren't likely going to matter to the end user.
9/10 means Excellent product with very minor drawbacks that does not affect the overall product.
-- Final APH Numeric Rating is 8.1/10
Please note that the APH Numeric Rating system is based off our proprietary guidelines in the Review Focus, and should not be compared to other sites.
Super Talent's Pico-C drive is nothing less than impressive in both size and read performance. We don't have many products rated higher than 8.0 here on APH, but here's one that well deserves it!