By: Jonathan Kwan
November 24, 2007
While Asus may not be the first to come to mind when it comes to CPU cooling to most people, my perception of Asus' thermal solution products greatly changed when I took a look at the Asus Arctic Square back in May. Last month, I received an Asus Silent Knight II cooler along with the incredible Asus P5E3-Deluxe/WiFi-AP@n motherboard based on the Intel X38 chipset. Meanwhile, the Asus Silent Knight II holds its own buzz excitement while the Asus X38 motherboard captured most of my attention -- I've been hearing quite a bit on the Silent Knight II's commendable performance for quite a while now. This is especially apparent when one of my friends asked me if I knew about "that Asus cooler that looks literally like a jet engine", while I replied back with "the Silent Knight II that's been in my storage for the last month or so?" A few days later, my curiosity regarding the Asus Silent Knight II overcame me as I finally opened it and decided to check out what the jet-engine-Silent-Knight-two (It may look like a jet engine, but hopefully it doesn't sound like one!) can bring about the overclocking community today.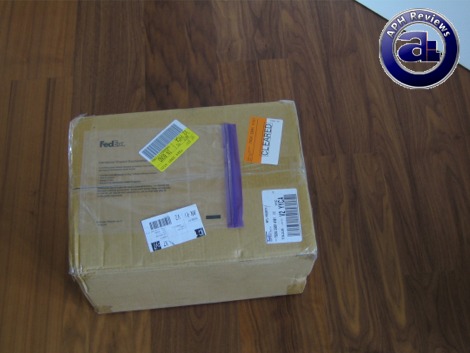 As usual from Asus, our review unit of the Asus Silent Knight II came in a rather large cardboard box from the company's headquarters in Taiwan. It was the same box that contained the Asus P5E3-Deluxe/WiFi-AP@n X38 motherboard. Using FedEx International Priority, everything arrived pretty uneventfully and in excellent condition as we've always expected from FedEx particularly. Asus has also taken excellent care in the packaging with excellent use of foam brackets as well as foam sheets to ensure the contents come in not only working condition, but also in mint condition.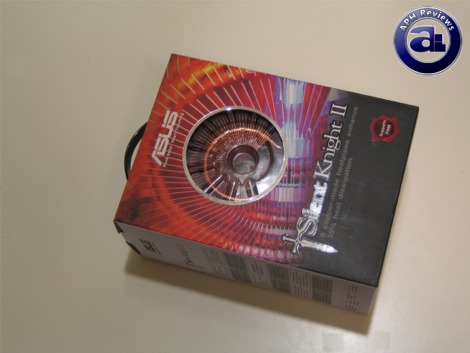 Our review unit of the Asus Silent Knight II came in a cardboard box; with the box in tall vertical orientation. Through the middle of the box is a cutout displaying a side view of the heatsink itself behind the PET shell. Images and specifications are printed on its sides, with the top enclosed by flaps. A plastic handle is implemented at the top of the box as seen on previous high end Asus' motherboard packaging formula. We've definitely appreciated the overall clean yet informative design of the box -- and also for the fact that it utilizes a solid, real, carefully constructed cardboard box rather than cheap blister packs that requires a lot of effort just to get its content out.
CPU Support
Intel® Core™2 Extreme/ Core™2 Quad (Quad-Core)
Intel® Core™2 Duo/ Pentium® D (Dual-Core)
Intel® Pentium® 4 HT/ Celeron® D
AMD Athlon™ 64 X2
AMD Athlon™ 64 FX
AMD Athlon™ 64
AMD Athlon™ Sempron™
CPU Socket
Intel LGA 775
AMD 754/939/940/AM2
Dimensions (L x W x H): 115 (L) x 140 (W) x 110 (H)
Net Weight (g): 610 g
Heatsink Material: Cu. Base + Cu. Fin + 6 Heat Pipes
Fan
Dimension (mm): 92 x 92 x 25
Bearing Type: Sleeve
Connector: 4 Pin with PWM Control
Speed: 2,300 rpm ± 10%
Max. Airflow: 36.5 CFM
Max. Air Pressure: 2.8 mm-H2O
Out of the box, you will receive the Asus Silent Knight II itself, along with the mounting accessories for Intel LGA775 and all the AMD Athlon 64 sockets. An installation poster is also included out of the box for installation instructions; independent instructions are included since methods of installation from Intel and AMD, although somewhat similar, are still different.
The AMD motherboard backplate and screws are packaged separately with the Intel motherboard backplate and screws to prevent confusion. The common installation accessories such as the universal retention bracket and retention clip, stock thermal paste, are all packaged into one larger bag.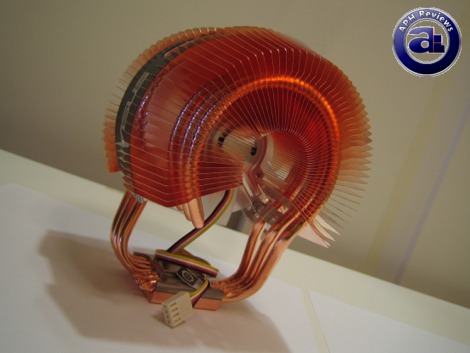 Constructed of purely copper from its base, to the heatpipes, as well as the fins, the Asus Silent Knight II arrives at a reasonable 610g weight. On paper, heat dissipation of copper is effective due to its low specific heat capacity (0.385J/g°c, off the top of my head) which takes less thermal energy to heat up, therefore fast in transferring the heat away from the heat source. This is when compared to aluminum's specific heat capacity of 0.897J/g°c (Again, off the top of my head!) which can absorb more heat, but is inefficient in transferring heat away from the source. The fan draws air over the copper fins as they release the heat into the surrounding air and drawn away from the system -- making copper great material to use for cooling solutions. The only downside is that it's heavy compared to aluminum, but we found the Asus Silent Knight II's weight of 610g relatively reasonable. Asus' mounting system will distribute the weight more evenly than Intel standard heatsink mounting holes to create less stress on your motherboard.
Like the majority of Asus' current line of heatsinks, the Asus Silent Knight II continues the tradition of central fan implementation in the heatsink. The 92mm LED sleeve bearing fan draws air into the heatsink through the middle where it's located, and then exhaust it out the back. The blue fan combined with its heatsink design creates airflow onto components around the CPU socket to more effectively cool them down; something quite unique to Asus' heatsinks and usually missing with other heatsinks with perpendicular fan design.
The Asus Silent Knight II also features a 4-pin PWM connector for newer motherboards -- however, it is physically compatible with older 3-pin designs as well.
One thing I want to mention is the fan cable on the Asus Silent Knight II -- the way it runs out of the fan, and elevates itself off the contact block will require the user to rewire the cable away from the fan carefully -- because a loose fan cable could end up interfering with the fan itself. The cable leads out of the fan towards the left in standard orientation, in which most motherboards have the CPU fan connector on the right side of the heatsink -- it would have been much better if Asus put the fan cable to lead out towards the right by default instead of towards the left.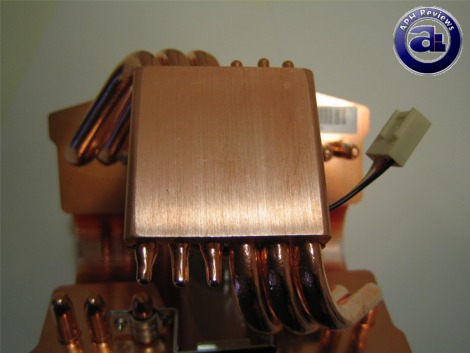 Six copper heatpipes lead away from the CPU contacts to elevate the main heat dissipation area above the CPU socket. The L-shaped heatpipes are utilized in a sense that three go in each direction -- where the heatpipes are then led through the copper fins either on the left or right side in relative to the center fan. The six heatpipes are aligned in an array that covers the entire CPU contact block when combined. Through this, heat dissipation will be more effective as it is evenly distributed throughout the system.
It's interesting to see that there are no additional fins over the CPU contact block between the elevated heat dissipation portion and the contact block, which usually improves heat dissipation with penetrating heat through the piece. While the central fan would prevent heat from concentrating in that specific area as there will be airflow in that location, the Asus Silent Knight II would probably cool more efficiently and effectively if an array of small perpendicular fins is placed there.
All the welded metal joints are done very cleanly with the Asus Silent Knight II, which is definitely an excellent sign of quality. However, although the lapping job on the heatsink base is done better than the Asus Arctic Square, there's still room for improvement that we would definitely like to see.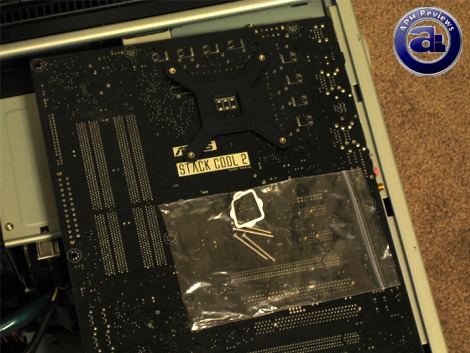 Since the mounting accessories are identical to the Asus Arctic Square we reviewed back in May of this year, I've had no problems with going through the steps in installing the Asus Silent Knight II. Our unit is installed on a LGA775 motherboard.
After peeling off an adhesive cover on the Intel installation backplate, the perimeter of a square with adhesive on it is revealed. This is to assist in attachment to your motherboard, although it will only hold it temporarily in its place; it is not strong enough to stay, so when attaching the screws later on -- you will need to reach your hand behind the motherboard to keep it in its place when putting the screws in.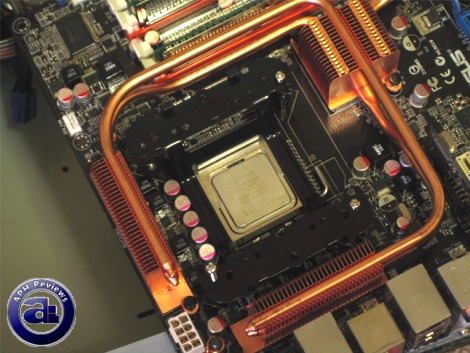 The Silent Knight II installation bracket goes over LGA775 socket cover bracket, and is attached by four long screws. Unlike the Asus Arctic Square, the retention bracket is to be oriented horizontally in relation to the motherboard -- which is good, because it won't fit if it's placed in horizontally on my Asus P5K3-Deluxe.
Interestingly, the way Asus' Silent Knight II distributes airflow around the heatsink itself to cool components around it which will definitely benefit motherboards such as the Asus P5K3-Deluxe as shown above -- see the way how heatpipes are implemented around the CPU socket?
Since the bracket will block out access to the CPU locking cover on LGA775 sockets, if you need to swap CPUs, you will need to remove the bracket -- meaning that with the screws removed, you will need to somehow keep the backplate in its place during the uninstallation and reinstallation routine. However, usage of screws and a retention clip through the Silent Knight II will guarantee a tight fit, much better weight distribution of heavier heatsinks such as this one all without issues of stock mounting holes with Intel's LGA775.
---
The Tests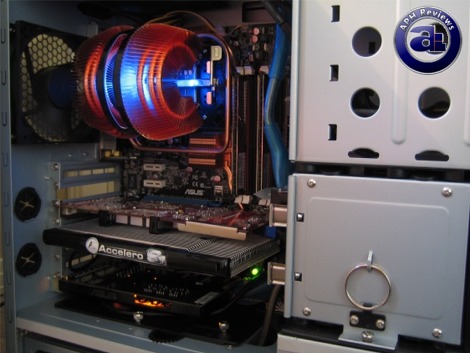 How many Asus components can you count in the above photo? ;)
CPU: Intel Pentium Dual Core E2140 @ 3.08GHz (385MHz*8/Allendale) - (Default: 1.60GHz, 200MHz*8)
Motherboard: Asus P5K3-Deluxe/WiFi-AP
RAM: OCZ Platinum PC3-12800 Enhanced Bandwidth 2x1GB
Graphics: Asus Radeon X1950 Pro 256MB
Case: Antec P182 (Antec TriCool 120mm @ Low - Back, Antec TriCool 120mm @ Low - Top back, Antec TriCool 120mm @ Low - Front)
Power: Tagan ITZ 700W
Sound: Asus Xonar D2
Optical Drive: Pioneer DVR-108 16X DVD Burner
Hard Drive: Seagate 7200.7 160GB
Operating System: Microsoft Windows XP Professional SP2
All tests were run with the computer in an upright position, case door closed, in order to achieve the most accurate and real-life results. The computer remained in the same location in the same room throughout all tests. The room temperature is around 24c. Arctic Cooling MX-2 thermal paste was used for its performance; all pastes were given a proper amount of time for them to fully settle. The fans on all heatsinks are directly connected to the motherboard's 4-pin connector, Asus Q-Fan "Optimal" setting enabled. Computer is turned on and idling for at least 1 hour for the idling tests. High CPU load results were obtained using Orthos multithreaded large FFTs test for a minimum of 30 minutes.
I did not compare this heatsink against a bunch of other heatsinks because in my opinion, a heatsink is important in areas such as engineering, build, noise and performance in relation to idle/load. It's hard to simulate the exact two scenarios -- the same amount of paste, application pressure, and other temperature influential factors -- including time of day, airflow and circulation of room, as well as maintaining a constant temperature. Therefore I used the stock Intel heatsink for reference purposes only.
The stock Intel heatsink used is the one that accompanies Intel Pentium Dual Core (Essentially cache-stripped Intel Core 2 Duos) processors -- the non-copper version of the stock Intel heatsinks.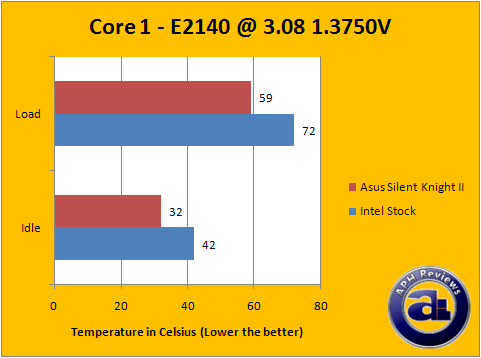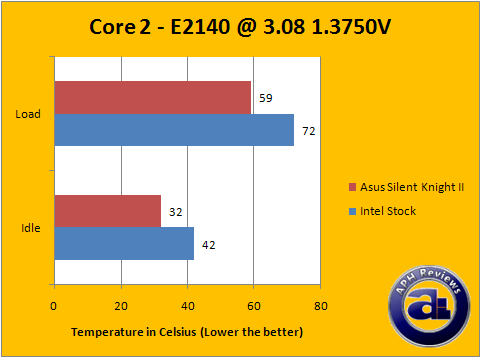 When I first saw performance graphs of the Asus Silent Knight II on Asus' product page compared against the stock Intel cooler, I was quite skeptical about the results -- however, much to my surprise, my results were pretty close to what Asus published. Maybe not as much as they claim, but even with our motherboard controlled (Read: Undervolted to a quiet stance, those who know me will know that I am especially picky on computer noise) Asus Silent Knight II the difference was 10c in idle conditions cooling the same overclocked E2140 clocked at 3.08GHz -- 90% overclock, by the way -- given 1.3750V with a vdroop eliminating setting on. 32c on the Silent Knight II versus 42c on the box Intel cooler is certainly an impressive mark.
The full 3GHz of Core 2 processing power put to our Orthos Large FFTs run generated quite a bit of heat -- to quite an uncomfortable temperature of 72c with our stock Intel cooler. Sure, it's stable, but most people would not like to run their processors at that temperature.
The Asus Silent Knight II again made a quite a difference -- the 90% overclock with 1.3750V peaked at 59c in the same heat stress test. The change of temperature in idle versus load is 27c; while we would like to see less in change of temperature in idle versus load conditions the Asus Silent Knight II still brought about a full 13c below the Intel stock cooler under load -- which is absolutely impressive. Even on paper alone without any comparisons, these temperatures are one of the best I've seen for a regular air cooler in such a scenario.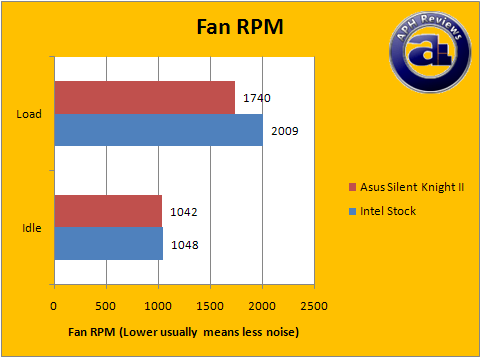 As you can see from our chart above, the Asus Silent Knight II's fan actually operates at a virtually identical speed compared to the Intel stock cooler idling, while providing a core temperature reading 10c less. Under load, The Silent Knight II is brought up to 1740rpm by the motherboard -- which generates a reasonable amount of noise, but no longer in the 'silent' category (More on this in just a moment). However, cooling performance is excellent as demonstrated above; while the Intel stock cooler exerts its noise emissions at 2009rpm ineffectively cooling the processor to 72c.
Back onto the noise topic, the Asus Silent Knight II is actually quite close to being silent! Of course, this is not at its maximum fan speed -- at maximum speed, the Asus Silent Knight II sounds like a jet engine. Fortunately, it doesn't take the Asus Silent Knight II to operate at those speeds to demonstrate appropriate performance as demonstrated on our charts. On my Asus P5K3-Deluxe, I've enabled CPU fan control set to "Optimal" to allow the motherboard to control fan speed based on temperature (The same setting is used for all heatsinks in this test to reflect performance based with reasonable noise generation). Therefore, I would rate the noise level on this product from 0 (Quietest) to 10 (Loudest), with a Noctua NF-S12-800 at 1.5, I would give the Silent Knight II at 2.0, subjectively. At 900-1200rpm, all you can hear is a slight buzzing noise from 3-4cm away. It runs reasonable quiet up to ~1600rpm. I've actually stopped all other fans and noise generating components in our test computer to obtain this result.
---
Unique, great looking 'jet engine look' heatsink that sounds nothing like a jet engine -- in fact, the Silent Knight II is one of the quieter heatsinks I've used when combined with proper motherboard fan control settings. What you are really getting is jet engine performance without the noise. With six copper heatpipes leading directly away from the CPU, evenly distributed through the abundance of copper fins, as well as Asus' trademark centrally implemented fan, the performance is very commendable. Build quality is generally excellent as what we'd always expect from Asus -- solid construction, no flimsy aspects, and neatly welded joints with regards to the heatpipes. What really hinders the Asus Silent Knight II, like the Asus Arctic Square we've previously reviewed comes down to the lapping job that desperately needs improvement. In the end, the Asus Silent Knight II is one excellent heatsink. Performance, quality, low noise, and great looks with its LED fan is what we've enjoyed on the Silent Knight II -- and so will you!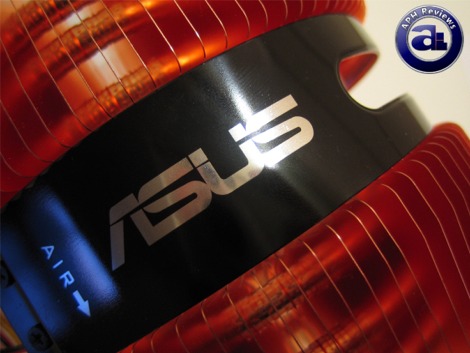 Special thanks to Asus for making this review possible.

APH:Renewal Award | APH Review Focus Summary:
8/10 means Definitely a very good product with drawbacks that aren't likely going to matter to the end user.
7/10 means Great product with many advantages and certain insignificant drawbacks; but should be considered before purchasing.
-- Final APH Numeric Rating is 7.8/10
Please note that the APH Numeric Rating system is based off our proprietary guidelines in the Review Focus, and should not be compared to other sites.
The Asus Silent Knight II is a unique, quiet, good looking, and high performance CPU air cooling solution. If the CPU base's lapping job is improved, then we can unleash the full potential of this product!
Do you have any comments or questions about the Asus Silent Knight II? Drop by our Forums. Registration is free, and it only takes a minute!