Page 6 - Configuration and User Interface, Part III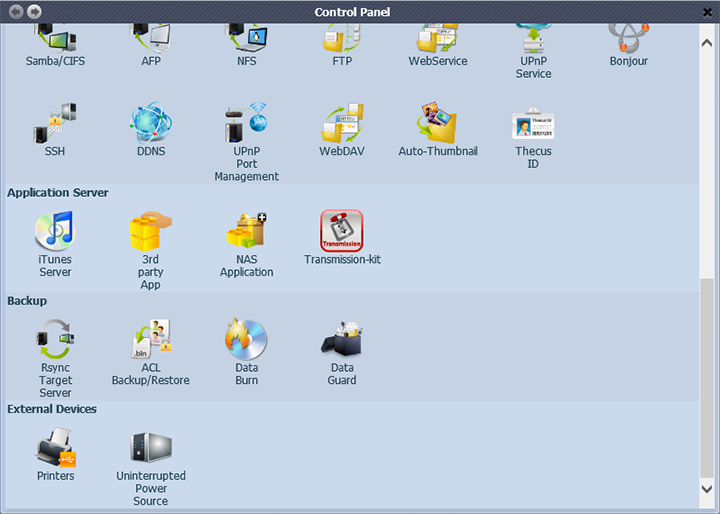 The next section we will cover is the Application Server. While there are quite a few applications for older versions of ThecusOS, there is not many for ThecusOS 6. If you go to the Thecus NAS App Center and look for those only for ThecusOS 6, you will see that out of 702 total apps, only 66 are actually available for the N2310, and quite a few of them are just updated versions of the same application. Oddly enough, the ones we will highlight later on were not found on the App Center, but rather hidden in the NAS itself. The App Installation manages all the applications that can be installed, and also allows the user to update or remove existing third party applications. The NAS Application does the same thing, except for preinstalled applications and applications made by Thecus. The entire App Center is rather disappointing, considering the lack of apps actually available to the sixth generation of the operating system. It would be good to see Thecus encouraging more third-party app development to create more demand for their products. Looking at what ASUSTOR and QNAP offers in terms of apps, and comparing it with the Thecus shows the disparity between the two. It is almost as bad as comparing the Google Play store with the Windows Phone app store.
The first built-in app that caught my eye was the iTunes Server. While iTunes is not always the most robust of media players, there is still a large audience that uses iTunes. ThecusOS 6 has support for these people with a built-in iTunes server. From this application, music can be shared and played wherever, just by accessing the NAS. Enabling this feature is quite simple, which can be done by going into the iTunes Server submenu. From there, you can set a server name, a password, rescan intervals, and specify tag encoding. Once this is done, the music located in the NAS' Music folder will be available for other iTunes-equipped computers on the network. Testing this feature proved to be easy and music played without lag or stutter. Playback quality was essentially the same from the NAS in comparison to playing it directly from my computer's storage; there is no reason why it should not be.
Another interesting application is the Piczza photo server. Much like the iTunes server, this allows users to access and playback photos from their NAS, using any computer on the network. Once photos are uploaded to the NAS, users may view, organize, and filter out photos based on different attributes. Other features include managing privacy settings for each album to allow for full privacy to full disclosure of the photos. As well, photos can be tagged for location utilizing Google Maps. Finally, all the photos on the server can be uploaded directly to Facebook, Twitter, or other social networking sites. During my time utilizing Piczza, I found this application to be quite a nuisance and in fact, a hassle to use. While these features are all very nice on paper, implementation of the actual product is lacking and rather disappointing.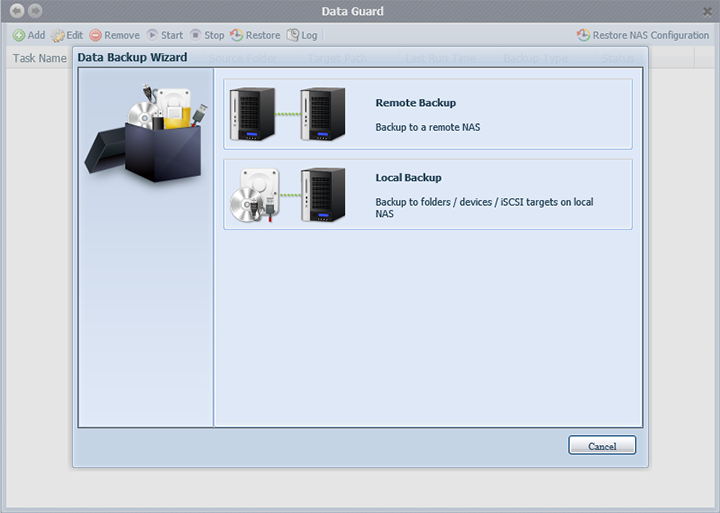 Finally we get to the other reason why people buy network attached storage solutions: As a robust storage solution. The first icon under the Backup menu is Rsync Target Server. Clicking the icon allows the user to enable this option. For your information, Rsync is just a utility to allow for synchronization of files and directories between several locations. ACL Backup/Restore, by the name, should be quite obvious in what it does. This allows for the backing up and restoration of the permissions for specific locations, as well as the entire NAS.
In the image above, there shows two options for different ways to backup to and from the NAS. First is the Remote Backup, which allows users to backup your current network attached storage system to another remote network attached storage system, as well as restore from older backups. The second option allows users to create backups from local files to the NAS. You can also import from external devices like USB drives to the NAS, just by plugging your device into the back USB 3.0 port, and clicking the One-Touch button. There are actually quite a few different options as for how to set up backups, which include filtering types of files based on extensions and or names, choosing between scheduled or instant backups, or choosing between incremental or sync backups. Quite a few of these options are found on standard external hard drives, like the Western Digital My Passport, and it is nice to see Thecus taking some of these ideas and implementing them. Once again, users are given the option for different types of backing up, from sync to incremental backups. Note the Thecus N2310 does not support Amazon S3.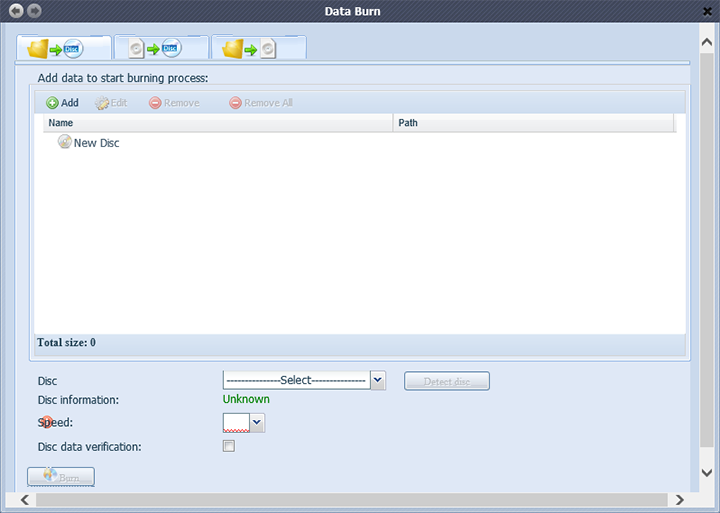 Another option for backing up to and from the network attached storage is called Data Burn. While the first thing you make think of is burning all your files in a fiery pit, Data Burn is actually meant for writing files or folders to a disk, to an image, or writing images to a disk. When writing, you can select specific files or folders and when you are all done, you can straight burn it to the disk. You can also create an image file (.ISO) using the same process of selecting. Finally, writing an image file to a disk allows users to burn their preexisting image files to a disk. Of course, for all of these options that involve writing to a disc, you must have an optical media burner on your computer in order to actually burn discs, so newer Ultrabook users may be left out.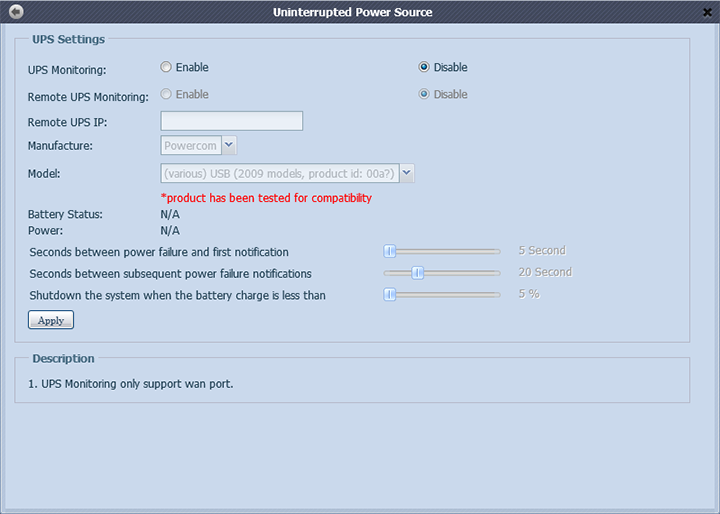 Finally, our last section to look at is the External Devices menu. The Printers submenu allows you to setup and connect your network attached storage to a single USB printer, so all users can utilize the device. There are simple options to remove documents from queue in the case of a print job failure, and also to restart the printer service. The Thecus NAS can also be utilized to act as a printer server, and is configured within your computer's operating system. The Uninterrupted Power Source gives you several options to manage and monitor your UPS, as well as checking for failure of the UPS.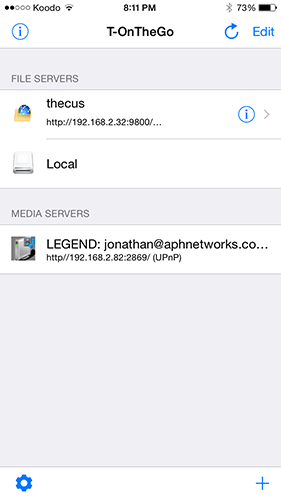 I should mention Thecus also has mobile applications for the NAS, for both iOS and Android devices. I was able to connect my Apple iPhone 6 to the NAS after a few minutes, and have experienced no performance problems with the app. My colleague Aaron Lai, using his Android devices, did report issues in this regard. In terms of functionality, the app allows users to view, copy, stream, and edit data, but the interface is a bit primitive. For a first try at a mobile applications though, it is nice to see Thecus cover an emerging area, providing more access to their products in various means. I would say though that this is a first step, and I expect some much-needed interface lift, just like their web interface.
Overall, I have to give props to Thecus in including quite a few options and services, even some that I did not expect them to provide. The Thecus N2310 boots up in the same time as other network attached storage solutions. Aesthetically speaking, ThecusOS 6 is not the most beautiful operating system for a NAS. To be absolutely honest, QNAP and ASUSTOR is a whole league ahead of Thecus in this area. The competition provides a much better usage experience, whether it is just the looks, or the refinement of the program. Where it lacks in form, it makes up in functionality. Options and settings are reasonably intuitively placed and are exactly where you would expect them to be. The ability to add more applications is also an added bonus, albeit there are not too many for the newest version of ThecusOS. If more third party app developers jump on board to supply the Thecus App Center, then this operating system should be able to compete with other competitors like QNAP or ASUSTOR, or better yet, to create an app store for any NAS from any company. All in all, Thecus should invest a lot more resource to improve their software.
---
Page Index
1.
Introduction, Packaging, Specifications
2.
A Closer Look - Hardware (External)
3.
A Closer Look - Hardware (Internal)
4.
Configuration and User Interface, Part I
5.
Configuration and User Interface, Part II
6. Configuration and User Interface, Part III
7.
Performance and Power Consumption
8.
Conclusion