By: Jonathan Kwan (Hardware/Testing) and Aaron Lai (Software)
October 24, 2014
What is the difference between being cheap, and being smart with your money? Being cheap is like asking a girl to go on a date, only to take her to IKEA for breakfast, Costco for lunch, and not worry about dinner, because you are not going to get it. Being smart with your money is like going to the dealership to buy a nice car, but only pay as close to invoice price as market conditions will allow. In both cases, saving money is the end goal, but the method you use, and the outcome of both is drastically different. If you have a hard time understanding why, please feel free to experiment with the first, but keep in mind I will not be responsible for anything that may happen to you. At the end of the day, it is important to grasp the concept of being smart with your money means to never sacrifice quality for cost. In the past, we have reviewed many network attached storage systems here at APH Networks. This includes the uber awesome but super pricey QNAP TS-470, ASUSTOR's competitive AS-202TE for the home, and even Thecus' sleek looking N2560. Here is the thing though: The lowest price of them all is still well over $200. Why must all NAS boxes have to be so expensive if I am just looking to store some files on my home network? The good people at Thecus asked the same question. To see if there is finally a solution to this problem, today, we are going to take a look at the N2310, which retails for a stunningly low price of just $125 at press time. Is this a prototype of being cheap, or an excellent example of how to be smart with your money? We set out to find the answer.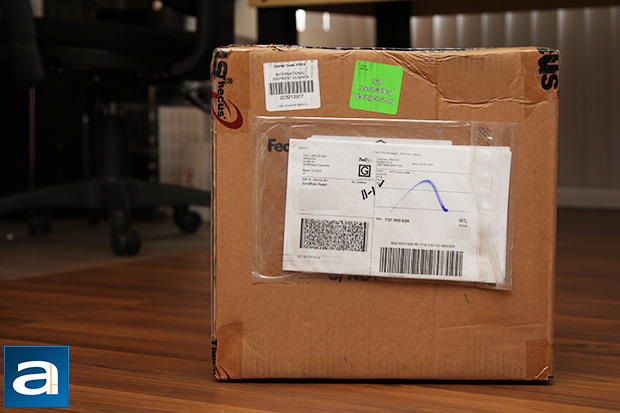 Our review unit of the Thecus N2310 came in a fairly compact, brown corrugated cardboard box from the company's American offices in California, USA. This means, unlike the N2560 my colleague Aaron Lai reviewed earlier this year, it was not from Taiwan, nor was it delivered on Saturday. The trip came about using FedEx Ground, which, as always, handled everything well to us here in Calgary, Alberta, Canada. The box was sealed with some Thecus tape, which we unapologetically cut open to see what was inside.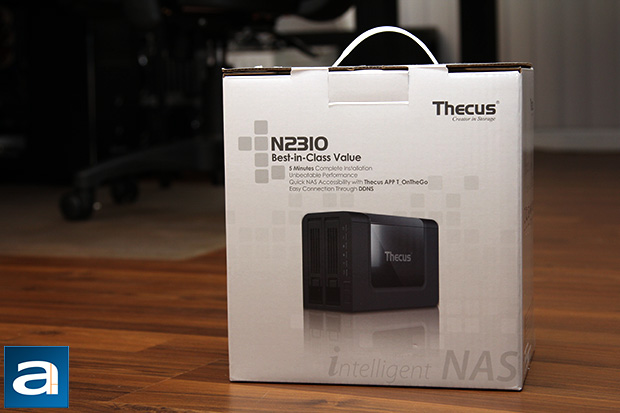 When I laid my eyes upon the Thecus N2310's retail packaging, my first thought was, "This is all business." This is kind of ironic, because this network attached storage is designed for home users. Nevertheless, I think a bit of a serious vibe is quite appropriate, because the N2310 is all down business, albeit somewhat different context. As you can see in our photo above, the box does not come in any fancy colors. It is decorated by a simple matrix background, with Thecus' logo at the top right corner. A darker set of blocks sit adjacent to the "N2310" branding near the middle; with the slogan "Best-in-class value" to indicate, well, its best in class value. Four simple points give the user a quick glance into the highlights of the network attached storage. A profile shot of the N2310 is prominently displayed underneath, so you know what you are getting. The other side of the box is exactly the same; while the left and right side has some feature highlights and a simple specifications list printed on it.
Before we move on, let us take a look at the features and specifications of the Thecus N2310, as obtained from the manufacturer's website:
Processor: AMCC APM 86491 800Mhz
System Memory: 512MB DDR3
LAN Interface (PCI-e): RJ-45x1: 10/100/1000 BASE-TX Auto MDI/MDI-X
USB Interface: USB 2.0 host port x1 (back x1)
USB 3.0 host port x1 (back x1)
Disk Interface: 2 x SATA for internal
Power Supply: 40W external power adaptor
Buttons: Power button
USB copy button
Reset button
Environment: Temperature: 5°C to 40°C
Humidity: 0 ~ 80 % R.H. (Non-condensing)
Chassis: 2bays Tower
Dimensions (HxWxD): 135 x 97 x 207 (mm)/5.33 x 3.83 x 8.14 (in)
Weight: 0.8(Kgs) / 1.8(lb)(NAS only)
Certificates: CE/FCC/C-Tick/VCCI/BSMI, RoHS, WEEE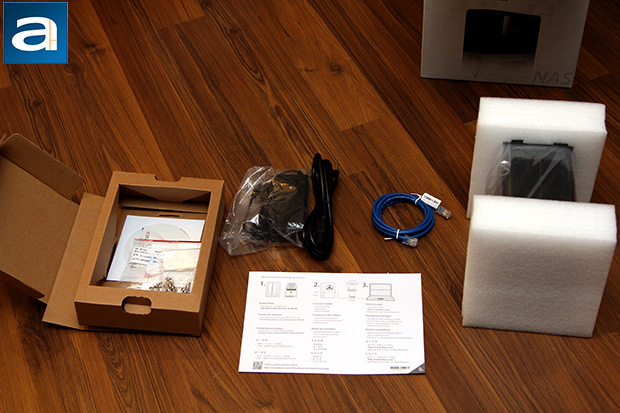 Opening the retail box reveals the Thecus N2310 clipped between two large Styrofoam brackets, and wrapped in a large plastic bag to ensure no bumps and scratches occurs during transport. A separate accessory box holds all your accessories in place, making it organized and easy to find. Overall, I found the packaging to be simple and effective, and I have never had any problems finding what I need from the factory.
The following items are included for the end user:
1x Thecus N2310
1x Power adapter
1x Ethernet cable
12x Screws for 2.5" HDDs
16x Screws for 3.5" HDDs
1x Quick installation guide
1x Warranty card
1x Setup DVD
---
Page Index
1. Introduction, Packaging, Specifications
2.
A Closer Look - Hardware (External)
3.
A Closer Look - Hardware (Internal)
4.
Configuration and User Interface, Part I
5.
Configuration and User Interface, Part II
6.
Configuration and User Interface, Part III
7.
Performance and Power Consumption
8.
Conclusion