By: Aaron Lai
January 24, 2014
When the Calgary Flames took to the ice last weekend, no one knew it would be a night to remember. Bob Hartley, the coach of the Calgary Flames, decided to throw out the fourth line as the starting line; stating that they had a "scoring touch" recently. Since the Flames were the visiting team, they were to submit the starting lineup prior to the home team, who were the Vancouver Canucks. John Tortorella, the coach of the Canucks, was well aware of the situation he was in. If he were to play his first line, which was made up of smaller but more skilled players, he would be putting his best players at risk of injury, which would affect the team's performance on a long run basis. So he did what he had to do, and threw out the Canucks' enforcer line to clash with the Flames. Two seconds into the game, right after the puck had dropped, a full line brawl ensued, and over one hundred and fifty penalty minutes were handed out in total to both teams. While I will not comment on who is right or wrong, it leads me to one point: When a competitor pulls out a threat, the only response is to produce something just as threatening to combat the competition. It only makes sense to battle opposition with things that can directly match, and hopefully defeat, the rival. When ASUSTOR sent us the AS-202TE, we here at APH Networks found a two-bay NAS device that was quite commendable in terms of its software and performance. With Thecus offering a similar product in the N2560 with the same two-bay setup, can the Thecus N2560 hold its own against the competition? Read on to find out!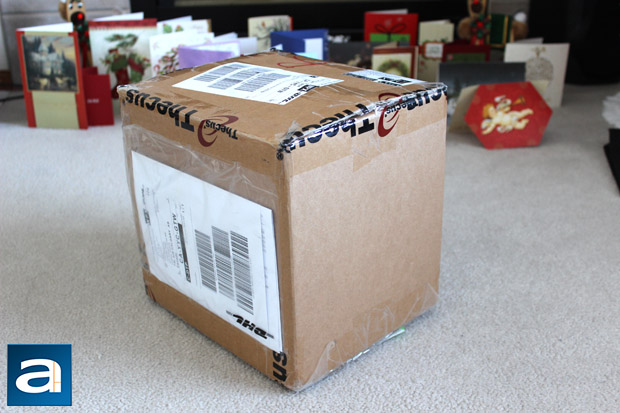 Our review unit of the Thecus N2560 arrived in a brown corrugated cardboard box from the company's Taiwanese headquarters via DHL Express Worldwide. The entire unit was sealed in Thecus-marked tape, and the box itself was in fine condition. Fortunately, there are no dents or holes in the box, meaning everything was handled properly on DHL's side. Interestingly, it was delivered on a Saturday afternoon... no joke. Once the weekend rolled into Monday, I pulled out my handy X-Acto knife, and removed the contents from the shipping box.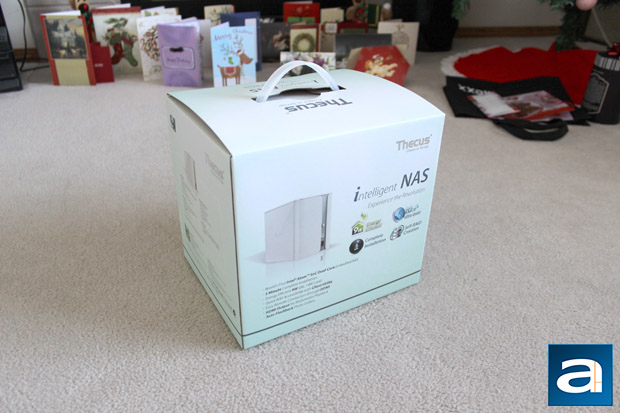 Sliding it out of the packaging, we were greeted with the retail box of the Thecus N2560. The box is green in color, with a picture of the network attached storage system in front. Located beside the image are the words "Intelligent NAS / Experience the Revolution". Underneath, there are four main points to highlight the N2560 as being energy efficient, ultra quiet, having a fast installation, and a self-RAID creator. All of these features, as well as other ones, will be covered in the review. Below the picture of the NAS are more features. On the top-right side of the front panel, we have the company's name and slogan, "Thecus, Creator in Storage". On the left side of the box, we see some specifications and box contents. As well, in the top left hand corner there is the Intel Atom logo, obviously telling users this NAS system has an Intel Atom CPU inside. While the box is busy with lots of words, it has the right looks for the intended audience. It was pretty nice Thecus included a plastic handle for easy movement of the product prior to unpacking. However, we are not here to analyze a package, so let us open this box to see the treasures within!
Before all that though, let us take a look at the specifications of the Thecus N2560, as obtained from the manufacturer's website:
Hardware Specifications
Processor: Intel® Atom™ SoC CE5335 (1.6GHz Dual Core)
System Memory: 2GB DDR3
LAN Interface (PCI-e): RJ-45x1: 10/100/1000, BASE-TX Auto MDI/MDI-X, WOL supported
USB Interface: USB 2.0 host port x2 (back x2), USB 3.0 host port x1 (front x1)
HDMI Output: HDMI port (back x1)
Audio Output: SPDIF (back x1)
Disk Interface: 2 x SATA for internal
Power Supply: 40W external power adaptor
Power Management: Auto power on after shutdown due to power loss
Buttons: Power button, USB copy button, Reset button
Environment: Temperature: 5°C to 40°C
Humidity: 0 ~ 80 % R.H. (Non-condensing)
Chassis: 2 bays Tower
Dimensions (HxWxD): 166 x 114 x 210 (mm)
Weight: 2.4Kgs
Certificates: CE/FCC/C-Tick/VCCI/BSMI, RoHS, WEEE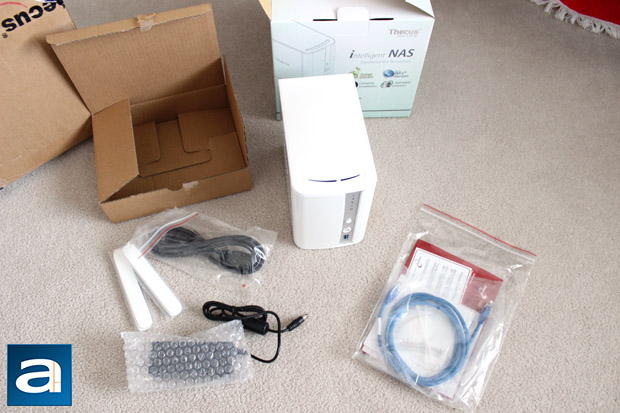 Opening up the retail box, and we will see a quick installation guide for setting up our Thecus N2560. Underneath it is an accessory box holding all the accessories, as the name implies. Finally, dig even lower, and everything else is the actual network attached storage system. The N2560 is in a plastic bag and wedged between two Styrofoam braces to guard it from any damage during movement. Packaging is simple and efficient, as everything I need is in the places I expect them to be.
The following items are included for the end user:
1x Thecus N2560
1x Setup CD-ROM
1x CAT 5e Ethernet cable
1x Power supply
1x Power cable
1x Quick installation guide
2x Pairs of brackets for 3.5" HDDs
1x Warranty card, and other documentation
---
Page Index
1. Introduction and Specifications
2.
A Closer Look - Hardware (External)
3.
A Closer Look - Hardware (Internal)
4.
Configuration and User Interface, Part I
5.
Configuration and User Interface, Part II
6.
Configuration and User Interface, Part III
7.
Performance and Power Consumption
8.
Final Thoughts and Conclusion