Page 2 - A Closer Look - Hardware (External)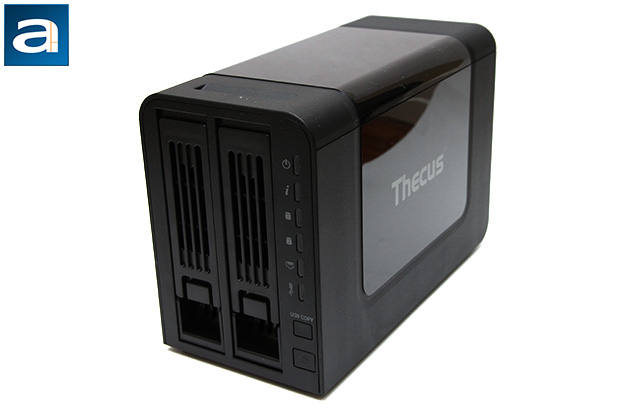 The Thecus N2310's external design is all black. Like its packaging, it is all down to business with its industrial look, but still retains some of the curves seen in the Thecus N2560, so it is not as boring looking as it sounds. For example, the top is rounded off to make it look more interesting. Glossy plastic -- the fingerprint magnet kind -- partially wraps around three sides of the box with Thecus' logo boldly centered for some visual excitement. It will not make your friends "oooh" and "ahhh" at first glance, but at the very least, it will not put anyone to sleep. For a $125 NAS, it is important to note the entire N2310's chassis is made out of plastic other than the hard drive rack that also partially serves as a frame inside, so you definitely can see and feel where some money was saved right from the start.
The dual-bay Thecus N2310 measures in at 9.7cm wide, 20.7cm deep, and 13.5cm tall according to specifications. This is pretty standard among other 2-bay models like the ASUSTOR AS-202TE. Like every consumer grade network attached storage system we have reviewed in the past, the Thecus N2310 features an external power brick; we will cover that in detail in just a moment. The advantage of this is that a heat source is placed outside the system for improved thermal efficiency.
In front, the N2310 features two prominent and easily accessible vertically mounted disk trays, which can be unlatched when the pulled. Once unlatched, you can slide out the drive tray. However, unlike most business class devices, the consumer oriented N2310 does not have lockable drive trays, but this should not be a problem for home users. The ventilated disk trays provide excellent airflow over the hard drives driven by the rear mounted cooling fan inside the system. A secondary vent can be found on top of the unit.
On the right is a vertical array of LEDs to indicate different system operation parameters. From the top, here is what we have, as indicated by the user's manual:
- Power LED: Solid blue (System ready), blinking blue (Power on process), solid red (System with error occurred)
- System Status LED: Blinking white (Diagnostic mode kick-in), solid white (Diagnostic completed), solid red (System with error occurred)
- HDD1 LED: Blinking white (HDD activity), red (HDD failure)
- HDD2 LED: Blinking white (HDD activity), red (HDD failure)
- LAN LED: Solid white (LAN Cable link), blinking (Network activity)
- USB LED: Solid white (Installed), blinking white (USB copy activity), solid red (USB copy failure)
Underneath the vertical array of LEDs are two buttons. The USB copy button copies content stored on the USB device to the N2310, while the power button, as its label suggests, turns the device on or off.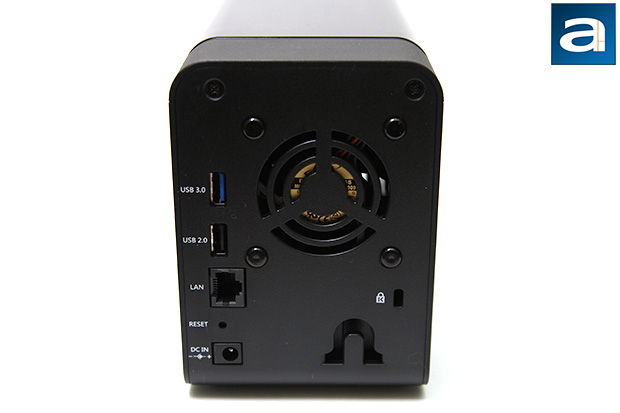 The Thecus N2310 is constructed on a primarily plastic shell; the only metal component is the SECC hard drive rack that doubles as a frame located inside. A photo of this can be found on the next page when we disassemble the device. Obviously, the N2310 does not feel as solid as anything built on a metal frame, but at the very least, I cannot call it flimsy. At the end of the day, this is probably going to sit in a static location out of sight somewhere in your house, so I do not believe this is much of a concern. For $125 at press time, I think this is something we have to expect. I do not know anyone who travels with a network attached storage system, nor physically tinker with it on a daily basis. If you are one of those people, you are definitely not using it as it was intended, haha.
What we have at the back of the system is a simple array of connectors. Here, we have a USB 3.0 port, followed by a USB 2.0, Gigabit LAN, reset button, and 12V DC input from the external power brick. This is it. Its simplicity reminds me of the QNAP TS-409 I have reviewed back in 2008, instead of modern full blown NAS that has as many connectors as your desktop PC. Occupying a relatively large chunk of space at the back is a single 60mm exhaust fan to pull heat out of your NAS. Exhaust vents are cut into the plastic panel, which is not the best for high airflow, but again, cost is a concern. Also, the fan makes an annoying buzzing noise during operation, making it quite unpleasant to listen to.
To disassemble the unit, you will have to remove two screws located on the back panel, along with two cleverly hidden screws below the front legs at the bottom. Next, you will have to give the panel a bit of force to get the case to come apart. I used a set of nylon pry bars -- the same tools you use to take apart car interior panels -- to prevent the Thecus N2310 from being scratched. Unfortunately, I definitely broke a few clips in the process. It is not going to prevent anyone from putting the NAS back together, but this is just something to note. Interestingly, there is no warranty seal anywhere, so you will not void your warranty if you simply need to open the unit to clean out some dust off its fan, or just want to take a look inside. We will dig into the N2310's interior in more detail on the next page.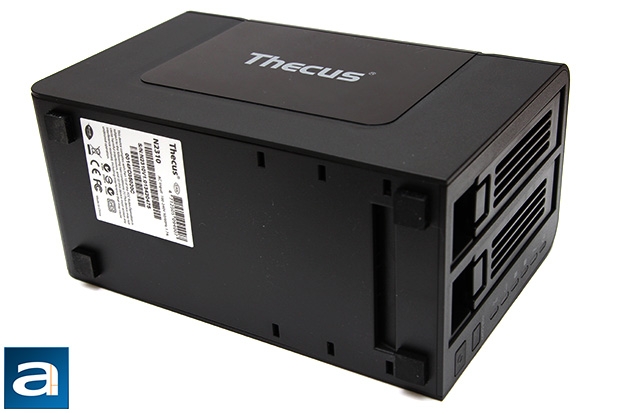 There is nothing particularly exciting at the bottom of the Thecus N2310's chassis; what you will see here are four small legs affixed on top of its plastic panel. As always, they are installed to reduce vibration noise, increase grip, and prevent surface scratching. A small air intake slot is present to make sure hot air does not get congested within. Other than that, there is a manufacturer label that shows the system's serial number, power specifications, and the usual regulatory symbols.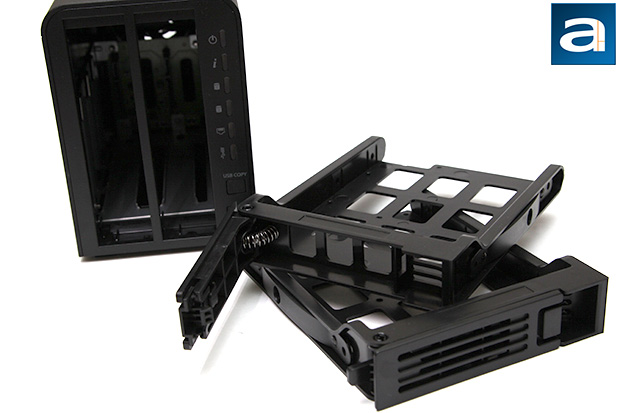 Removing its vertically mounted 3.5" SATA disk trays reveals the connector backpanel. The SATA 3Gb/s backplane ports are powered by a controller native to the AppliedMicro system on a chip. It is not a SATA 6Gb/s system, but it is not going to affect real life network throughput over Gigabit LAN. Since this is a SATA system, all hard drives are hot swappable. Removing the hard drive tray is very simple -- just pull on the lever on the tray, and it is out. The disk trays are not labeled. Obviously, you can grab a permanent marker and mark them by hand, but labeling them "Disk 1" and "Disk 2" from the factory is probably not too hard. Each tray can accommodate a 2.5" or 3.5" drive, along with a maximum amount of ventilation openings at the bottom for improved heat dissipation. The trays are made out of plastic. The Thecus N2310 supports single disk, RAID 0 (Disk Striping), RAID 1 (Disk Mirroring), and JBOD (Linear Disk Volume).
---
Page Index
1.
Introduction, Packaging, Specifications
2. A Closer Look - Hardware (External)
3.
A Closer Look - Hardware (Internal)
4.
Configuration and User Interface, Part I
5.
Configuration and User Interface, Part II
6.
Configuration and User Interface, Part III
7.
Performance and Power Consumption
8.
Conclusion