By: Aaron Lai
July 29, 2022
In mainstream movies or television shows, you can see sometimes how there are characters that have catchphrases that help the audience identify them. Usually, these phrases reflect some part of their identity, whether it is the rebellious expression of Bart Simpson's "eat my shorts", the frustrated feeling of Daffy Duck's "sufferin' succotash!", or the heroic nature of Buzz Lightyear's "to infinity... and beyond!". In real life, we also have friends that seem to have catchphrases, as my colleague Jonathan wrote about his friend that said things were "built different". As for myself, I do not think I have a catchphrase, but I have another friend who always likes to say when things are well-priced by saying, "Now that is value!" He would often come to me asking about different deals and exclaim it. Even my three-year old niece started copying him, although I am not sure if she really knows what it means. Obviously, it does not fully encompass his identity, as he does not incessantly look out for deals to exclaim his phrase, but he does say it enough so that others know who this is. When Thermaltake sent us their H700 TG Snow, I had to wonder if I could make a catchphrase for this. Thermaltake themselves market this as "clean, simple, and sleek" and able to "fulfill basic but important needs". As such, the H700 TG Snow should be what the general population would want. How does this product meet these expectations? Let us read on to find out!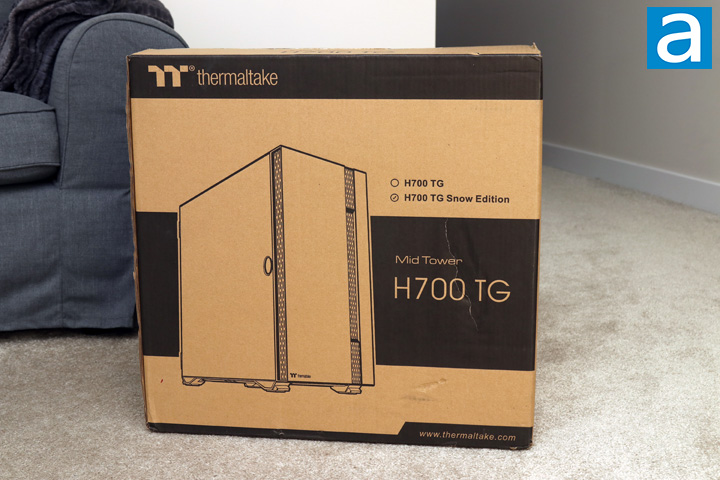 Today's review unit of the Thermaltake H700 TG Snow arrived via DHL and their Express Worldwide service. Traveling all the way from City of Industry, California, this box arrived at our APH Networks offices here in Calgary, Alberta, Canada, in relatively good condition. There are one or two unfortunate marks that look like they have broken through the cardboard, but thankfully everything else held up and it is "just a flesh wound". The retail box is a pretty standard retail container with printed on sides to show the outlines of the Thermaltake H700 TG Snow. If there was any confusion as to the color of the chassis inside, you can see Thermaltake has clearly indicated on this side that we do indeed have the Snow version. The box is pretty plain in look, which is not too surprising for a product trying to meet basic needs. It is a bit interesting to see yet another case with the "H700" name, as we saw one from NZXT with the H700i. Even so, the Thermaltake H700 TG is visually a very different product, as you will see shortly. Around the box, we have some specifications and features to take note of, with some more descriptions for the features of this case.
Here are the specifications from the manufacturer's website for your viewing pleasure:
SERIES: H Series
CASE TYPE: Mid Tower
DIMENSION (H X W X D): 493 x 233 x 466 mm (19.4 x 9.2 x 18.3 inch)
NET WEIGHT: 9.6 kg / 21.16 lbs.
SIDE PANEL: Tempered Glass x 1
COLOR: White
MATERIAL: SPCC
COOLING SYSTEM:
- Front(intake): 120 x 120 x 25 mm standard fan (1100rpm, 22.5 dBA) x 1
- Rear(exhaust): 120 x 120 x 25 mm standard fan (1100rpm, 22.5 dBA) x 1
DRIVE BAYS: 2 x 3.5", 2 x 2.5" or 4 x 2.5"
EXPANSION SLOTS: 7
MOTHERBOARDS: 6.7" x 6.7" (Mini ITX), 9.6" x 9.6" (Micro ATX), 12" x 9.6" (ATX), 12" x 13"(E-ATX)
I/O PORT: USB 3.0 x 1, USB 2.0 x 2, HD Audio x 1, LED button x 1
PSU: Standard PS2 PSU (optional)
FAN SUPPORT:
- Front: 3 x 120mm, 2 x 120mm, 1 x 120mm, 3 x 140mm, 2 x 140mm, 1 x 140mm
- Top: 3 x 120mm, 2 x 120mm, 1 x 120mm, 2 x 140mm, 1 x 140mm
- Rear: 1 x 120mm, 1 x 140mm
RADIATOR SUPPORT:
- Front: 1 x 360mm, 1 x 240mm, 1 x 120mm, 1 x 280mm, 1 x 140mm
- Top: 1 x 360mm, 1 x 240mm, 1 x 120mm, 1 x 280mm, 1 x 140mm
- Rear: 1 x 120mm
CLEARANCE:
- CPU cooler height limitation: 180mm
- VGA length limitation: 340mm(With radiator), 395mm(Without radiator)
- PSU length limitation: 180mm(With HDD Cage), 220mm(Without HDD Cage)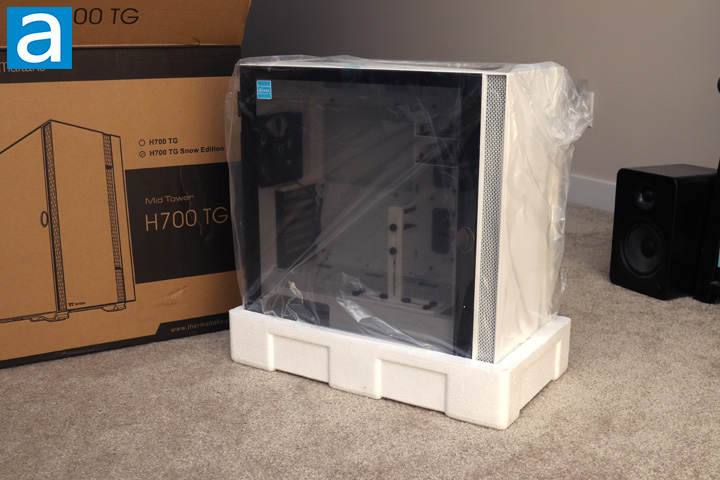 The Thermaltake H700 TG Snow was packaged in a thin plastic bag and sat between two thick white foam brackets. This is not exactly the densest of foam, so I would not recommend using it to move a fully loaded computer with parts installed inside. There are plastic wraps found on both sides of the left glass panel for extra protection as this is a tempered glass case. Otherwise, there is some documentation included for installation instructions and a box to hold all of the accessories and mounting tools inside.
---
Page Index
1. Introduction, Packaging, Specifications
2.
Physical Look - Outside
3.
Physical Look - Inside
4.
Installation and Conclusion