By: Jonathan Kwan
April 15, 2022
I have a friend who really likes to say certain people are "built different". But what does it mean to be built different? The way I see it, in the context he usually uses it, is usually a description on individuals who like to act or behave in a different -- but good -- way. Interestingly, if I were to think of someone who is truly built different, I would say it is actually my friend. While the average person his age would see entertainment as binging a series on Netflix or relax to a game of VALORANT, his form of entertainment is to read theology books. One time, I asked him to read a theology book and let me know what he thought of it. I was expecting him to come back to me in a week or two, but instead, he composed an entire commentary of all the highlights of the publication by 4am the next morning, and he started at 11pm. And it is not like this was a one-off event -- he does this on a regular basis. If that is not an example of a person being built different, I do not know what is. When it comes to mechanical keyboards, Corsair has a long record of excellent pre-built products. The K70 lineup in particular was well-reviewed by us here at APH Networks, including the K70 RGB MK.2 Low Profile and K70 RGB TKL Champion Series. Today, we will take a look at the latest in the family, which is the K70 RGB Pro. The company claims this keyboard retains all the excellent features the series is known for, including a solid aluminum frame, Cherry MX switches, and per-key RGB LED backlighting, while adding AXON technology and a tournament switch. Is the newest model really built different like my friend, and does "the legend continue" with the K70 RGB Pro as Corsair claims? Read on to find out!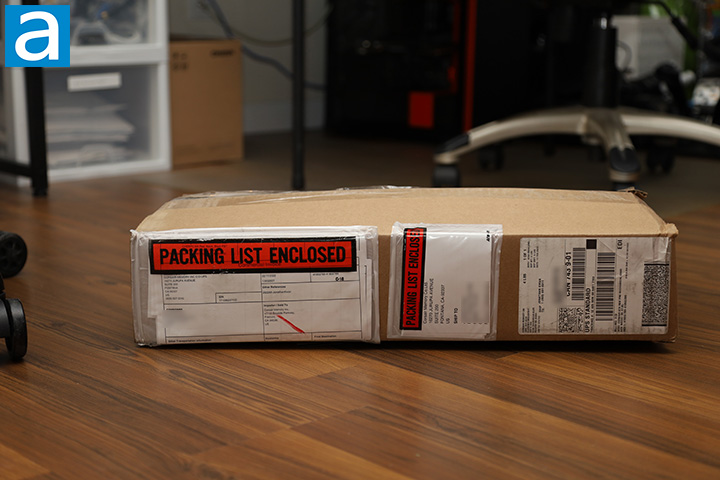 Our review unit of the Corsair K70 RGB Pro came in an elongated brown corrugated cardboard box from the UPS location in Fontana, California, USA, a city in San Bernardino County. That is quite a bit of a distance from the company's actual headquarters in Fremont. Using UPS Standard, the box was a bit beat up and the sealing tape at the top was almost completely destroyed when it came to us here in Calgary, Alberta, Canada. That said, the content inside was just fine.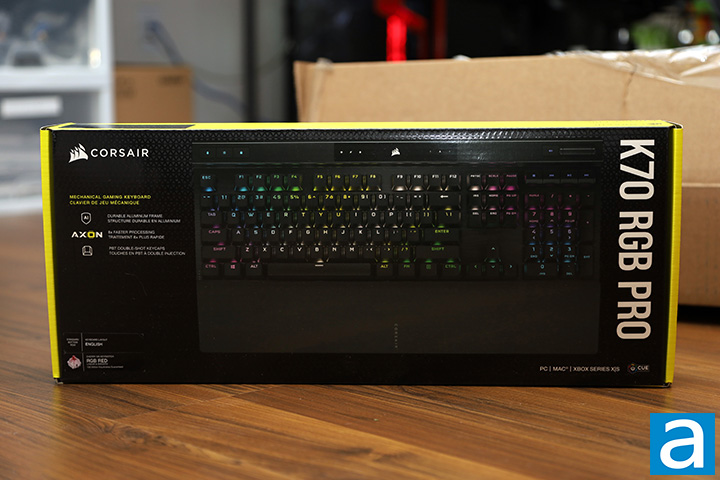 The retail packaging of the Corsair K70 RGB Pro is immediately recognizable to anyone who has seen peripherals from the company at the local computer shop in the last little while. It is similar to the K70 RGB TKL Champion Series, but with updated design elements. The predominantly black color scheme is complemented by yellow strips on the side, contrasted by the white text on the darker shades and black text on the lighter shades. A photo shot from the top of the keyboard occupies majority of the real estate in front. At the top, you will find Corsair's logo. The description and feature highlights of the keyboard is printed underneath it. At the bottom is a sticker to indicate its English keyboard layout and Cherry MX Red switches. On the right is the K70 RGB Pro branding in bold vertical text, while a Corsair iCUE logo and line indicating PC/Mac/Xbox Series X|S compatibility sits along the bottom. Further feature highlights and miscellaneous product information such as specifications and system requirements can be found on the remaining sides of the box.
Before we move on, let us take a look at the specifications of the Corsair K70 RGB Pro, as obtained from the manufacturer's website and press material:
Keyboard Warranty: 2 Year
Weight: 1.15kg
Lighting: RGB
Keyboard Layout: NA
USB Polling Rate: Up to 8,000Hz with AXON
Keyswitches: CHERRY MX Red
Matrix: 104 Keys
Connectivity: Wired
Adjustable Height: Yes
Media Controls YN: Yes
Keyboard Type Size: K70
Keyboard Product Family: K70
Keyboard Rollover: Full Key (NKRO) with 100% Anti-Ghosting
Form Factor: Full Size
Wired Connectivity: USB 3.0 or 3.1 Type-A
On-Board Memory: 8MB
Number Onboard profiles: Up to 50
WIN Lock: Dedicated Hotkey
Media Control: Dedicated Hotkeys, Volume Roller
Palm Rest: Magnetic detachable, soft touch
Keyboard CUE Software: Supported in iCUE
Cable Type: Braided
Integrated Touchpad: 444mm x 166mm x 40mm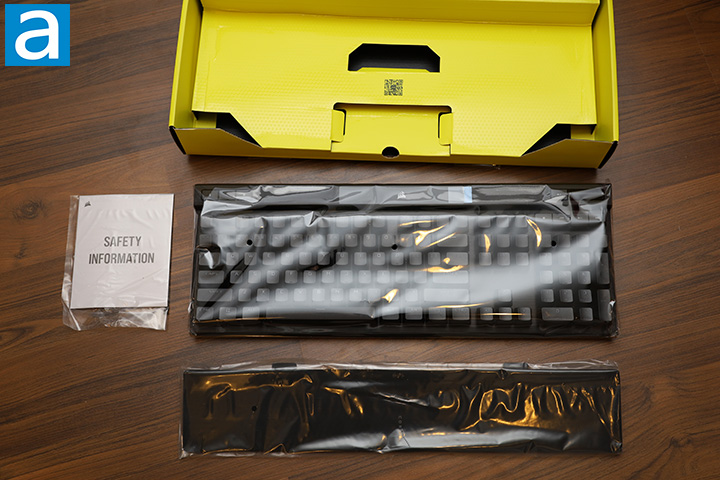 Out of the box, you will receive everything you need. Securely placed inside the box is the Corsair K70 RGB Pro keyboard itself contained in a clear plastic bag, while its detachable wrist rest is wrapped inside a separate plastic bag. A detachable USB Type-C to USB Type-A cable is included as well. On the product literature side, you will find a safety information guide.
---
Page Index
1. Introduction, Packaging, Specifications
2.
A Closer Look - Hardware and Software
3.
Conclusion