By: Aaron Lai
October 15, 2021
I was recently asked about home automation and what sort of things I did in my house. While I have a few connected devices such as a couple of smart speakers, connected thermostat, and some smart lighting, I am still not entirely sure if I would be considered an early adopter of these items. I did not really think too much about how they would integrate with each other, and these were probably purchased out of minor conveniences instead of with automation in mind. There are other things that are now "smart" from stovetops to doorbells and even refrigerators. You can usually tell these items are connected because they have a few extra parts that traditional items would not normally have. For example, doorbells are usually just a single button, but smart ones often have extra lights and a camera, while stovetops or fridges feature extra buttons and even a large screen in the middle. Almost all of them also have microphones and speakers as well, which help capture human inputs like audio cues and respond with certain output. When Thermaltake announced their TOUGHLIQUID Ultra 240, I was honestly surprised, especially when I saw this was a cooler that offered a full colored screen. While it may not necessarily be a connected cooler or use "smart" functionality, how will the Thermaltake TOUGHLIQUID Ultra 240 perform in its tests? What does the screen offer in its place and how cool is it to have one? Let us read on to find out!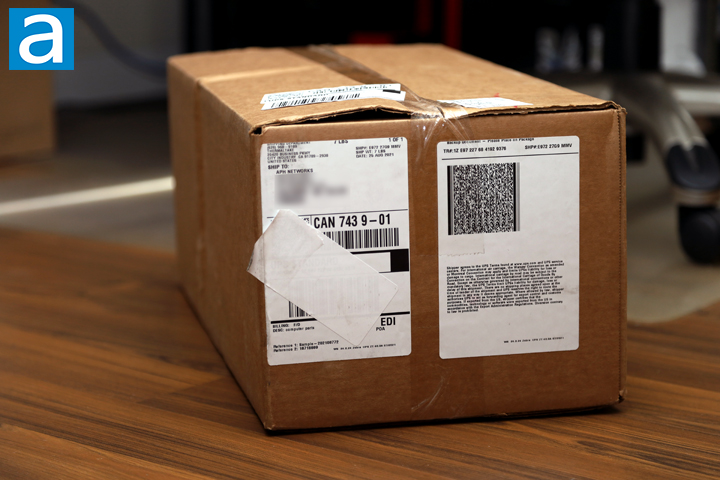 Today's review unit of the TOUGHLIQUID Ultra 240 arrived from Thermaltake's American offices in City of Industry, California. Traveling with UPS and their Standard ground service, this box arrived in good condition to our APH Networks offices in Calgary, Alberta, Canada. In addition to the AIO cooler, Thermaltake also sent us a set of their Riing Trio 12 RGB White, which will be reviewed in the coming weeks by fellow editor Jonah Chow. Otherwise, there is not much else to look at, so let us continue on in our review.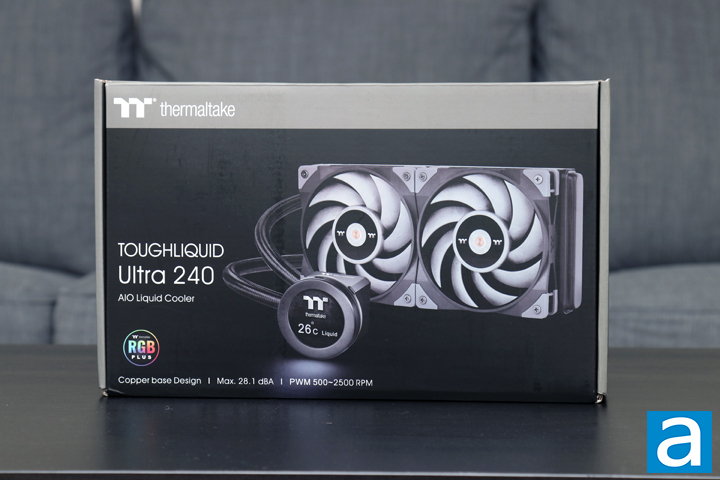 The retail container of the TOUGHLIQUID Ultra 240 follows the simple Thermaltake retail design that we have seen with the ARGENT K5 RGB and The Tower 100 Snow. As such, we have a black and grey color scheme on the box with a Thermaltake logo found on the top left corner. In the middle of the box, we have the all-in-one liquid cooler on display with its screen illuminated. Underneath, we have three highlighted specifications, including its copper base design, maximum 28.1 dBA noise output, and 500 to 2500 RPM speed, presumably for the two fans. Around the box, we have several other features and specifications highlighted by Thermaltake in various languages. Otherwise, the box is pretty simple without too many words around the front area.
If you are interested, I have grabbed the specifications from the manufacturer's website for your viewing pleasure:
PUMP:
- Motor Speed: 3200 RPM
- Rated Voltage: 12V
- Rated Current: 0.38A
- Power Input: 4.56W
CPU DISPLAY:
- Rated Voltage: 5 V
- Power Input: 11.5 W
- Display Type: 2.1" TFT-LCD
- Display Resolution: 480x480 (RGB) px
DISPLAY SUPPORT:
- Interface: Micro USB to USB (9PIN)
- System Compatibility: Windows 7 / 8 / 8.1 / 10
WATER BLOCK:
- Material : Copper
FAN:
- Dimension : 120 x 120 x 25 mm
- Speed: PWM 500~2500 R.P.M (2510-4PIN)
- Noise Level: 28.1 dB-A
- Power Input: 2.76 W (one fan)
- Rated Voltage: 12 V
- Rated Current: 0.23A (one fan)
- Max. Air Flow: 72.69 CFM (one fan)
- Max. Pressure: 3.78 mm-H2O (one fan)
TUBE:
- Length: 400 mm
- Material: Rubber
RADIATOR:
- Dimension: 273 x 120 x 27 mm
- Material: Aluminum
COMPATIBILITY:
- CPU Socket: Intel LGA 2066/2011-3/2011/1366/1200/1156/1155/1151/1150; AMD AM4/AM3+/AM3/AM2+/AM2/FM2/FM1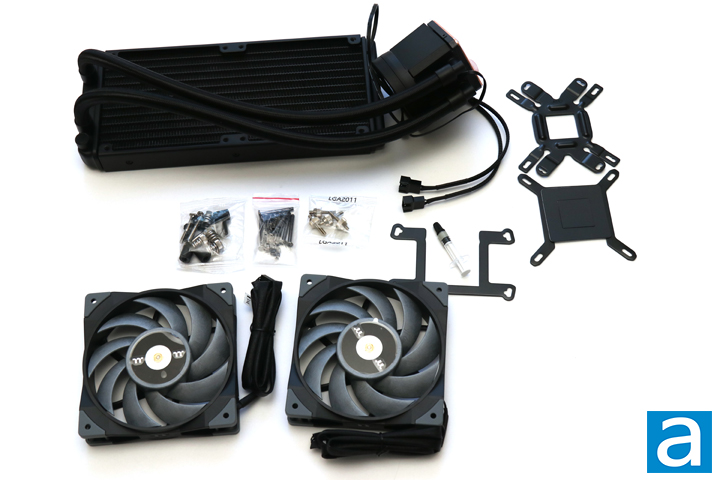 As with most all-in-one coolers, everything is held in a single cardboard carton inside the retail container. Most of the components are wrapped in plastic bags to prevent damage to the components. As you may have read in the compatibility portion of the specifications, the TOUGHLIQUID Ultra 240 supports most modern motherboards, including Intel's LGA1200, LGA115x, LGA20xx, AMD's AM4, AM3+, and AM3, to name a few. The only modern socket that is missing is AMD's TR4, although this is understandable considering how much larger the IHS area is compared to general consumer processors. In addition to the radiator, pump, and CPU block combination, we have another resealable bag filled with mounting equipment. Two Thermaltake TOUGHFAN 12 Turbo fans are included with the AIO unit. Otherwise, there is finally some documentation included to help users with the installation process, for both the hardware and software.
---
Page Index
1. Introduction, Packaging, Specifications
2.
A Closer Look - Hardware and Software; Installation
3.
Test Results
4.
Conclusion