By: Jonah Chow
November 12, 2021
I recently have been watching many shows revolving around the famous chef, Gordon Ramsay. Aside from his very entertaining series such as Hell's Kitchen or Kitchen Nightmares, it is genuinely interesting to see the more serious shows that show his cooking expertise at its finest. A great example of this is his Great Escape series, where he travels to a foreign country and learns the cooking techniques of different exquisite dishes. Some examples are when he went to India and helped cook a Biryani for a large wedding, or when he went to Vietnam and helped cook many great looking foods. I like the Great Escape series a lot because it shows Gordon Ramsay exposing himself to cooking styles he is unfamiliar with, but also his willingness to master the dishes placed in front of him. As nice as Great Escape is, I also like the series that sees him more in his comfort zone, The F Word. Here, he travels his home country and cooks dishes he is familiar with, proving his mastery and competence in the culinary world. I enjoy watching him cook dishes he has mastered over his many years of culinary arts because it shows how one man can do so much in his comfort zone. A little while back, I reviewed the Thermaltake TOUGHRAM XG RGB DDR4-4000 2x8GB memory kit, which was an example of Thermaltake going outside of their comfort zone to create a solid set of memory I still use. Today, Thermaltake is bringing us back to their comfort zone in cooling products with the Riing Trio 12 RGB White fans. Did Thermaltake affirm their competence with this set of cooling fans? Let us read on to find out!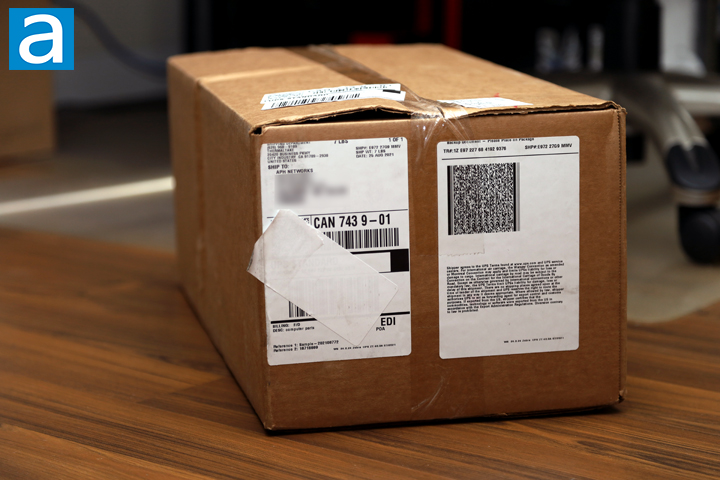 Our review unit of the Thermaltake Riing Trio 12 RGB White arrived via UPS Standard from City of Industry, California, USA. The shipping package arrived to us here in Calgary, Alberta, Canada. The shipping box arrived in great condition with no scratches or scrapes. Along with the fans, Thermaltake sent us their TOUGHLIQUID Ultra 240, which was reviewed a few weeks ago by my colleague Aaron Lai.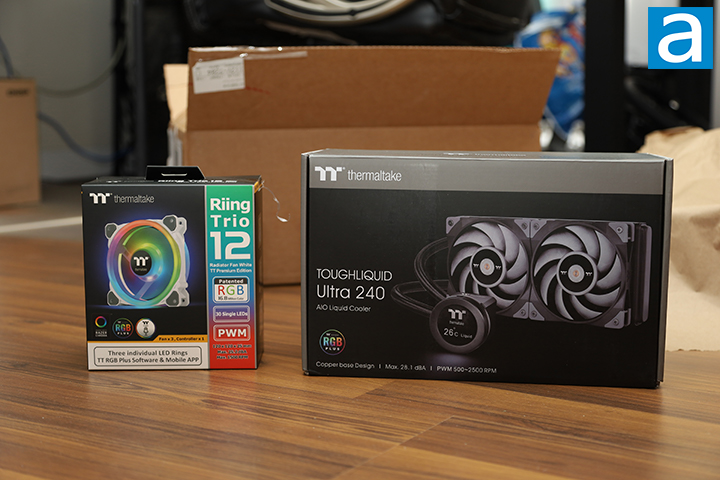 Taking a closer look at the retail box, we can see a mix of different colors scattered on the front. As seen in the photo above, the front side is packed with information. The product name can be seen on the right side with the text "Radiator Fan White TT Premium Edition". Some more information can be found below including a patented RGB label and indications for PWM control. A scaled-down image of the fan is seen front and center of the retail package, with all of the compatible software listed below. Additional information can be found on the sides and back of the box.
Before we move on, here are the manufacturer's specifications from the Thermaltake website:
P/N: CL-F126-PL12SW-A
FAN DIMENSION: 120 x 120 x 25 mm
INTERFACE: USB 2.0 connectors (9 Pin)
SYSTEM COMPATIBILITY: Windows 7 / 8 / 8.1 / 10
FAN STARTED VOLTAGE: 9.0 V
FAN RATED VOLTAGE: 12 V & 5V
RATED CURRENT: 12V- 0.12 A , 5v – 1.03A (only one fan)
POWER INPUT: 12V – 4.32 W . 5V – 15.4 W (Fan*3)
FAN SPEED: 500 ~ 1500 R.P.M
MAX. AIR PRESSURE: 1. 4mm-H2O
MAX AIR FLOW: 41.13 CFM
NOISE LEVEL: 25.2 dB-A
BEARING TYPE: Hydraulic Bearing
LIFE EXPECTATION: 40,000 hrs,25℃
WEIGHT: 168 g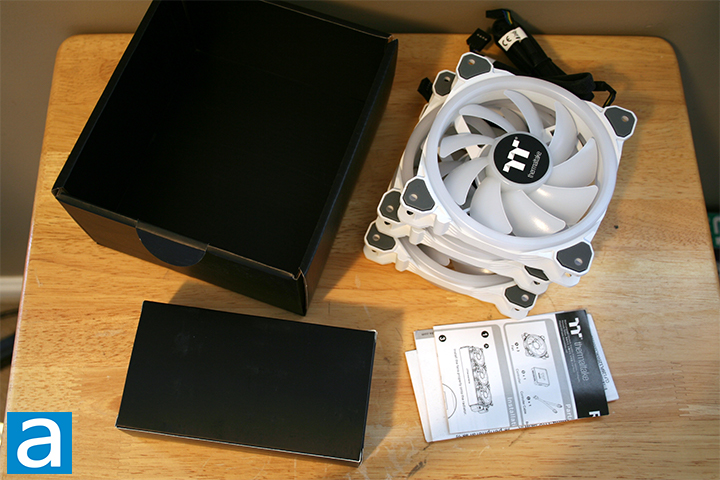 The fans arrived in good condition, showing that the retail box served its purpose. The Thermaltake Riing Trio 12 RGB White also comes with a user manual and warranty information. A smaller black box is included and it carries a Thermaltake fan controller, its associated cables, and mounting screws. The Riing Trio 12 RGB White comes with a standard two years of warranty.
---
Page Index
1. Introduction, Packaging, Specifications
2.
A Closer Look - Hardware and Software
3.
Performance Tests
4.
Conclusion