Page 2 - A Closer Look - Hardware and Software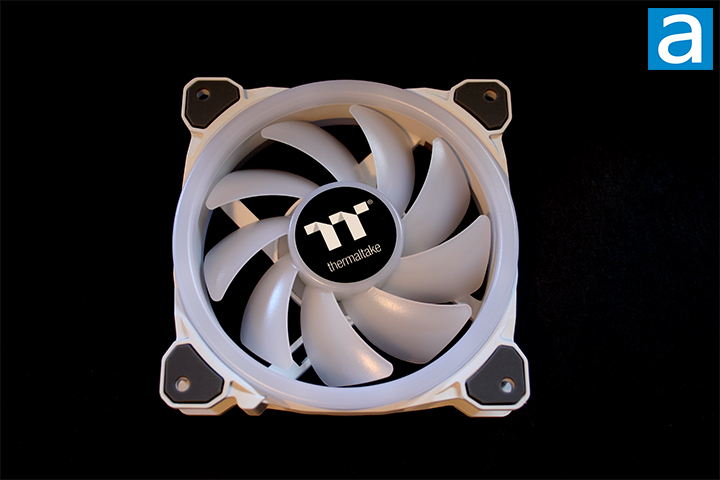 Taking a closer look, we can see that the Thermaltake Riing Trio 12 RGB White uses a white plastic frame with a white translucent loop forming a ring around the fan. This loop is similar in design to other RGB LED fans like the Cooler Master MasterFan MF120 Prismatic and the Cooler Master MasterFan MF120 Halo, although it is much thicker here. On the edges, grey pads can be seen around each of the mounting holes. These pads act as dampeners, being designed to reduce vibration and noise generated by the fan when mounted. The whole impeller, including the fan blades, is translucent to help disperse the RGB LED lighting. The plastic loop is very smooth and clear. Because of this, the fan looks very clean and polished, even without the RGB LED lighting. The Thermaltake name and logo are seen in the center.
Internally, the Thermaltake Riing Trio 12 RGB White uses hydraulic bearings. A thin layer of rapidly moving pressurized liquid moves between bearing surfaces to support the load. There is no sliding friction due to there being no contact between moving parts, so these bearing types have lower wear and vibration. These fans should last about 40,000 hours, which is just over four and a half years.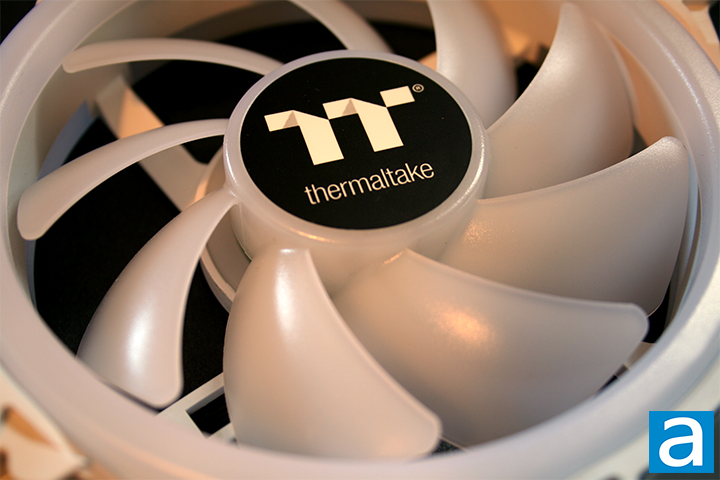 Taking a closer look at the fan blades of the Thermaltake Riing Trio 12 RGB White, we can see that the fins are very similar in design to other fans we have reviewed in the past, with the angle of the blades becoming more curved near the edges. All the fins have a decently sized gap between them such that none of them overlap each other. In reference to the rotating middle, the angle of each blade is roughly 47 degrees. There are a total of nine blades on the impeller of the Riing Trio 12 RGB White, all without any bumps or abnormalities.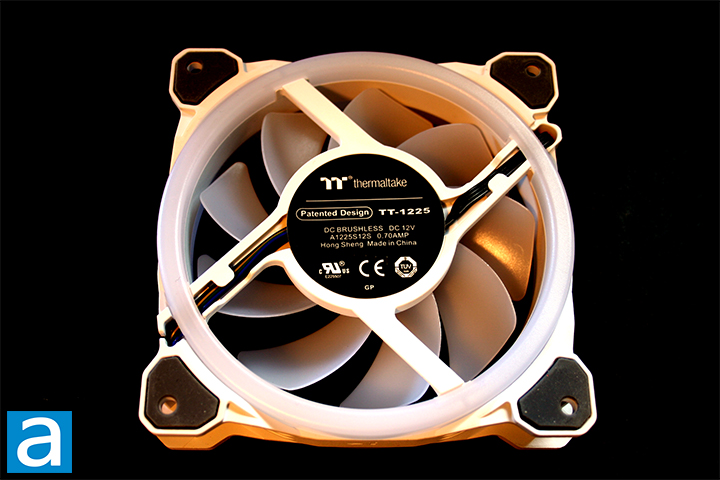 Looking at the output side, we can see four arms that hold the impeller in place. While these arms do block some of the air from passing through, they are relatively thin. We can see the grey dampening pads again on the backside mounting holes. The translucent RGB LED loop is located on the backside as well. In the center, we can see the Thermaltake name and logo at the top with some specifications below. This includes the operating voltage and current, some certifications, and the origin of where it was manufactured. These fans were made in China.
On the topics of sound, airflow, and static pressure, the following lesson on these issues have been borrowed from my colleague Jonathan Kwan's review of the Noctua NF-F12 PWM and NF-P12 PWM fans. Noise and CFM relates to the challenge when designing fans, which is to provide the best airflow to noise ratio. One would want the best amount of airflow while keeping it as quiet as possible. Even with the best ratio, it is quite difficult to measure objectively at all times. The most common unit of objective measurement is CFM, or cubic feet per minute, of air for airflow, and dB noise, respectively. We will go over how application and CFM is related with regards to its standard measurements, but let us discuss perceived noise first.
dB, or Decibels, is a logarithmic unit of sound intensity. While it provides what appears to be an objective measurement for the most part, it should be noted that perceived noise levels to the human ear and actual sound intensity could result in very different things. Human ears are more sensitive to particular frequencies, and when those particular frequencies are emitted from its source, it may appear louder than its numbers suggest. That same can be said vice-versa -- frequencies that human ears are less sensitive to can actually have louder dB measurements from a sound meter, yet the human ears do not perceive it to be as loud as the numbers suggest. Other factors such as turbulence noise are often not measured correctly, therefore, while it usually provides a good reference, it does not necessarily reflect real life performance all the time.
With regards to the application and CFM, it is generally optimal to have a fan to have a high air volume flow rate. However, pure CFM values are limited to an extent with regards to its indication on fan performance. It is not completely about how much air in can move per minute quantitatively, but equally as important is how it is executed in reality. Airflow-to-noise ratio is an essential factor as mentioned earlier. Static pressure is also very important depending on application. High resistance applications such as dense fins on a large heatsink require high static pressure, while case fans need less static pressure and faster airflow. There are times where case fans will require higher static pressure too, such as the front intake fans where a mesh grille would create some resistance. Some fans are simply designed for different purposes, so choose one appropriate for your needs.
With the Thermaltake Riing Trio 12 RGB White, we have a volumetric airflow rate of 41.13 CFM, static air pressure of 1.4 mmH2O, and a maximum noise level of 25.2 dB spinning at a maximum rotational speed of 1500 RPM. These numbers are a bit low in terms of airflow and static pressure. However, their maximum speed is relatively low and hence quieter. With its lights and design, users will probably put these fans as case fans rather than used for radiators.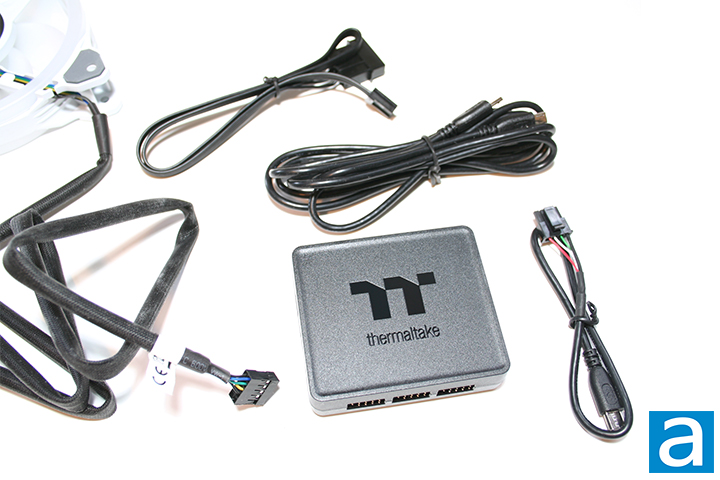 The cable on the Thermaltake Riing Trio 12 RGB White is a little different than your usual fan connectors. Instead of a 4-pin PWM and 3-pin ARGB connector, there is a single 9-pin connector that leads out from the fan. I do not love the fact this uses proprietary cable headers, which makes it not possible to use directly with components from other manufacturers. The length of this cable is about 90cm, which is more than enough length to route around your PC. This is due to the fact these fans connect using a Thermaltake controller, which can also be seen in the photo above. Included with the package is a Y-split controller cable, bridge cable, and power cable. The lengths of these cables are 90cm, 30cm, and 50cm, respectively. These are more than enough length to route around your PC as well.
The controller acts as both the power and lighting source for the Riing Trio 12 RGB White fans. There are five plugs for these specific fan connectors, another spot for power, and two micro-USB ports that lead to a USB 2.0 header to be plugged directly into your motherboard. The power cable attaches to a Molex connector that will directly connect to your power supply unit. The bridge cable connects two controllers for parallel operation if users want to load up their system with Thermaltake fans. An installation guide is included to provide instructions for users on how to set up the controller with the fans.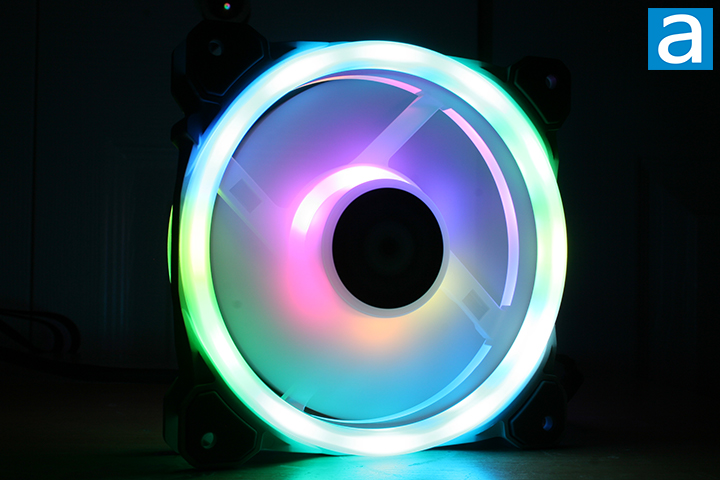 If you are a fan of rainbow lights on your PC fans, then the Thermaltake Riing Trio 12 RGB White is made for you. The lighting on this fan is nothing short of beautiful, thanks to the thirty addressable RGB LEDs placed throughout the fan, which diffuses through the translucent material. Twelve LEDs are placed on the front and back ring loop while the remaining six LEDs are placed on the central fan hub. If you are purchasing the Riing Trio 12 RGB White to solely add great looking fans to your case, then your mission will be accomplished. These pictures are not enough to show how incredible the lighting is, as the RGB lighting display on the Riing Trio 12 RGB White is simply captivating. On top of all it all, the controller allows for up to twenty-three different lighting modes with four different lighting transition speeds. Thermaltake did an excellent job with the RGB lighting effects on these fans in my opinion.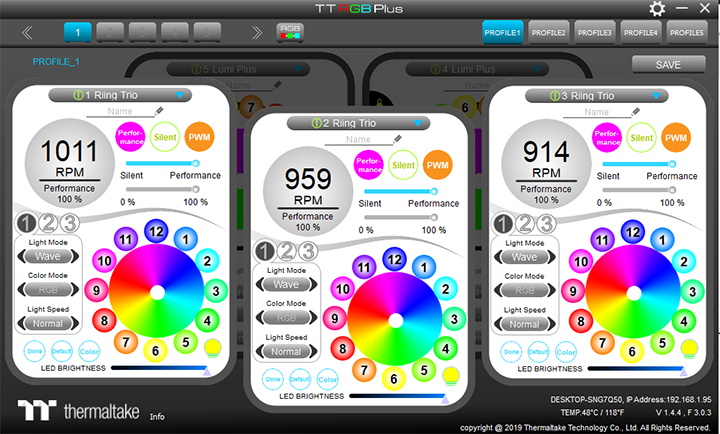 On the topic of adjustable settings, the Thermaltake TT RGB Plus program is the main interface for these fans. Here, users can adjust the fan RPM speed, lighting speed, color mode, and lighting modes. Users can also monitor the RPM of each fan, which is a nice touch. When it comes to fan speed, users can select three options: Performance, Silent, and PWM. In Performance mode, the fans spin closer to their maximum RPM speed, while the fans will spin much slower in Silent Mode. In PWM mode, the user can manually adjust the fan speed by dragging the knob on the percent slider to determine the specific speed their fans will be running at. The slider can change percentages in increments of 10. With color customization, the user can select up to twenty-three different lighting modes, all of which are unique and add a great look to the fans. The LED color brightness can be adjusted at the very bottom. Additionally, each fan can be given a unique name for easier identification, which can be entered at the top.
I found the communication between the TT RGB Plus program and the Riing Trio 12 RGB White to be quite fast. Any customization I made on the software would instantly reflect on the physical fan with no significant delay. Overall, the software is intuitive and easy to use, although it looks a bit dated. I would have liked to see Thermaltake move their products to the newer 2.0 version, as we saw in the TOUGHLIQUID Ultra 240.
---
Page Index
1.
Introduction, Packaging, Specifications
2. A Closer Look - Hardware and Software
3.
Performance Tests
4.
Conclusion