By: Jadon Lee
March 13, 2020
Lately, I have been experimenting with my sleep schedule to find what best works for me. As an everyday university student, I find that finding a rhythm is essential to finding my own personal success. In my experimentation, I found the earlier I woke up, the less tired I would feel when I wake up. This began my transition to sleeping earlier and waking up earlier. Pushing forward with this method of sleep, I slowly began to realize I felt generally happier and had a brighter outlook on life. I never thought changing a single portion of my lifestyle would be able to affect my life this greatly. Sometimes, the small parts of your life can change how you perceive things substantially, just like the Cooler Master MasterFan MF120 Halo. When Cooler Master sent us their MasterFan MF120 Halo, I thought about how such a small part of a PC could alter its appearance so drastically. These fans may sound like any other RGB fan, but it also has an additional ring of light around the impeller. I moved on to think about how well these fans would perform as the functionality of a fan is the most important aspect over features like RGB. I can often forget this like a true member of Generation Z. Can the performance of this fan keep up with its aesthetics? Keep reading to find out!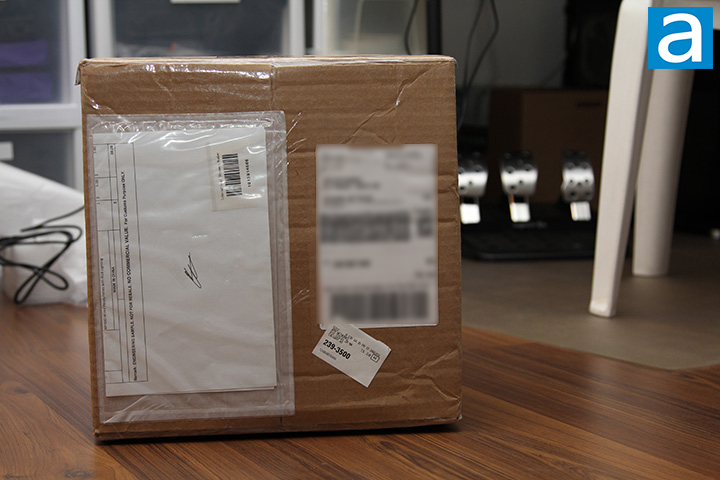 Today's review unit of the Cooler Master MasterFan MF120 Halo was shipped to us here in Calgary, Alberta, Canada via FedEx Ground from Brea, California, USA alongside the MH670, MH650, and G200P, all of which will be looked at in the coming weeks. The shipping box was in a decently good condition with small marks on it. Even though the shipping box had some small marks, the retail box maintained little marks on it. I was not too concerned about the shipping due to the almost perfect condition of the retail box.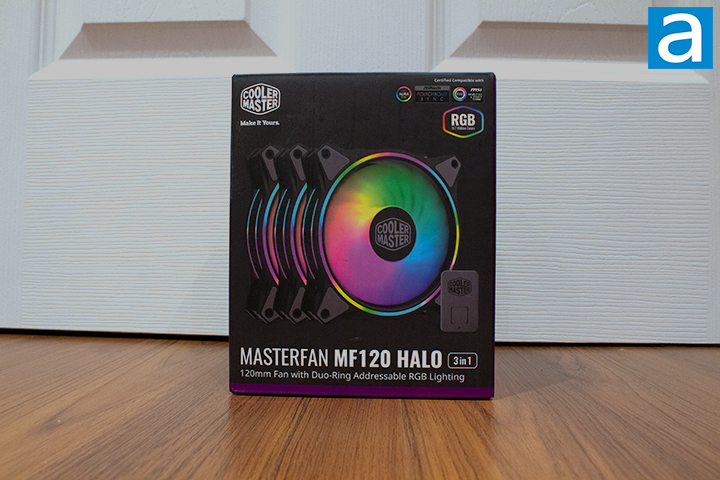 The MasterFan MF120 Halo comes in a black and purple box, matching the design of their other products as well as Cooler Master's site itself. The front of the box displays Cooler Master's logo, three fans, a wired addressable RGB controller, the ARGB compatibilities, and of course, the name of the product itself being the MasterFan MF120 Halo. This is the 3-in-1 pack. The back of the box tells us about the features of these fans in nine different languages. The right side of the box has a short description of the RGB controller and the fans, while the left side has some specifications.
Before we continue, here are the specifications for the Cooler Master MasterFan MF120 Halo, as obtained from the manufacturer's website:
Product Number: MFL-B2DN-18NPA-R1
Fan Profile: Addressable RGB
Fan Speed: 650-1800 RPM ± 10%
Fan Airflow: 47.2 CFM ± 10%
Fan Air Pressure: 1.6 mmH2O ± 10%
Fan Noise Level: 6-30 dBA
Fan Dimensions (L x W x H): 120 x 120 x 25 mm / 4.7 x 4.7 x 1 inch
Fan MTTF: 160,000 Hours
Fan Bearing Type: Rifle Bearing
Fan Power Connector: 4-Pin (PWM)
Fan Rated Voltage: 12V DC
Fan Rated Current: 1.40A
Fan Power Consumption: 3.0W
Fan Weight: 180g / 0.4Ibs
Warranty: 2 years
EAN Code: 4719512095010
UPC Code: 884102067433
Series: MasterFan
Cooler Type: Case Fan
Fan – LED Lighting: ARGB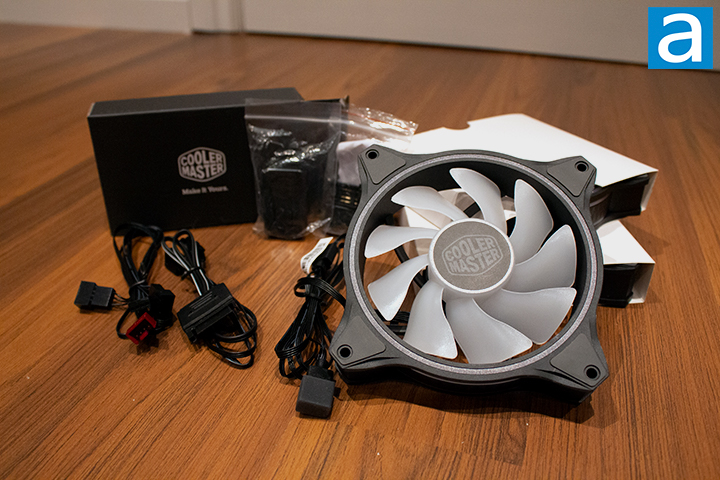 Our pack of the Cooler Master MasterFan MF120 Halo arrived as a kit with three fans and an ARGB controller included. The fans were wrapped in white cardboard, while the ARGB controller, some screws for fan mounting, cable clips, and any necessary cables were packed into a black box with the Cooler Master logo on it. The box also contains a user manual containing contact and setup information. Cooler Master was kind enough to cover the pins to prevent them from being bent in transportation.
---
Page Index
1. Introduction, Packaging, Specifications
2.
A Closer Look - Hardware
3.
Performance Test
4.
Conclusion