By: Hai Wang
March 27, 2020
Nowadays, computer case design has two main factors. First, it is about the presentation. When customers are looking for new computer cases, the first thing they notice is whether the style of certain product matches their taste or not. For example, some people like low key and all-business designs with as few fancy features as possible, while some other people may want a gaming rig looking as aggressive as possible to draw attention from their friends. Second, aside from an aesthetic point of view, the computer case design needs to consider cooling performance. A computer case does not have direct contact with components such as CPUs and GPUs. However, the cooling job for a computer case is really about providing unobstructed airflow for what is inside. A good computer case should deliver in both its ability to attract people and good airflow to enable high cooling performance. On the other hand, sometimes the case design can also bring challenges to the cooling performance. This is true especially for the small form factor cases. Due to the size limitation, small cases usually cannot fit tall heatsinks. Intuitively, a smaller heatsink may not be able to provide good cooling for high performance CPUs due to the small heatsink size. However, there is a demand in the market for the compact size CPU cooler designed for the small form factor cases. A company that makes CPU coolers should never ignore such needs in the market. Today's review unit, the MasterAir G200P, is the low-profile CPU cooling solution provided by Cooler Master. Is it the right low profile CPU cooler to put into your small form factor case? Let us read on and find out!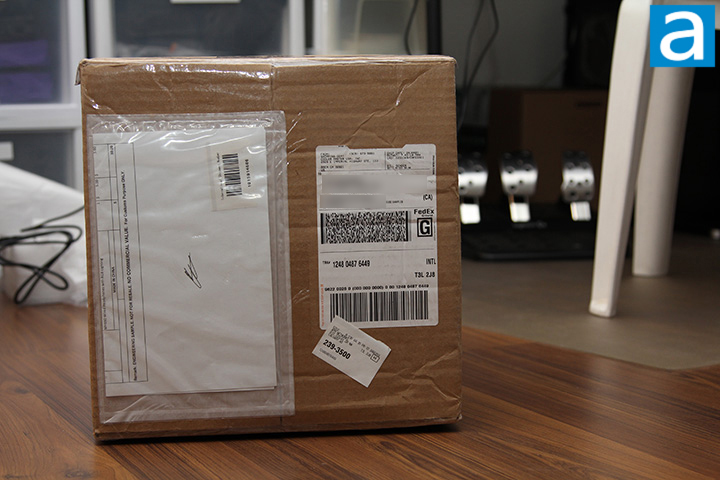 Today's review unit was shipped to us here in Calgary, Alberta, Canada via FedEx Ground from Brea, California. The shipping box was a little bit too big for just one CPU cooler. In fact, there were two gaming headsets and some RGB fans included in the box as well. Specifically, there were the Cooler Master MH670 and Cooler Master MH650gaming headsets reviewed by my colleague Aaron Lai and the MasterFan MF120 Halo by Jadon Lee. Although you may see small dents by the corners of the parcel, there was actually no sign of unacceptable damage on the shipping box itself that could make you nervous about the safety of the product -- well done FedEx.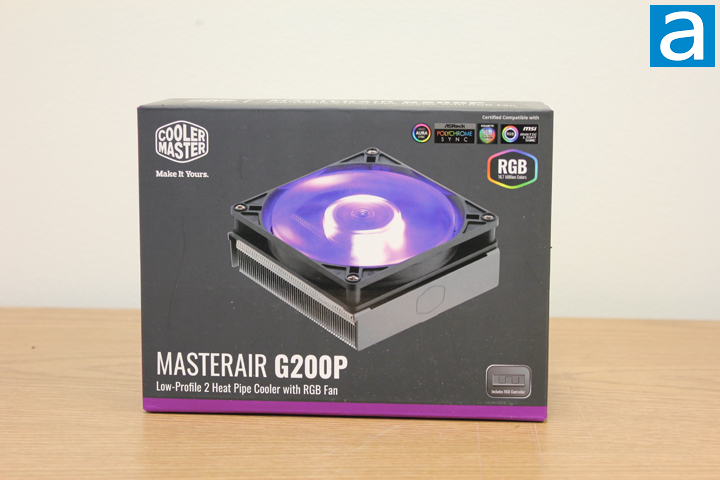 On a well-designed retail package, you can typically find a nice photo of the product. The box of the MasterAir G200P is no exception. The picture of the CPU cooler is located in the middle of the container with a dark background. From the picture, you can roughly know what you will get from Cooler Master: A CPU heat sink and an RGB fan. Of course, you will also get the installation kits for various Intel and AMD sockets. They are just not shown in the front cover of the retail box. Cooler Master's company logo is printed at the top left corner, while the product's name, MasterAir G200P, is located at the lower left side of the box. For the RGB related features, they are printed at the top right side of the retail box. If you turn to the back side of the retail package, more information about the product is presented, such as the fan dimension and key features of this product. Overall, the retail package design of the MasterAir G200P is good. Customers will be able to find the useful information about this product without any trouble.
For you to know the Cooler Master MasterAir G200P a little bit more, the specifications of the CPU cooler from its official website are listed below:
- Product number: MAP-G2PN-126PC-R1
- CPU socket: LGA1151, LGA1150, LGA1155, LGA1156, AM4, AM3+, AM3, AM2+, AM2, FM2+, FM2, FM1
- Dimensions (L X W X H): 95 x 92 x 39.4 mm / 3.7 x 3.6 x 1.6 inch
- Heat sink material: 2 Heat Pipes, Aluminum Fins, Copper Plate
- Fan dimensions (L X W X H): 92 x 92 x 15.4 mm / 3.6 x 3.6 x 0.6 inch
- Fan speed: 800-2600 RPM (PWM) ± 10%
- Fan airflow: 35.5 CFM (Max)
- Static pressure: 2.4 mm H2O (Max)
- Fan MTTF: 40,000 Hours
- Led color: RGB
- Fan noise level: 6 - 28 dBA
- Fan power controller: 4-Pin (PWM)
- Fan rated voltage: 12 V DC
- Fan rated current: 0.12 A
- Fan safety current: 0.15A
- Fan power consumption: 1.44 W
- Warranty: 2 years
- EAN code: 4719512094648
- UPC code: 884102067068
- Series: MasterAir
- Cooler type: Air Cooler
- Heatpipes: 2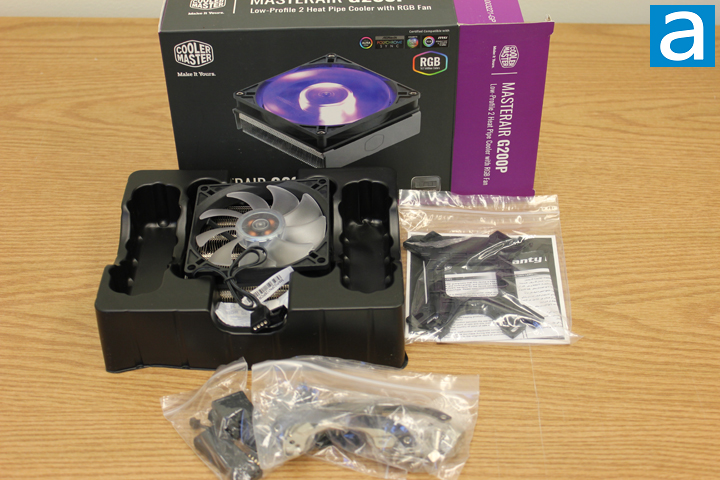 Upon opening the retail box, you will see the low-profile heat sink protected by a piece of plastic container. I did not find any damage on the fins, meaning the protection of the container is a big win. Aside from the heatsink, a 92 mm RGB PWM fan is another major component you can find in the container. As for smaller accessories, they are all contained in several plastic bags. A bunch of screws, wires, RGB LED controller, tube of thermal paste, installation guide, and mounting kits for both Intel and AMD sockets are found in these bags. Aside from the CPU cooler itself and the necessary accessories, there are no tools provided by Cooler Master in this package. Therefore, in order to install the CPU cooler, we will need a screwdriver to finish the job.
---
Page Index
1. Introduction, Packaging, Specifications
2.
Physical Look - Hardware; Installation
3.
Test Results
4.
Conclusion