By: Jeremy To
February 24, 2012
If you have been paying attention to the articles I have been churning out in the past couple of months, you would have noticed all of the reviews, with the exception of one, have been on computer cases. Even as I write this introduction, I am still scheduled to review yet another case in the coming weeks. So at the moment, even I have to confess that cases are becoming a chore to write about. But before you stop reading my review solely because I seem uninspired, today's editorial is on one of Thermaltake's newest addition to their chassis line-up, and I promise this case (As well as this review) will fill your ever growing appetite. In fact, many writers will agree with the statement that Thermaltake cases are always exciting to evaluate; and the previously reviewed flamboyant and loud-and-proud Thermaltake Chaser MK-1 -- also covered by yours truly -- is a perfect example of why. If one were to take a quick look at the two cases, he or she would simply say that both of them are very similar in design, inspiration, and functionality. Let me say, however, that the Overseer RX-I, today's review unit, has an improved character that is less "outgoing", and more functional, so to speak. How so? Well, to say more would rob you of the opportunity in reading the rest of the review. So without further chatter, let's move on.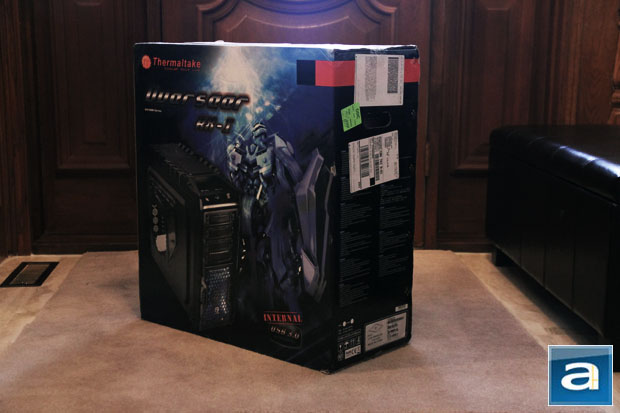 Today's review unit was shipped to us from Thermaltake's office down in California. The package took the usual Thermaltake to APH Networks route using the trusty ol' UPS Standard, arriving at our Calgary office in great condition. Accompanied with the usual dent and scratch mark here and there, there really was nothing much to worry about. This packaged was shipped to us without an exterior brown corrugated box that some manufacturers have done in the past. This is, of course, not an issue at all, since the retail packaging for computer chassis are design with travel and shipping in mind.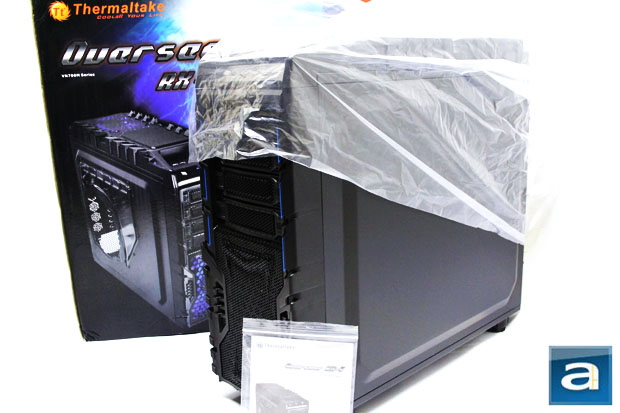 Like most enthusiast cases manufactured by Thermaltake, the Overseer RX-I takes on quite a unique design from just the retail box. It isn't the first time we are taking a look at a galactic space-theme design, and I believe this is received well among gamers and enthusiasts alike. Accompanied with an array of stunning images, one will find the usual list of features and specifications of the product around the box. Speaking of features and specifications, let us briefly look at the features and specifications of the unit, as found on the manufacturer's website:
Features
- Pulsating lighting effect.
- E-sports gaming style front bezel.
- USB 3.0 SuperSpeed via internal 20 pin connector.
- Top-mounted HDD Docking Station enables blazing fast file transfer and effortless hot-swap capability.
- Black coating makes stylish inside look.
- Bottom-placed PSU design for better and easier installation.
- Supports most advanced AMD & NVIDIA® graphic cards up to 12.5"/32cm (e.g. ----AMD Radeon™ HD 6990 & nVidia® Geforce® GTX 590).
Specifications:
-Case Type: Full Tower
-Material: SECC
-Front Bezel Material: Combination of plastic and high air flow mesh
-Color: Interior: Black; Exterior: Black
-Side Panel: Solid with Tranparent Window
-Motherboard Support: 9.6" x 9.6" (Micro ATX); 12" x 9.6" (ATX); 12" x 13" (Extend ATX)
-Motherboard Tray: No
-5.25" Drive Bay: 3
-Ext. 3.5" Drive Bay: By using 5.25" to 3.5" Converter
-Int. 3.5" Drive Bay: 5
-Expansion Slots: 8
-Front I/O Ports: USB 3.0 x 2 (via internal header); USB 2.0 x 2; eSATA connector x 1; Mic & Speaker (support AC'97 & HD Audio)
-Liquid Cooling Capable: Yes
-Liquid Cooling Embedded: No
-Power Supply Supported: Standard ATX PSII Power Supply
-Power Supply Included: No
-Dimension (H*W*D): 535 x 220 x 580 mm; 21.1 x 8.7 x 22.8 inch
-Net Weight: 10.3 kg; 22.7 lb
-Security Lock: For Peripherals Only
-Application: Suitable for gaming, enthusiast, DIY and modding
Cooling System:
-Front (intake): 200 x 200 x 30 mm Blue LED (600~800 RPM, 12~14 dBA)
-Rear (exhaust): 120 x 120 x 25 mm TurboFan, 1000rpm, 16dBA
-Top(exhaust): 200 x 200 x 30 mm Blue LED fan x 1 (600~800rpm, 13~15dBA) 2 x 200 x 200 x 30 mm (optional)
-Bottom(intake): 120 x 120 x 25 mm x 1 (optional)
-Side(intake): 200 x 200 x 30 mm x 1 (optional)
---
Page Index
1. Introduction, Packaging, Specifications
2.
Physical Look - Outside
3.
Physical Look - Inside
4.
Installation and Conclusion