By: Aaron Lai
January 6, 2023
It always surprises me at the number of people who only play video games on their phones, although I think this also reveals my age. When I grew up, the only portable games I had were either travel-sized board games or a console like the Gameboy with individual game cartridges. When cellphones became more popular, they were only feature phones with basic games like Snake and Solitaire. Meanwhile, Android and iOS were only starting to come alive. Nowadays, I think a lot of people play games on their phone, whether it is a parent who wants to pass some time or a teen who does not have any other personal device. I still prefer gaming on my computer, but both have their place. Mobile games tend to be simpler in nature and more as a way to kill time, while PC games generally require a bit more intention to sit down and play. However, my personal gripe with mobile gaming involves the lack of physical controls. While a touchscreen is serviceable and many games in app stores make use of this properly, using the screen as an input means you will inevitably obscure your vision of the screen while playing. However, today Turtle Beach wants to change this idea, as we have their Atom Controller. This is an Android gamepad that pairs physical, tactile inputs with mobile devices. How does the Turtle Beach Atom Controller hold up in day-to-day use? Let us read on to find out!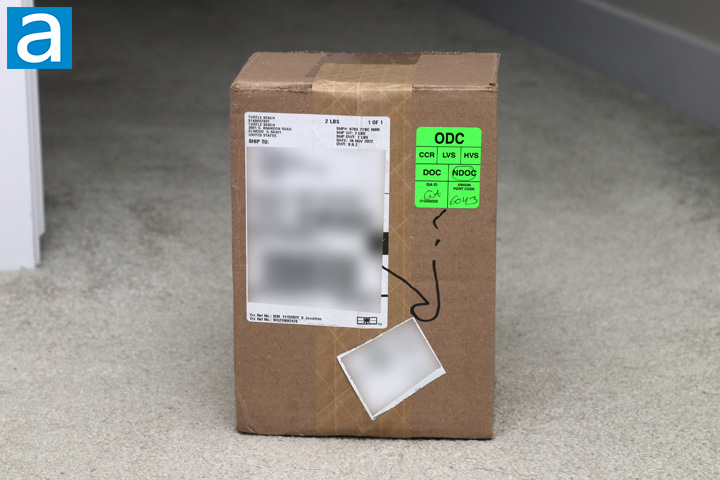 Today's review unit of the Turtle Beach Atom Controller arrived from Turtle Beach's distribution offices in Elwood, Illinois, US. Traveling with UPS and their Standard ground service, this box arrived in relatively good condition at our APH Networks offices here in Calgary, Alberta, Canada. The corrugated cardboard box was packed with quite a bit of packing paper to ensure the product inside arrived in excellent condition. Otherwise, there is not much else included here, so let us carry on in our review.
The Turtle Beach Atom Controller has a pretty familiar looking retail container as we have seen from other Turtle Beach products. This means we have a white and green color scheme. The front shows off the Turtle Beach logo with its product name underneath. A descriptor of "Mobile Game Controller for Android Smartphones" can also be found here. A scaled down image of the controller attached to a phone is shown on the right side of the front panel. For obvious reasons, a phone is not included with the Atom Controller. A few highlighted features on the front include Bluetooth connectivity, a compact travel shape, and a complementary 1 month of Xbox Game Pass Ultimate included in the box. Around the back, we have a few other features highlighted, including the fact it works with only Android 8.0 or greater devices with Bluetooth 4.2 support. There is not much else to take note of, so let us carry on.
Before we continue, I have grabbed the specifications from the manufacturer's website for your perusal:
Features
- Convenient, Compact Shape Magnetically Fuses Together
- Low Latency Bluetooth Connection to Android Devices
- Built for Cloud Gaming on Game Pass, GeForce Now, and More
- One-Month Free Subscription to Xbox Game Pass Ultimate
- Familiar Controls for a Console Experience on Mobile
- Adjustable Phone Clamps fit Most Smartphones
- Long-Lasting 20-Hour Battery with Quick-Charge
- Ergonomic Shape for Comfortable Gaming Sessions
- Atom Companion App for Additional Features & Updates
Specifications
Connections: Wireless 2.4GHz between modules, Bluetooth® Connection from Module to Android Devices
Product Weight (Kg/Lbs.): 0.18 / 0.40
Product Dimensions (Mm/In): 132.5 x 102.1 x 42 / 5.22" x 4.02" x 1.65"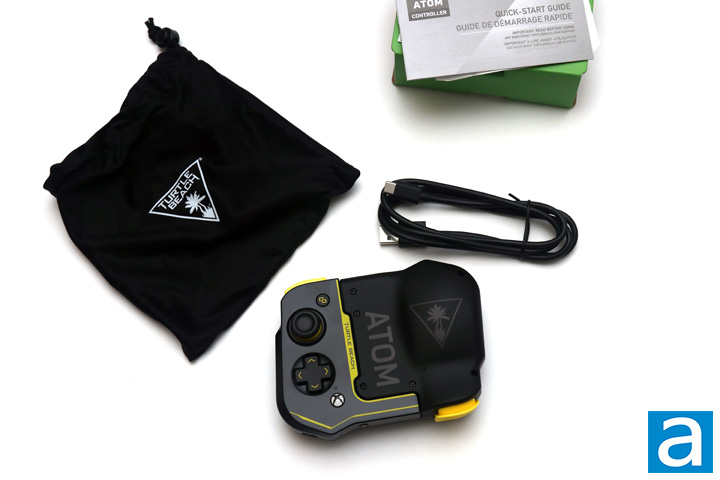 Out of the box, the Turtle Beach Atom Controller is contained in a nice black fabric carrying bag. A rubber USB Type-C to Type-A cable is also provided and it measures 1m in length. Finally, we have documentation for getting started with the Atom Controller and the aforementioned 1-month code for Xbox Game Pass Ultimate. There is not much else to look at, so let us take a closer look at the controller itself.
---
Page Index
1. Introduction, Packaging, Specifications
2.
A Closer Look - Hardware and Software
3.
Subjective Performance Tests
4.
Conclusion