By: Jonathan Kwan
August 21, 2007
Despite the popularity of SATA hard disks, IDE hard drive enclosures are still very common. Why? The reason that exists behind this trend is that many consumers still retain a certain quantity of unused PATA disks lying around -- unfortunately, those drives are probably not the ones you would want to install in the latest computers. Same goes for 2.5" enclosures -- I have an old broken laptop lying around, and I knew something would be great use of the 40GB hard drive inside. It may be old, it may be slow, but hey -- a portable 40GB unit isn't bad at all. To accommodate this, I recently received a Vizo Paragon 2.5" IDE hard drive enclosure. Let's examine this unit physically, as well as put it through some benchmarks to see how the drive controller is.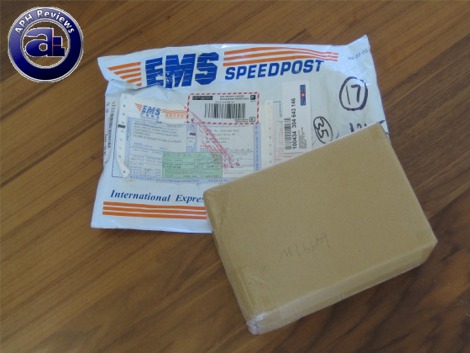 Our review unit came in an opaque film plastic envelope from Vizo's headquarters in Taiwan. Using their postal service from half way around the world, everything arrived in excellent condition with its contents protected with an extra layer of protection through a solid cardboard box inside the envelope.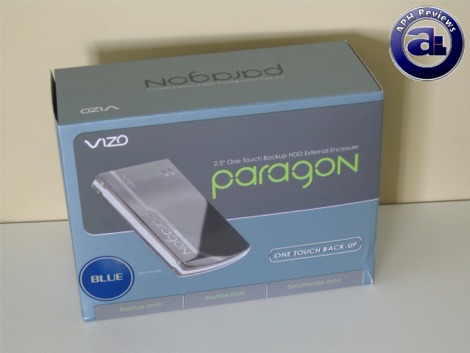 Within the cardboard box, is our unit of Vizo's Paragon 2.5" IDE hard drive enclosure in retail packaging. The cleanly designed box retail packaging allows it to be opened easily and cleanly -- much unlike plastic blister packs -- which are excellent in my opinion!
The printing on the box is not crowded and generally outlines the main features of this product -- in which one being one-touch backup capable with necessary software installed on the host system (Included). Our evaluation unit is the blue version; which is clearly printed on the retail box -- however, regardless of which model you have, it will still have an image of the black version in front.
The Vizo Paragon is available in white, black, and blue, by the way.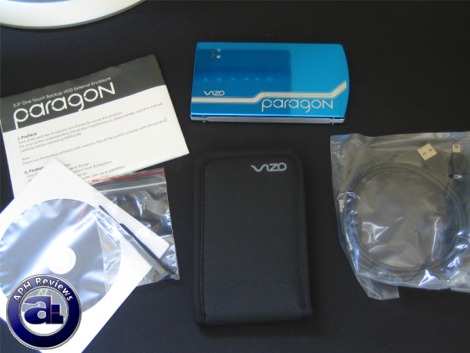 Out of the box, a brief manual, screwdriver and screws, USB cable, software CD (For backup software), and carrying case are included in addition to the Vizo Paragon enclosure itself. The case actually has a side pocket for storing the USB cable.
According to Vizo's website and the retail box contents list, a cleaning cloth is included. Unfortunately I don't recall seeing any included with my particular unit.
Before we move on, let's take a look at the specifications of this unit, as obtained from Vizo's site and slightly edited to clarify some points:
Specifications:
- Housing : Aluminum
- Host Interface : 480Mbps USB 2.0 (USB 1.1 Compatible)
- HDD Type : 2.5 " IDE HDD
- One Touch Functions : Backup / Restore / Synchronize
- Power Supply : USB Bus Power or External AC/DC POWER Adapter ( DC 5V/1A, not included )
- Indicators : Green for POWER on / Red for file access
- Weight : 70g (without HDD)
- Dimensions : 135(L) x 76(W) x 15(H) mm
Features:
- One Touch Backup button
- Sleek, super slim and elegant design
- Aluminum housing for excellent heat dissipation.
- Compact and Portable, easy to go
- USB 2.0 interface with data transfer rate up to 480Mbps
- USB version 1.1/2.0 Specification Compatible
- Support Plug and play & hot swappable
- LED lights to indicate power on ( Green ) and file access ( Red )
- Works with PC, supports Windows 98SE/ME/2000/XP
- USB powered device, no external power is required under low HDD power consumption
- Extra power needed for high HDD power consumption
System Requirements:
- Windows 98SE/ME/2000/XP/Vista
- One [or two] available USB port(s)
- The one-touch backup button only works under Windows 2000/XP/Vista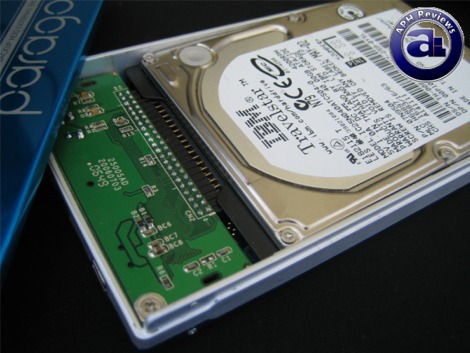 The top of the hard drive enclosure comes with no screws pre-attached -- therefore you can just pop it out and install the hard drive. After plugging in the 2.5" IBM Travelstar 40GB hard drive I savaged from my old laptop into the Vizo Paragon's controller board, I made sure it slipped in completely into the enclosure. It was quite effortless and the hard drive fit in nice and snug without any issues.
The controller chip is an ITE IT8904BE USB 2.0 IDE device controller. More information can be found in this PDF document from ITE's website.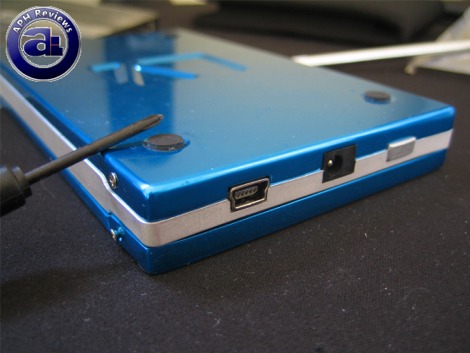 Reattaching the top requires a total of four screws to be inserted along two sides. These are very small screws, so be careful not to lose them -- however, Vizo has included one extra just in case. An included screwdriver is also very nice to have.
As you can see, the Vizo Paragon enclosure can be disassembled into three separate pieces, excluding the controller board. Both covers are detachable with screws removed (The bottom has screws pre-attached already, as compared to the top) -- leaving the middle frame portion. The top and bottom covers are constructed with aluminum with a mirror finish; therefore you can see the reflection in most of our photos -- such as the third photo from the top, you can actually see the buttons of my Dell 2005FPW monitor. Mmm shiny.
Of course, this can pose a major advantage as geeks can now use a mirror too ;)
Anyways, the frame is actually constructed of plastic. While aluminum will allow great heat dissipation through the top and bottom, the sides may be an issue to the hard drive since plastic is not a conductor.
At the back of the Vizo Paragon you will see a standard USB connector, DC power input (AC adapter not included), and a button for one-touch backup use with included BackupKingX backup software. The bottom of Vizo's Paragon 2.5" hard drive enclosure features four rubber feet to prevent the unit from sliding around, as well as Vizo's logo in the middle.
The top cover of the Vizo Paragon has the company's name and logo along with a stripe-like design printed on. LEDs are placed at the top left corner; where a green LED indicates power and a red LED blinks to represent disk activity. The LEDs are actually located on the controller board itself, therefore the top cover has two clear passthroughs -- no need to connect wires like many 3.5" enclosure products.
Moving onto our tests, I won't get into performance analysis of multiple file writes and multiple file reads as we've done previously in our storage reviews. The reason behind this is the influence of the enclosure itself is not quite relevant to drive I/O performance -- it is quite limited to the hard drive itself, and we are not reviewing the hard drive itself today. What we are trying to take a look at is how the drive controller performs; and for this we will be comparing it to Icy Box's IB-220U-Wh 2.5" hard drive enclosure with the same hard drive inside.
Let's go over our HDTach benchmarks, which is an OS independent industry drive performance testing tool. The USB ports on our system are controlled by Intel ICH9R Southbridge, on Asus' P5K-Deluxe motherboard.
Or, actually, let's list full test system specifications:
CPU: Intel Core 2 Duo E6300 @ 3.36GHz (480MHz*7)
CPU Cooling: Scythe Infinity
Motherboard: Asus P5K-Deluxe/WiFi-AP
RAM: OCZ Reaper HPC PC2-8500 2x1GB @ PC2-7680 1:1 with CPU
Case: Thermaltake Aguila (Noctua NF-S12-800 - Front / Noctua NF-S12-1200 Asus Q-Fan - Back)
Power: Seasonic M12 500W
Graphics: Asus EN8800GTS 320MB
Sound: Creative X-Fi XtremeMusic
Optical Drive: NEC AD-7170A 18X DVD+/-RW
Hard Drive: Seagate 7200.10 320GB 16MB SATA2
Operating System: Microsoft Windows XP Professional SP2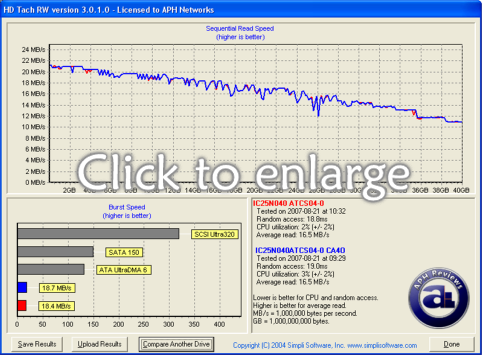 Wow, I never knew the hard drive was that slow. And it was quite expensive for a laptop drive back in 2002 too!
Anyways, back on topic, the blue line represents the Vizo Paragon, while the red line is benchmark results with Icy Box's IB-220U-Wh. Performance is nearly identical throughout the whole drive; average read performance showed us no difference at 16.5 MB/s. The rest are all statistical ties with the Paragon leading 0.3 MB/s in burst, 0.2 ms higher latency and 1% higher CPU load which are all completely insignificant.
What this means to us is that the performance of Vizo's Paragon is not really going to be a limitation factor of your hard drive. A slow hard drive, on the other hand, is quite a limiting factor haha.
In general, I am not going to comment too much on its aesthetics, because this is quite subjective whether you like it or not. But mmm, it's shiny. Anyway, what I can tell you, from an objective position, is that it is quite light -- thanks to its aluminum design. Also, it's shiny. However, the plastic frame would be something that I personally would take into account. Extremely small screws installed on the side are another point of concern. On the other hand, there are many positives. First of all, it's shiny. Secondly, the physical design accommodates the hard disk nice and snug without wobbling inside, and performance isn't bad at all. Accessories are generously included such as a screwdriver to work with the really small screws, as well as a well designed case that both protect the product from scratches and occasional bumps. Thirdly, it's actually quite shiny. ;)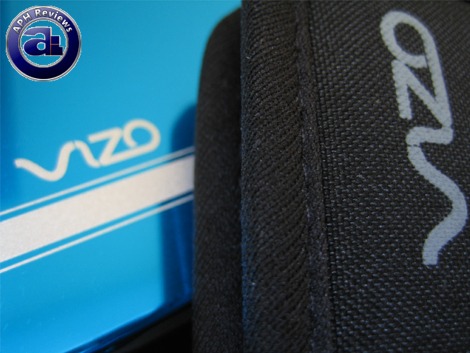 Special thanks to Pedro over at Vizo for making this review possible.
APH Review Focus Summary:
7/10 means Great product with many advantages and certain insignificant drawbacks; but should be considered before purchasing.
-- Final APH Numeric Rating is 7.0/10
Please note that the APH Numeric Rating system is based off our proprietary guidelines in the Review Focus, and should not be compared to other sites.
The Vizo Paragon is a 2.5" hard drive enclosure with decent performance. Great accessories are included such as the carrying case; but working with many tiny screws may not be that enjoyable. The plastic frame is another point of concern. But at least it's shiny.