By: Jonah Chow
April 16, 2021
In my review of the Antec P10 FLUX, I discussed a product that solely focused on performance, omitting any bling or glitter found in most PC hardware components today. Of course, the lack of colors was not an issue, since the P10 FLUX was going for performance only. On the other hand, it does get me thinking on the topic of RGB in PC components these days. My initial surprised reaction at a PC case with no RGB fans or tempered glass made me realize just how accustomed I have become to seeing any form of light or color in hardware components. Nowadays, having the best computer build usually has a visual quality associated with it. While it is obvious the specifications of your components are ultimately what determines how good your system is, I think most people would likely picture a setup with rainbows emitting from it if I told them "I have one of the best gaming rigs anyone has ever seen". This is a joke, of course, but a lot of components these days find a way to integrate fancy colors with good performance. A common example is RAM incorporating bright colors into their build, just like today's review of the XPG Spectrix D50 DDR4-3600 2x8GB. Does this memory kit come equipped with everything that adds to a superior gaming rig? Let us read on to find out!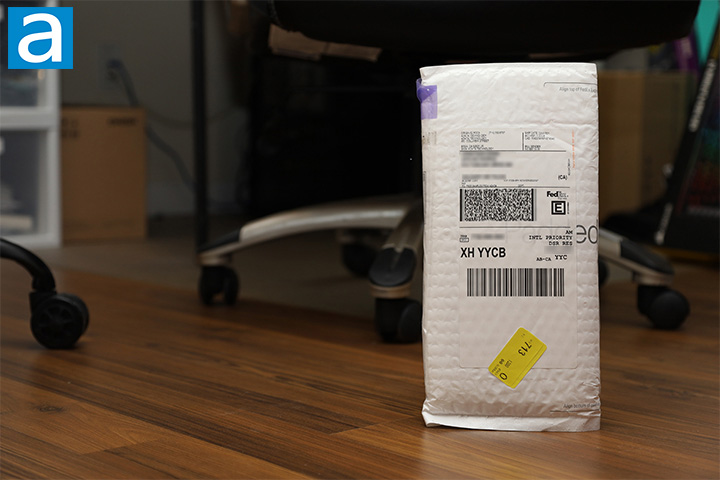 Our review unit of the XPG Spectrix D50 DDR4-3600 2x8GB arrived via FedEx International Priority from Brea, California, USA. The shipping package arrived here in Calgary, Alberta, Canada. While this was not our usual brown corrugated cardboard box, it arrived in excellent condition with no scratches or scuff marks in the bubble envelope.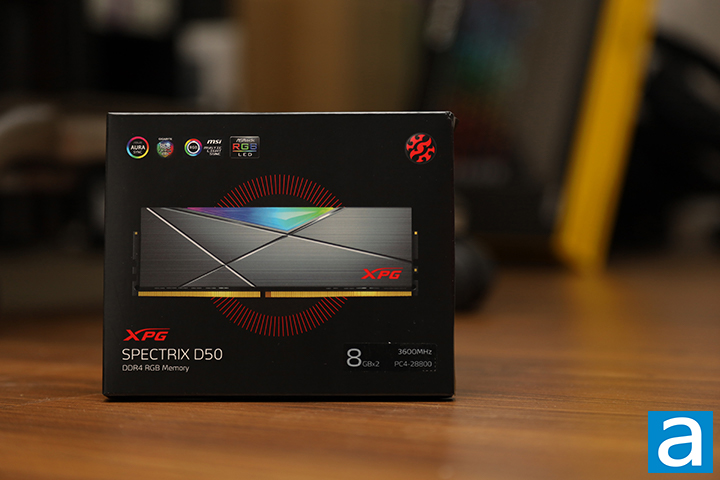 The retail packaging of the XPG Spectrix D50 is pretty standard for any 2x8GB memory module pair. The box takes on a sleek black color that helps bring attention to the colorful text on the front side. The memory modules are placed front and center of the box, proudly showing off their tungsten grey heatspreader along with the RGB LEDs at the top and the XPG text on the bottom right of the RAM stick. The same XPG text is also found at the bottom left of the box with the product name and RAM type below in white text. The XPG logo is seen on the top right and all motherboard lighting control compatibilities are just beside it to the left. The memory capacity and speed are shown in text at the bottom right corner. The back side contains additional information, including the DIMM type, part number, and CAS latencies.
Before we move on, let us take a look at the features and specifications, as found on the manufacturer's website:
Color: Tungsten Grey / White
Capacity: 8GB / 16GB / 32GB
Dimensions (L x W x H): 133.35 x 40 x 8mm
Weight: 46 grams
Interface: DDR4 U-DIMM 3000-4600MHz
System Requirements: NA
Operating Temperature: 0°C to 85°C
Storage Temperature: -55°C to 100°C
Operating Voltage: 1.35V - 1.5V
Accessories: NA Limited lifetime warranty
Warranty: Limited lifetime warranty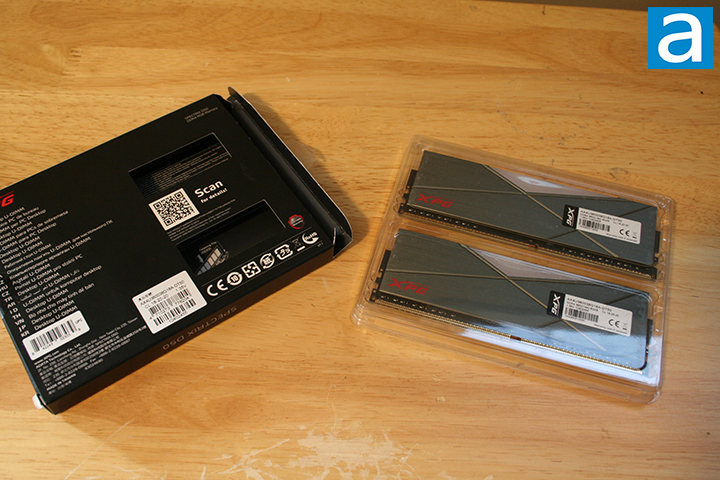 Opening up the box, you have the two memory modules of the XPG Spectrix D50. Both memory modules are inside a plastic shell, which helps protect the memory modules from scrapes and scratches. The CAS latencies can be seen on a sticker attached to the memory modules through the transparent plastic shell.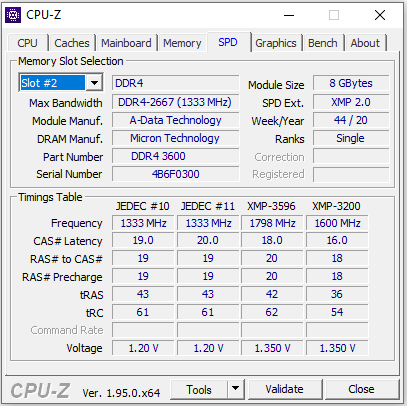 The photo above is a screenshot of the SPD tab in CPU-Z with XPG's Spectrix D50 DDR4-3600 2x8GB installed. The SPD timings table in CPU-Z reads standard JEDEC specifications programmed into the memory along with XMP data for running the RAM at various speeds. My MSI MAG B550 Tomahawk motherboard used for testing was perfectly capable of getting all the information about the Spectrix D50 RAM. It should be noted that you may need to manually set the XMP profile in the BIOS depending on what motherboard you are using. The XPG Spectrix D50 DDR4-3600 2x8GB can be found for as low as $115 at the time of this review, but regularly retails at $140.
---
Page Index
1. Introduction, Packaging, Specifications
2.
A Closer Look, Test System
3.
Benchmark: AIDA64 CPU
4.
Benchmark: AIDA64 FPU
5.
Benchmark: AIDA64 Memory
6.
Benchmark: PCMark 10
7.
Benchmark: 3DMark
8.
Benchmark: PassMark PerformanceTest 10
9.
Benchmark: SuperPI 1M, Cinebench R20
10.
Overclocking and Conclusion