Page 2 - A Closer Look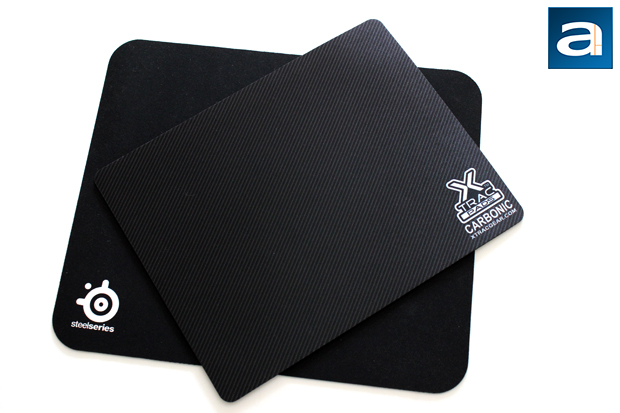 Pulling it out of the folder, you can see the XTracGear Carbonic is not even in the same magnitude of size in comparison to the past XTracGear mousepads we have had, like the Ripper XXL, or even the Hybrid. In the photo above, I have placed it on top of the SteelSeries QcK just as a an easy comparison, and you can see the Carbonic is just a tad smaller in almost all dimensions, with the exception of vertical height, which you probably cannot observe. Measuring in at 278mm x 213 mm x 3 mm (L x W x H), the Carbonic is a regular-sized mousepad; close to the same size as the ones you would find in a dollar store. However, what differs from the generic brands is in the details. For one, you will notice the edges of the Carbonic are actually quite sharp. While you may feel it on your wrist once in a while, it is not too noticeable, and I would say the reason behind far outweighs the cost of discomfort. Each edge is cut by laser to eliminate fraying on the sides of fabric mouse surfaces. The top of the XTracGear Carbonic where the mousepad sits is a smooth fabric, with a grippy rubber underneath. The corners are also rounded off, as many mousing surfaces are. In terms of aesthetics, you can easily see the diagonal lines going from the bottom left side to the top right, which adds a bit more shine and class. While some people would prefer the simpler all black color, I quite like these diagonal lines, but of course, this is more subjective. As well, this design is what XTracGear dubs a "carbon fiber" pattern, which is designed to enhance mouse cursor tracking. Whether this actually does have an effect will be seen in our tests later on. Otherwise, the only other part to note is the logo in the bottom right corner which shows the company's logo, the product's name and the website for XTracGear. I should mention XTracGear used to be called XTracPads, hence the interchanging name, but they are now formally known as XTracGear.
On an aside, I was asked while writing the review how the XTracGear Carbonic compares to another offering from XTracGear, namely the Hybrid. This is a valid question, especially since they are both listed as "Textile" mousepads on XTracGear's website, rather than hard surface. Therefore, I borrowed the eight year old mousepad from my colleague Jonathan Kwan -- who still surprisingly has it -- to give it a quick comparison. In terms of feel, the Hybrid is much more like a hard mousing surface that can be rolled up. The top surface of the Hybrid is still made up completely of plastic. The Carbonic is, on the other hand, still very much a fabric surface.
Before we continue on to the surface inspection, let me quickly go over the advantages and disadvantages of a cloth-based mousing surface. The thumbs up aspects include better comfort for the end user, better mouse control, easier on your mouse feet, generates very little noise during use, ability to even out somewhat imperfect surfaces, and easily more portable -- especially for something of this size. Unfortunately, it comes at reduced glide performance, and is inherently bound to attract and accumulate dust, dirt, and liquid. I would give that a thumbs down, especially when it starts absorbing your sweat from your hands. For plastic, aluminum, glass, or any other solid surface, you can easily run it under the tap to restore it to original condition. You can't do the same with cloth surfaces, and if you are thinking about the washing machine right now, please do not try this at home. Fortunately with the Carbonic, XTracGear has tried to remedy the glide issue by providing an almost nylon-like feel on the surface to emulate the glide performance a hard surface mousepad. Once again, we will only know if it actually pays dividends when we get into our tests. Now, we will take a closer look at the front surface.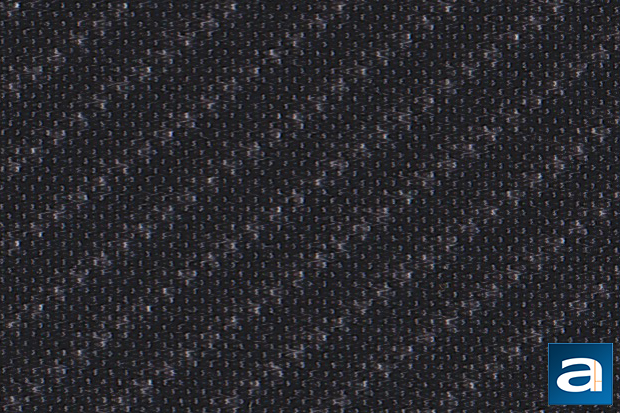 Rather than using my standard photography equipment, I threw the Carbonic onto a scanner, and ran it through at 600dpi, just to get a better, more detailed image. Taking a closer look at the front, you can still see the diagonal lines going across the entire picture. Upon further inspection, you can also see many small dimples everywhere. This is probably what XTracGear was referring to as their carbon fiber finish, as well as the diagonal lines. You will notice these dimples are extremely consistent in terms of spacing and sizing. In terms of feel, I would describe it closely to a satin-like finish, which is extremely smooth and still cloth. The lines are not as consistent however, with the lines slightly weaving back and forth, but for the most part it still keeps straight. On a side note, the dimples actually kind of remind me of the original Nexus 7's backing, which was very easy to grip. Luckily, this surface does the opposite, and allows smooth gliding. Overall, I cannot see any indications of any flaws or defects, as XTracGear has done an excellent job in producing an exceptional quality surface, free of deviations. Finally, you might see this surface is a bit shinier, and once again I think this is done to combat the glide issue found on cheaper cloth mousepads.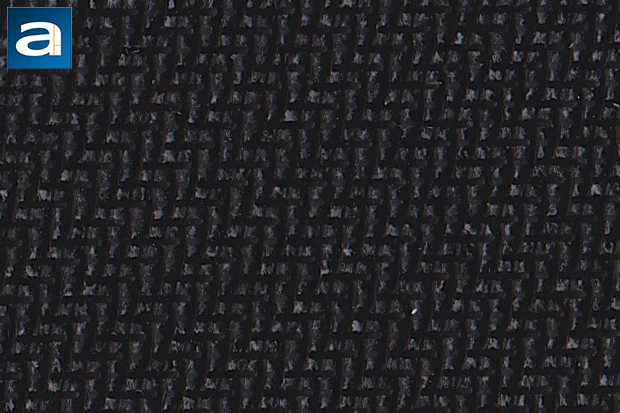 Flipping over to the back, XTracGear has provided a very similar solution for most of their cloth mousepad undersides. In fact, comparing the Hybrid and the Carbonic underside will make you wonder if they really changed anything, especially since they both have the same pattern. This means an interweaving underside of rubber lines. Unfortunately, my scanner was not able to pick it up as clearly as I would like, but you can see this pattern if you look at the darker lines rather than the lighter spots. Once again, the rubber is also quite consistent in its patterns, which means there will be no weak spots or slipping points. When I first saw the pattern, I immediately thought of the floor surface on newer children's playgrounds, rather than the traditional pebbles or wood chips. On an aside, if you ever build a playground, never use wood chips. Once you land in them head first, you will realize wood has a lot of splinters, but I digress. While the rubber surface on a playground is actually quite different from the Carbonic's underside, it does look like this crisscrossing pattern really works quite well. Despite the XTracGear Carbonic's small size, it is definitely weighty enough to hold its ground. Our next step in the review is to head to our performance tests, so let's head on over!
---
Page Index
1.
Introduction, Packaging, Specifications
2. A Closer Look
3.
Subjective Performance Tests
4.
Conclusion