Page 3 - Subjective Performance Tests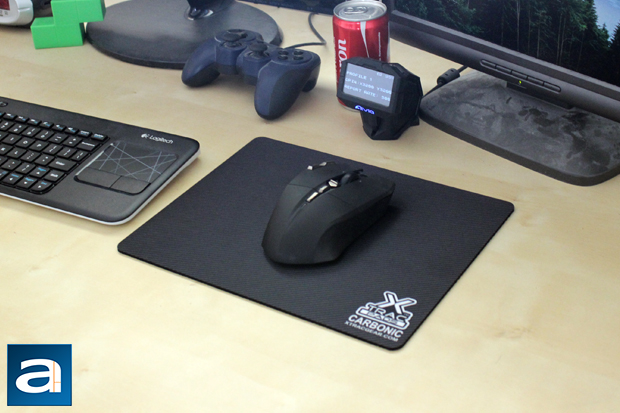 Unfortunately, testing of a mousepad is quite subjective in nature, since there are no true objective benchmarks to spit out quantitative numbers for us to compare results when done. In order to make this subjective analysis a little more objective, I will be using the previously reviewed Gigabyte Aivia Uranium, and tests will be completed in both graphics and gaming scenarios. These are two crucial areas where a good mouse in conjunction with a good mousepad really makes a difference. My intrinsic familiarity with the performance characteristics of the mouse will make it easy to determine differences between mousing surfaces. We will then break it down to the details, and rate our mousepad based on the following categories:
Glide - For quick and effortless mouse movements across the mousing surface.
Control - For precise and accurate cursor/crosshair handling.
Grip - The mousepad's ability to stay in the same position on the desk without undesirably relocating itself.
Noise - Will this mousepad generate noise when the mouse is being used?
When I started using the XTracGear Carbonic, I immediately noticed how much easier it was to move the mouse from side to side. In my Gigabyte Aivia Uranium review, I have noted this mouse glided like a hockey puck or a curling rock on ice. However, after using it on a bare table for about a year, the silicone has worn off, leaving a rougher bottom. With the Carbonic however, the hockey puck is back, as the mouse really does move with minimal surface resistance. However, there is a caveat. While it is quite easy to move side to side, moving the mouse up and down feels like it requires just a tad more effort. It probably is not as noticeable to most users, but there is a difference. I still have to say XTracGear has done a superb job at creating a new surface that is still smooth and easy to work with. Of course, I am by no means expecting the Carbonic to allow for glide like aluminum or plastic, but XTracGear has once again not disappointed us.
Moving to control, I am for the most part pleased. Overall handling of the mouse on the XTracGear Carbonic is very precise. I ran the Carbonic through a few lasso tests on Photoshop, and it made the experience quite pleasant. The lack of resistance from the mouse surface means small movements are accurate and predictable. When comparing between the Carbonic and the Hybrid, part of control also does come down to preference between a hard or soft surface. If you are used to a hard surface, you will naturally find the Hybrid to be easier to control, and vice versa. It seems the carbon fiber-like surface is not too detracting from the slippery surface. Unfortunately, this is still not actually carbon fiber, obviously, and therefore is still susceptible to liquids – even human perspiration. I found out this out personally when I accidentally dripped a few drops of water onto the pad. The water went right through, and even left a damp mark for a while. Luckily, after letting it dry, it was clear of any blemishes. The smooth coating does make brushing away dirt and dust quite easy, but the liquid problem is something that has not yet been completely eliminated. Hopefully we might be able to see an oleophobic coating on a mousepad, which would repel both water and oils. Until then, I still will say XTracGear has done a fine job in countering the solids part.
Moving to grip, this is once again a very strong factor of the XTracGear Carbonic. The mouse surface, despite being very small in surface area, stays in place due to its rubbery underside. It seems XTracGear has only improved its formula with the "Enhanced Sure Grip" rubber backing. This is really is much more than just a marketing ploy. The Carbonic is also quite weighty, which is once again surprising for its size, but this also helps as an anchor. Couple all of this with the smooth polished surface and it is actually quite hard to move, since there is not enough top resistance to overcome the friction experienced between the surface of the table and the underside of the pad. If the last sentence was incomprehensible, just know this: XTracGear really knows how to keep their mousing surfaces in place.
Moving to the noise factor, the Carbonic does not disappoint. Most cloth mousepads do not suffer from the noise issue, since cloth is much better at absorbing noise, as we saw with the SilverStone Precision PS10 computer chassis. This cloth is no different, and in fact, it has some improvements over the standard cloth mousepad. Gone from the Carbonic are the sliding noises as this is once again quite a bit smoother on the top. There is no fabric scratching noise either, making for an even more silent operation. Comparing to the XTracGear Hybrid, the noise is an obvious difference as you will hear the scratching or sliding movement, even if you have a new mouse with new Teflon feet. You probably see a trend with the Carbonic, and in all four aspects, it really is hard to find things to complain about this mousepad.
---
Page Index
1.
Introduction, Packaging, Specifications
2.
A Closer Look
3. Subjective Performance Tests
4.
Conclusion