Page 3 - Subjective Performance Tests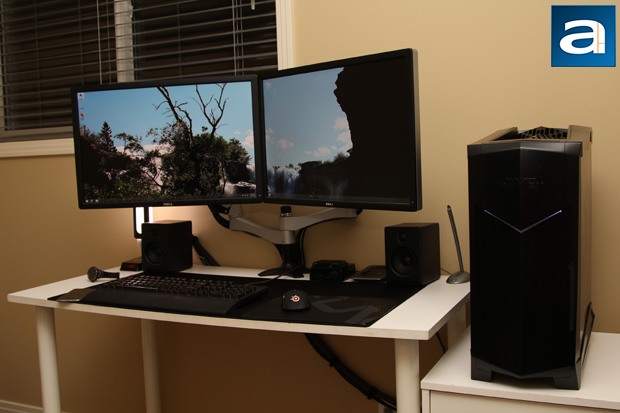 Don't worry -- the Func F-Series 10 L was removed prior to the actual tests.
Unfortunately, testing of a mousepad is quite subjective in nature, since there are no truly objective benchmarks that spits out quantitative numbers to compare results when done. In order to make this subjective analysis a little more objective, I will be using the high performance SteelSeries Sensei Wireless mouse, and tests will be completed in both graphics and gaming scenarios. The Sensei Wireless is equipped with Pixart's excellent ADNS 9800 laser sensor, and is considered to be one of the best mice in the market today, with a high score of 8.6/10 here at APH Networks. These are demanding areas where a good mouse in conjunction with a good mousepad really makes a difference. My intrinsic familiarity with the performance characteristics of the mouse will make it easy to determine differences between mousing surfaces. We will then break it down to the details, and rate our mousepad based on the following categories:
Glide - For quick and effortless mouse movements across the mousing surface.
Control - For precise and accurate cursor/crosshair handling.
Grip - The mousepad's ability to stay in the same position on the desk without undesirably relocating itself.
Noise - Will this mousepad generate noise when the mouse is being used?
After the tests are completed, I will have to say I am quite impressed with the XTracGear Ripper XXL's surface characteristics. The 2014 Ripper XXL comes with an updated coating compared to the 2011 Ripper XXL. As it was in the past, a good side effect of the polished textile mousing surface is water can easily be wiped off in case any gets on it, since it will bead on the surface. The coating held out quite well for my last Ripper XXL, but it is not like I wash my mousepad through the machine or anything. I expect the same to go with the Ripper XXL we are reviewing today.
Although it appears to be shinier than the 2011, the latest model actually does not glide with lower resistance than the previous generation. I found this observation to be quite surprising. That said, with the slightly reduced glide comes with a little more control; the mouse handles with a little more substance -- so to say -- possibly due to the slightly thicker rubber backing. Furthermore, due to the weave pattern of the surface, it is actually slightly easier to move your mouse left and right compared to up and down. This makes sense, because most people view their monitors in landscape mode rather than portrait mode. Realistically, we are not expecting solid surface glide properties exhibited by plastic or aluminum, but it is better than other cloth pads I have used in the past.
I am particularly pleased with the control aspect of the XTracGear Ripper XXL. Good control with razor sharp handling precision is one strong point of all cloth pads, and the Ripper XXL is no exception. I did not experience any 'oil slick' effect during usage; sharp cornering with the pointer clearly indicates this is a control oriented mousing surface that comes naturally to all cloth pads. It is also very comfortable and quiet during use, and it is also easy on the mouse feet. I still do not like the fact of how cloth pads are vulnerable to dust, dirt, and liquid -- especially human perspiration -- but again, thanks to the polished textile coating on it, it alleviates some of these issues. We are still not at the point where we have extracted only the good stuff of a cloth pad, and completely eliminated its shortcomings, but XTracGear is certainly moving in the right direction with the Ripper XXL.
The grip design has indeed changed compared to the last generation of XTracGear's giganormous mousepad. As aforementioned, this one features the company's Sure Grip backing; and from what my tests, this is a huge improvement. In fact, as I have mentioned on Page 2 of this review, this is simply amazing. In case you have missed what I wrote on the previous page, I am going to reiterate with some copy-pasta: When I placed the two Ripper XXL side by side on hardwood floor, the old one will almost glide across the surface when pushed. The new one was simply stuck to the ground, no matter what I tried. I did not have a whole lot of complaints with regards to the 2011 Ripper XXL, but the 2014 takes it to a whole new level. Needless to say, I am impressed.
---
Page Index
1.
Introduction, Packaging, Specifications
2.
A Closer Look
3. Subjective Performance Tests
4.
Conclusion