By: Aaron Lai
October 27, 2023
While the summer before the NHL season can feel long, one event I do enjoy is the NHL Entry Draft. This is where NHL teams can pick players to join their organization to start their careers. The biggest question going into the draft often surrounds who the first pick will be, as it signifies this player is the best one in the year. Examples include players like Connor McDavid, Auston Matthews, and most recently, Connor Bedard. Back in 1993, the first overall pick was Alexandre Daigle. After the draft, he was quoted saying, "I am glad I got drafted first, because no one remembers number two." However, if you look at the statistics, you would see the opposite was reality. The second player played 1167 games and had 698 points. He won multiple individual awards, two Olympics gold medals, and the Stanley Cup. After his career, he was inducted into the Hockey Hall of Fame in 2015. Meanwhile, Alexandre Daigle played half as many games and even less than half the number of points while not collecting any individual accolades. The second overall pick was Chris Pronger, whose name is well known in the NHL circles. Furthermore, other players drafted in 1993 include prominent names like Paul Kariya, Saku Koivu, Jason Arnott, and Bryan McCabe. By the numbers, Alexandre Daigle is not the worst first overall NHL pick, but it is rather unfortunate how many other players' careers overshadowed his. It is clear his ego was larger than his game, especially at the time of the quote. Today, we have the be quiet! Straight Power 12 1200W. This latest revision in be quiet!'s Straight Power lineup may be second best behind their line of Dark Power power supplies. It may not come with as much fanfare, but how will this unit perform? Can it be like the Chris Pronger of power supplies? Let us read on to find out!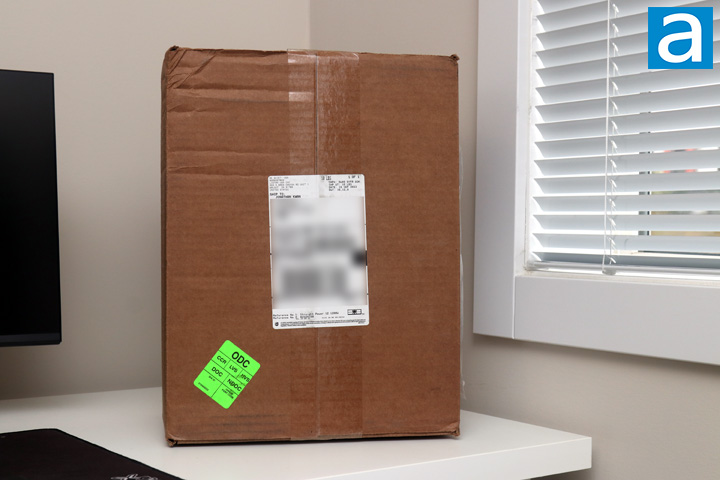 Our review unit of the Straight Power 12 1200W arrived from be quiet!'s parent company offices in Walnut, California. Traveling with UPS and their Standard ground service, this box arrived in very good condition. There were some slight bumps in the corners, but the whole box has more than survived the shipping process. It arrived at our APH Networks offices here in Calgary, Alberta. Inside, be quiet! packed the box with plastic air pockets to ensure everything stayed in good condition.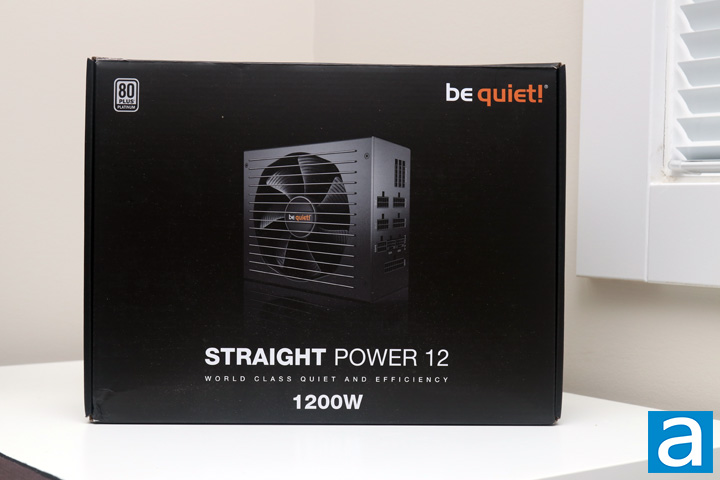 Looking at the retail container of the be quiet! Straight Power 12 1200W, everything seems quite familiar. Its box design is very similar to the Pure Power 12 M we looked at earlier in the year. As such, we have the product in the middle with the name underneath. The tagline of "World Class Quiet and Efficiency" is printed under the name with the wattage at the bottom. At the top, we have the 80 Plus Platinum label, revealing its efficiency, and the be quiet! logo on the other side. Around the box, we have some specifications and features for the power supply inside. Otherwise, it is a clean but unspectacular box.
Before we continue, I have grabbed the specifications from the manufacturer for your perusal:
General data
Model: Straight Power 12 1200W
Continuous power (W): 1200
Peak power (W): 1270
Form factor: Version 3.0
Form factor EPS 12V: Version 2.92
Topology: Full bridge + LLC + SR + DC/DC
Voltage (Vac): 110 - 240
Frequency (Hz): 50 - 60
Input current (A): 15 / 7.5
Power factor at 100% load: >0.99
Modern standby: ✓
Power consumption in standby (W): 0.14
Average life time (h / 25°C): >100,000
Operating temperature up to (°C): 40
Efficiency
80 PLUS certification: Platinum
Efficiency (%) at 230V, 2% load: 65.0
Efficiency (%) at 230V, 10% load: 89.0
Efficiency (%) at 230V, 20% load: 93.1
Efficiency (%) at 230V, 50% load: 93.7
Efficiency (%) at 230V, 100% load: 92.4
Fan and cooling technology
Fan: Silent Wings
Fan size (mm): 135
Bearing technology: FDB
Motor technology: 6-pole fan motor
Max. fan speed (rpm): 2600
dB(A) at 10% load: 9.4
dB(A) at 20% load: 9.4
dB(A) at 50% load: 9.8
dB(A) at 100% load: 32.2
Output
12V single rail operation: ✓
+3.3V (A): 25
+5V (A): 25
+12V1 (A): 100
-12V (A): 0.5
+5Vsb (A): 3
Max. combined power 12V (W): 1200
Max. combined power 12VHPWR (W): 800
Max. combined power 3.3V + 5V (W): 150
Hold-up time at 100% load (ms): 23
Power good signal (ms): 100 - 150
Cables and connectors
Modular cables: ✓
Sleeved cables: ✓
Maximum cable length (cm): 100
Cable length to motherboard (cm): 60
No. of cables: 10
ATX-Motherboard (20+4-pin): 1
P4+4 (CPU): 1
P8 (CPU): 1
12VHPWR cables: 2
PCI-e 6+2-pin (GPU): 4
SATA: 9
PATA: 2
Protection
OTP (over temperature protection): ✓
OCP (over current protection): ✓
OPP (over power protection): ✓
SCP (short circuit protection): ✓
OVP (over Voltage protection): ✓
UVP (under Voltage protection): ✓
SIP (Surge & Inrush Protection): ✓
Scope of delivery
Screws: ✓
Cable ties: ✓
User manual languages: CN, DE, EN, ES, FR, JP, PL, RU, TW, KR
Casing
Dimensions without cable (L x W x H), (mm): 180 x 150 x 86
Weight (kg): 2.04
Color: Black
Service
Warranty (Years): 10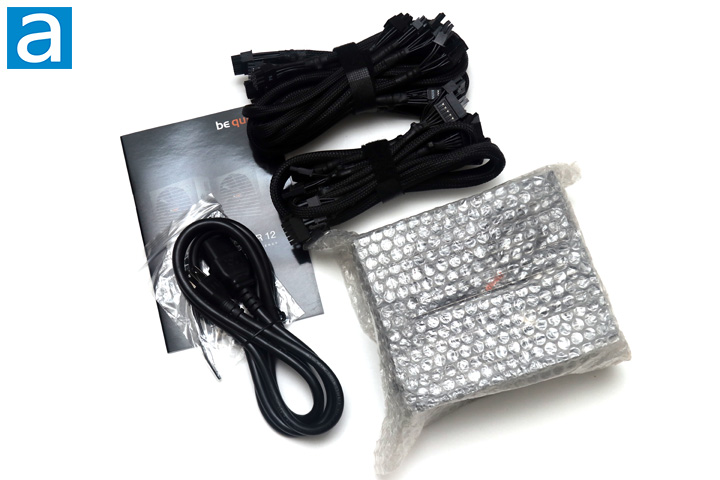 Internally, I was a bit surprised at the low quality of the packing material. First, we have the power supply itself in a bubble wrap bag. There is no foam bracket to hold it in place or separate bag for the power supply. Instead, we have cardboard brackets to keep everything in place. Two separate bundles of wrapped cables hold all of the modular cables, while the power cable is separately twist-tied together. A small resealable bag holds the mounting screws and some zip ties for cable management. Finally, a thin black manual covers the features and information about the Straight Power 12. For your information, we have a standard 10-year warranty with all of their units in this lineup. This is becoming increasingly standard for more premium power supplies, but I appreciate the length of coverage regardless.
---
Page Index
1. Introduction, Packaging, Specifications
2.
Physical Look - Outside
3.
Physical Look - Inside
4.
Minor Tests and Conclusion