By: Aaron Lai (Hardware/Software) and Jonathan Kwan (Software)
October 16, 2020
A couple of weeks back, I started playing a free-to-play video game called Genshin Impact. My friend and I are often looking for role playing games to play, but I did not hear about it until the day before the launch. Before the launch, there was news and information comparing Genshin Impact to Legend of Zelda: Breath of the Wild. When I dove into Genshin Impact, I could understand the comparisons, especially since I appreciated the openness of the game, but it is a pretty different game. Its combat is different with its party building and quick character swapping. Otherwise, I have been enjoying the role-playing aspects of it as well as the questing. I also think the music is quite well done. Obviously, there are still some negative aspects, especially with the use of gacha to generate revenue for the developers and publishers. Some might just call it an Anime version of Breath of the Wild, but I think there are enough notable differences to make this game stand out on its own. In addition, I would still go back to adventuring with Link almost all the time over the new game in the future, but this game is pretty good regardless. However, today we have a review is of the D-Link DIR-X5460, a wireless router with the offerings of the newest Wi-Fi 6. This new standard of Wi-Fi is meant to allow for increased speeds, range, and better performance in denser environments compared to previous generations. Unlike my game comparison, I do not think anyone with a new Wi-Fi 6 router would go back to an older standard, but what are we getting with this new standard? How does the D-Link DIR-X5460 perform as a Wi-Fi 6 router? Let us read on to find out!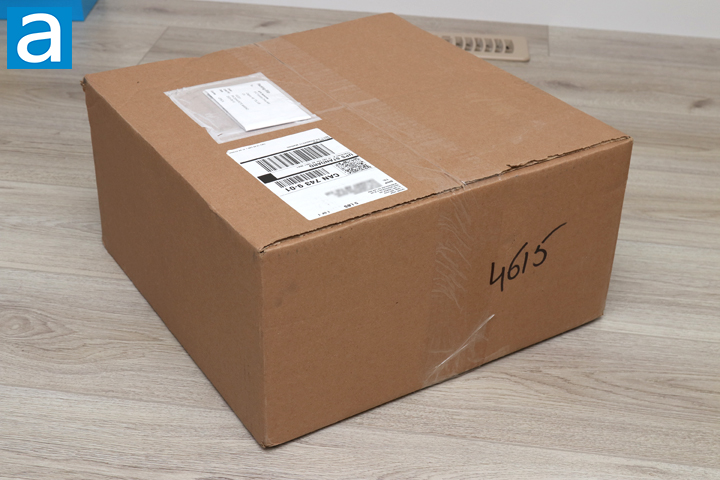 Today's review unit of the D-Link DIR-X5460 came to us from D-Link's Canadian offices in Mississauga, Ontario. Traveling with UPS and their Standard ground service, this box arrived in good condition. There was a slight dent on one side of the box, but it was nothing to be too concerned about. Inside, we have lots of packing paper that surrounds and protects it. Furthermore, the router comes in plastic cellophane to ensure the box comes without scratches or other surface marks on the box itself. I quickly opened up this box and ripped off the plastic to get to the router.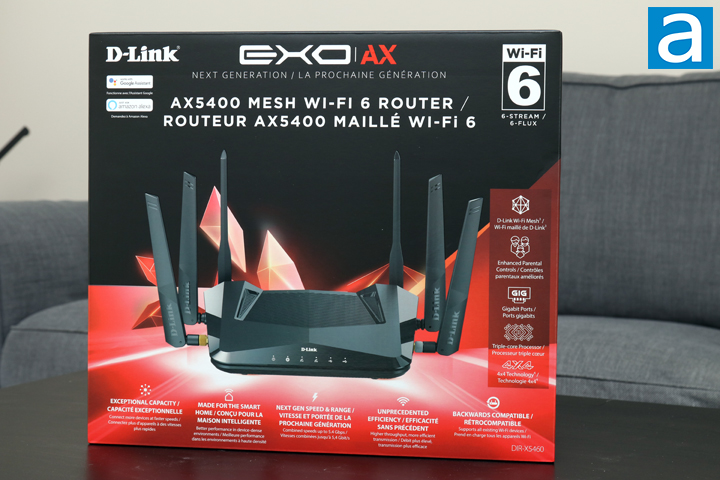 Red and black are often used on gaming products to evoke a certain image, but we have also seen it on routers. In fact, the last router we reviewed, the TP-Link Archer C5400X used this red and black color scheme on the router itself. Today's D-Link DIR-X5460 uses this color scheme on the box. The top shows off the D-Link logo, with an "EXO | AX" and "Wi-Fi 6" labels to further enforce this router uses the newest IEEE 802.11ax or Wi-Fi 6 standard. Underneath, we have the product name is here in English and French. In the middle, we have an image of the router. Many features and highlights are shown around this front panel and on the other panels. One other interesting thing to note is the fact this router supports Google Assistant and Amazon Alexa voice commands. Otherwise, there is not much else to speak about, so I continued with unboxing the DIR-X5460.
Before we continue, I have grabbed the product's specifications from the manufacturer's website for your perusal:
Product Description: AX5400 Wi-Fi 6 Router
Wireless Speed: 600Mbps + 4800Mbps
SDRAM: 512 MB
Flash: 128 MB
Antenna Type: 4 External Non-detachable; 2 External Detachable
Wi-Fi Mesh: D-Link Wi-Fi Mesh
MU-MIMO: Yes
D-Link Wi-Fi: Yes
D-Fend: N/A
D-Link SharePort Mobile: N/A
mydlink SharePort: N/A
D-Link QRS Mobile: N/A
mydlink Lite (iOS/Android): N/A
McAfee Protection: N/A
Voice Control Support (Amazon Alexa / Google Assistant): Yes
WAN: 1
LAN: 4
USB 2.0/3.0: 1x USB 2.0 + 1x USB 3.0
Static IP: Yes
Dynamic IP (DHCP): Yes
PPPoE: Yes
L2TP: Yes
PPTP: Yes
Static IPv6: Yes
PPPoE (IPv6 over PPPoE): Yes
QuickVPN: Yes
Wireless Security: Latest Wi-Fi security with 128-bit encryption
WPS (Wi-Fi Protect Setup): Yes
Guest Zone: Yes
USB Sharing (FTP): Yes
USB Sharing (SAMBA): Yes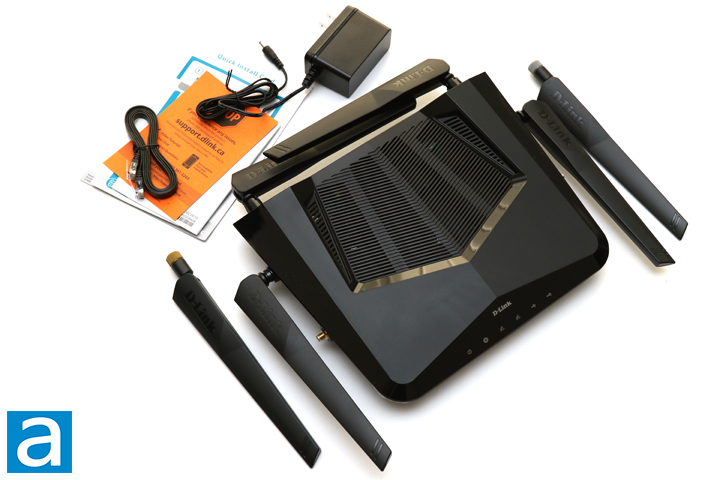 All of the contents of the box are held in a cardboard tray that is like an egg container. This has been pretty typical for routers, and I do prefer this over foam brackets or other alternatives. Out of the box, you will receive the following:
- D-Link DIR-X5460 Wi-Fi Router
- 2 Detached Antennas
- Color D-Link Wi-Fi App Installation Guide
- Color Quick Installation Guide
- Orange D-Link Content Information Pamphlet
- Power Adapter
- Ethernet Cable
---
Page Index
1. Introduction, Packaging, Specifications
2.
Physical Look - Hardware
3.
Configuration and User Interface
4.
Performance Tests
5.
Conclusion