By: Hai Wang
January 6, 2023
In recent years, a noticeable trend in both industry and academia of engineering is artificial intelligence. In fact, artificial intelligence has been playing a significant role in our daily lives. For example, when you open Amazon, you will notice the recommended items are more of less related to the things you are interested in. That is a result of the recommendation engine learning from your previous activities on that website. Another example of the prevalence of AI in our daily lives is assisted driving. Our cars are equipped with a large number of sensors, where data generated by the sensors are processed by the onboard computers, and as the output, appropriate actions such as assisted braking and torque vectoring are automatically applied. Most of the time, the driver will not even notice those computer-triggered actions. In general, we just feel newer cars are getting easier to drive. One of the most useful artificial intelligence techniques is deep learning. It has been widely used in areas such as automated driving, medical research, and industrial automation. As a result of the popularity of deep learning, the adjective "deep" to me reminds me of advanced artificial intelligence technology. Today's review unit, the CH510 Mesh Digital, it is from a company called DeepCool. The word "DeepCool" makes me wonder there may be some intelligent cooling technologies in their products, especially with the terms "Mesh Digital" also in the name. Spoiler alert: It does. Let us read on and find out more!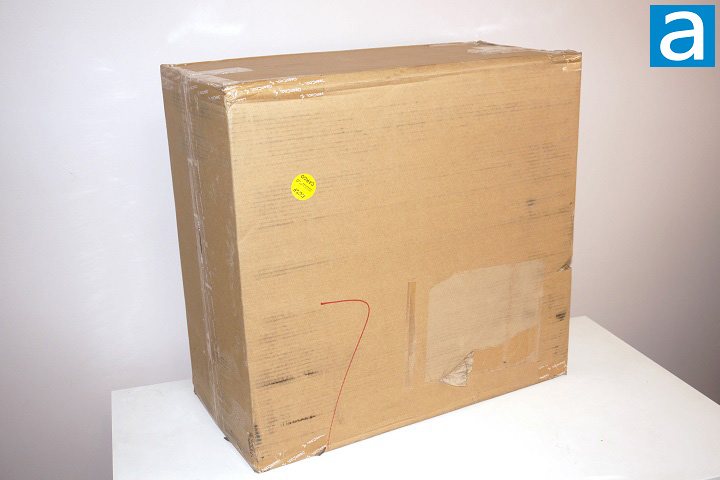 Today's review unit was shipped from the company's American offices in Rancho Cucamonga to us here in Calgary, Alberta, Canada. There were a few dents here and there on the box, but there was no unacceptable damage on the shipping box itself. There was no need to be nervous about the safety of the tempered glass window panel after over a thousand miles of transportation thanks to UPS and their Standard service.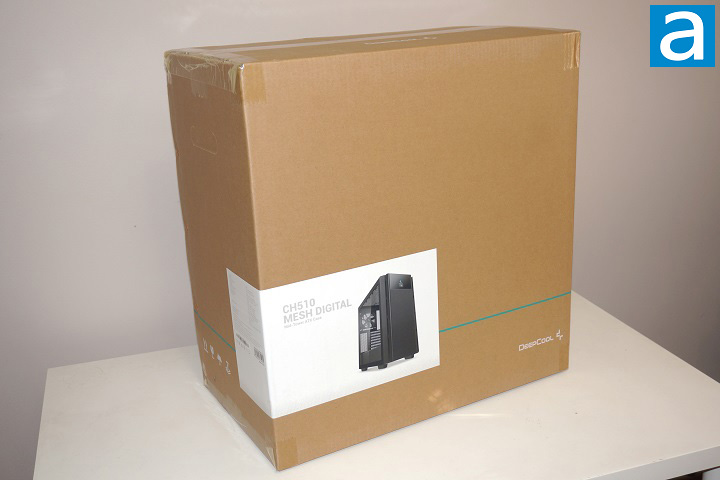 Usually, for computer cases, the shipping box is also the retail package. However, for this time, we have a box-in-a-box situation, which means the actual retail package is protected by the shipping box. As you can see from the above photo, the retail package is much cleaner compared to the shipping box. A good retail package design can draw people's attention and make the product itself stand out among hundreds of other products on the shelf at retail store. However, a computer case is different. Most of the time, the retailer will either directly put sample cases on the shelf or just demonstrate some fully built computers using those chassis. I personally would not buy a computer case just because it looks great on the box.
The retail package of DeepCool CH510 Mesh Digital is essentially a cardboard box in its original color. One photo of the case is shown on a sticker along with the product's name. The company's name is presented at the bottom right corner. The retail box design of CH510 Mesh Digital is simple, so if you were looking for more information, I would recommend digging into DeepCool's website.
Before we do anything else, let use quick look at the specifications of the mid-tower from their official website:
- Product Dimensions: 455×230×470mm(L×W×H)
- Net Weight: 7.5Kg
- Materials: ABS+SPCC+Tempered Glass
- Motherboard Support: Mini-ITX / Micro-ATX / ATX / E-ATX
- Front I/O Ports: USB3.0×1, Type-c×1, Audio×1
- 3.5" Drive Bays: 2
- 2.5" Drive Bays: 2+1
- Expansion Slots: 7 Slots
- Pre-Installed Fans: Rear: 1×120mm
- Fan Support: Front: 3×120 / 2×140mm; Top: 3×120 / 2×140mm; Rear: 1×120 / 1×140mm; PSU Shrouded: 2×120mm
- Radiator Support: Front: 120/140/240/280/360mm; Top: 120/140/240/280/360mm; Rear: 120/140mm
- CPU Cooler Height Limit: 175mm
- GPU Length Limit: 380mm
- Power Supply Type: ATX PS2 (maximum length: 170mm)
- EAN Code: 6933412775072
- PN Code: R-CH510-BKNSE1-G-1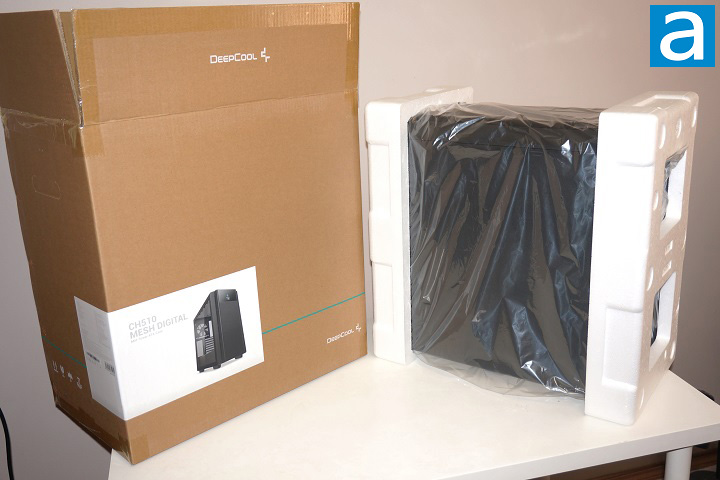 Upon opening the box, you will see the case is wrapped inside a big plastic bag. The bag provides protection to the case from scratches and other surface damage. Aside from the plastic bag, no other protection was provided for the tempered glass window. However, there is a sticker on the tempered glass window that indicates this product, at least this side, is fragile. Furthermore, two foam brackets are used to secure the computer case while it is in the box. The whole chassis is supported by the two brackets at the corners, such that there is no direct contact with the shipping box and therefore no damage was found on the product itself. To allow for quick installation, a small user manual is included in the package. Computer building is not necessarily rocket science and there is no demand for a book-like user guide, but it is nice for those that are new to this hobby. All the accessories, including hardware and zip ties, are contained in a plastic bag located in the case.
---
Page Index
1. Introduction, Packaging, Specifications
2.
Physical Look - Outside
3.
Physical Look - Inside
4.
Installation and Conclusion