By: Jonathan Kwan
September 16, 2016
Back in 2006, when I was still a little boy and APH Networks was still in its infancy, I took on the challenge to write about a product out of the norm for a technology review website: The Sumolounge Omni. Even though I was sixteen years old at the time, and probably had nothing else better to do in the summer other than getting my Bronze Cross swimming certification -- at least that was what I said in my article -- there was no doubt in my mind Sumo makes excellent furniture, no matter how unorthodox. And in its unorthodoxy, it still somehow manages to stay relevant from nerds who could only dream of getting a girlfriend as good looking as the ones on Sumo's website, to hipsters with this MacBook Pro bag. Fast forward ten years, I just started my PhD in Electrical Engineering, and not to anyone's surprise, Sumolounge is still as interesting as ever. Earlier this year, my colleague Aaron Lai covered the Sumo Gamer Suede, a reasonably sized and comfortable beanbag chair with fuzzy suede fabric, which somehow ended up in my basement next to Sumosac Sultan instead of his room. Of course, the problem with all these chairs is, as much as you may like products from the company, they occupy a lot of space, and you cannot travel anywhere with them unless you have an SUV -- or for the soccer moms among us, a minivan -- and not planning to carry anything else at all. Fortunately, if you are one of these people, Sumolounge has a solution for you. The Sumo Air Lounger we are taking a look at today has no compromise in size, but can be collapsed into a small bag that can fit in your backpack, and self-inflatable when you need to whip it out at the pool or the mountaintop. Interested? We are too.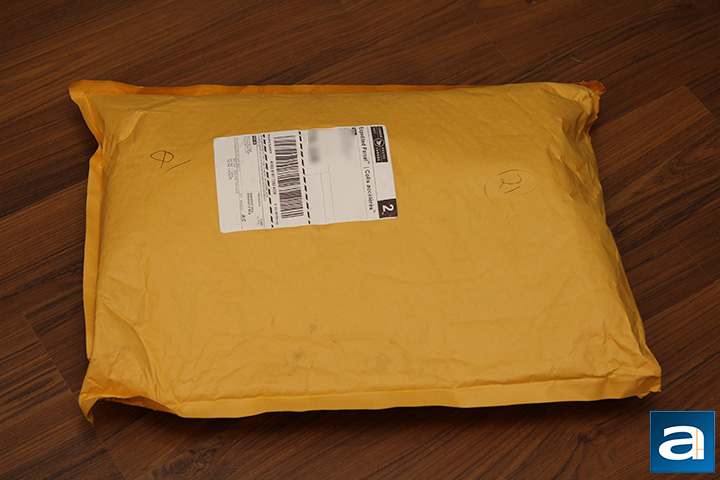 Our review unit of the Sumo Air Lounger came in a brown bubble envelope using Canada Post via Chit Chats Express, a logistics company based in Toronto, Ontario, Canada. This is the first time I have heard of this logistics company, but -- not to give them some free advertising or anything -- it looks like they have some pretty interesting services in bringing things between Canada and the USA. That aside, this is also the first time anything from Sumo fit in such a compact package. With nothing fragile inside, everything arrived in excellent condition for our review today. I took my knife out, and got straight to work.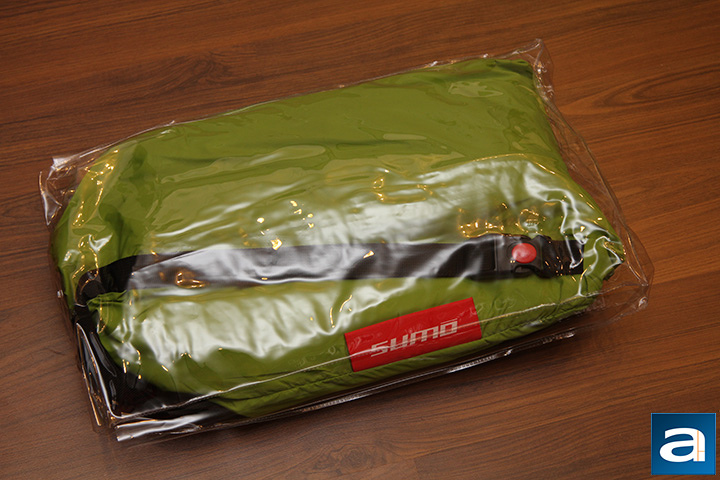 The unfortunate part about using a knife to open a package with a nylon product inside at 11pm at night was the blade briefly sliced through an edge of the contents, causing a small rip in the outer clear plastic case the self-inflatable chair arrives in. Fortunately, the chair itself was not damaged, but try not to make the same mistake I have with yours, haha. That aside, in addition to the bright lime green color our Sumo Air Lounger arrived in, you can also get it in red, pink, orange, platinum, black, or blue. I am slightly regretting that I did not get a pink one as part of the excellent APH Networks tradition, but to keep myself from making any explanations to my friends when I actually travel with the Air Lounger to go hiking or swimming, I decided to go with a more agreeable, yet not-so-conservative, color instead.
Before we move on, let us take a look at the features and specifications of the Sumo Air Lounger, as obtained from the manufacturer's website:
Specifications:
Dimensions: Inflated (With Air): (L x W) 78.7 x 35.4 in, Deflated (without air): 13.8x 7.1 in.
Weight: 2.7 lbs/ 1.2 kgs
Material: Highest Quality 300 Grade Ripstop Nylon
Care: Use washcloth with lukewarm water
Features:
- Phone/Tablet/Magazine Holder
- Bottle/Cup Holder
- Bottle Opener
- Tent Peg Loop – to ground Sumo Air for firmness with use of pegs
- 300 Grade Ripstop Nylon Carrying Bag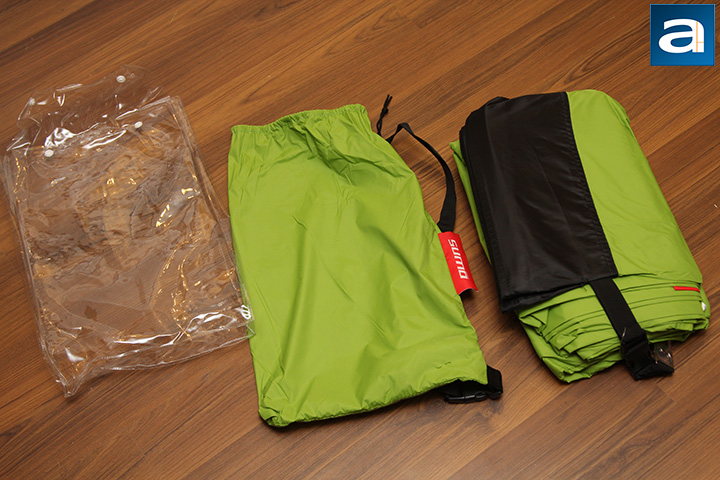 Out of the clear plastic case, you will receive the Sumo Air Lounger itself, along with a drawstring nylon bag for you to travel with. Unless you are expecting extra accessories like an air pump, there is nothing else included -- the Sumo Air Lounger is a self-inflatable chair, after all. I will demonstrate exactly how it is self-inflatable in just a moment, but for those who bought one and are not reading this article, a cardboard tag near the mouth of the product keeps everyone well-informed. When deflated, the Sumo Air Lounger is only 13.8" x 7.1", making it very easy to travel with. In addition to being very simple to take out of the bag, it is also super straightforward to fold up and go; unlike most sleeping bags I have dealt with in the past.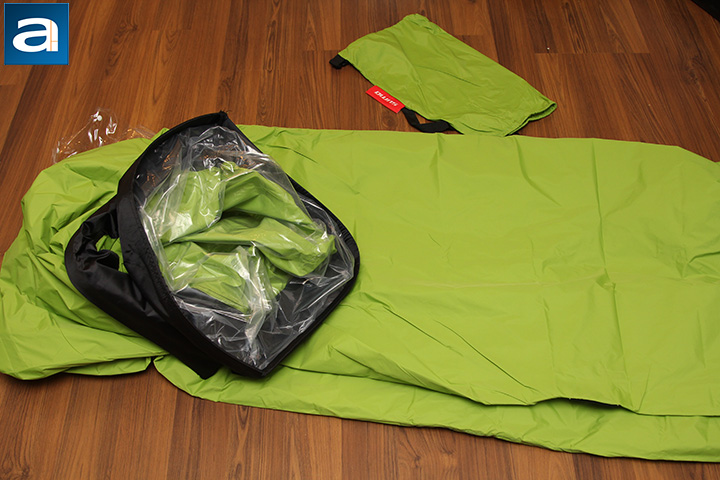 Here is a photo of the opened but deflated Sumo Air Lounger. Outside, the lime green cover is made out of 300-grade Ripstop nylon. In addition to being resistant to tearing, it is also waterproof for those who want to use it at the pool. Another benefit of this is you can clean it using a washcloth with lukewarm water, which, from my experience, works very well. Since nylon itself does not hold air in that well, the double-layered Air Lounger is lined with clear plastic on the inside to make sure it does. On the side, this self-inflatable chair features pockets for you to put stuff like your phone, tablet, magazines, or water bottle. It also comes with a bottle opener for those who want to crack open something a little more exciting. Personally, I would not put anything inside the pockets of the Air Lounger, especially if it is not pegged down using the tent peg loop, because the chair rolling around can cause spills if not careful, or damage to your electronic devices at worst if you are on something hard like concrete. That said, I am not complaining about the fact that any pocket is included at all -- it can be quite convenient when you need it, actually.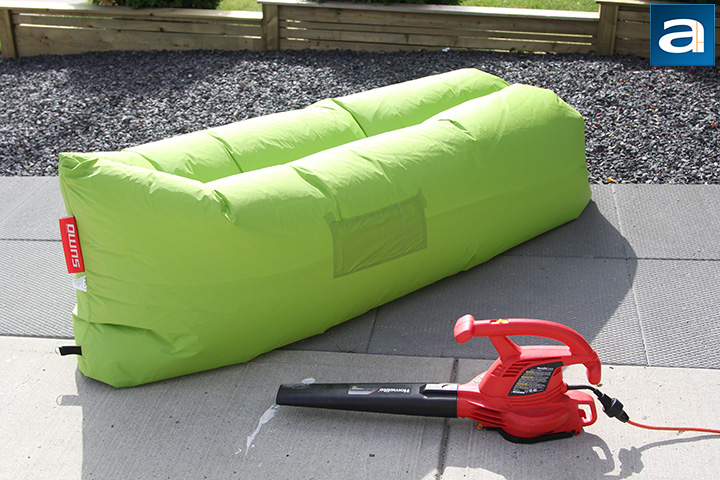 In order to inflate the Sumo Air Lounger, the designed procedure is quite simple. Since it is self-inflatable, there is no actual valve in the chair -- just large openings. Furthermore, to make inflation easier, the Air Lounger is separated into two separate compartments, which can be individually filled with air. To start, simply open the mouth of one of the compartments, and run around with it to catch air, sort of how you used to do that when you are a kid with supermarket plastic bags. Once that is done, clip that compartment, switch to the other side, and repeat. With the second compartment filled, clip that end as well, and roll it from the clip until sufficient pressure is reached. Finally, fold the clip, attach the buckle, and you are good to go.
As for me, I found that a little bit inefficient, especially considering how awkward it was to run around on my front driveway with a large lime green bag of in front of my neighbors. It is also quite challenging, unless it is a windy day, and there is a large open field for you to run in. Therefore, I decided to solve the problem as a true engineer would do, and hit each mouth of the Sumo Air Lounger with my trusty high speed electric leaf blower. In case you do not own a leaf blower at home, it is actually quite useful for doing anything other than blowing leaves (I mean, I have never used it for leaf blowing, honestly), such as quickly drying off your car after a car wash, or using it to clean dust off something dusty. To add to the list of useful tasks a leaf blower can do, inflating the Sumo Air Lounger with 220mph wind makes the whole process a snap as I yell "POWAAAAA" in Jeremy Clarkson's voice. The inflated size is 78.7" x 35.4"; a good size for most adults even in North America.
All in all, I found the Sumo Air Lounger to be quite an interesting product. I really enjoyed big comfortable chairs from the company in the past, and being able to take one with me wherever I go with this model is definitely a big plus. It would have been nice if I got this in the beginning of summer, but I actually have a confession to make: I actually got this to put in my office at the university for my late afternoon naps during the school year. For my intended purpose, I like it. For $50 at press time, the price is well within the affordable range even for poor graduate students like Yours Truly. I do have some suggestions for improvement for the Sumo Air Lounger though. Firstly, it is not exactly easy to inflate unless you have a leaf blower, and I would be quite impressed if anyone carries a leaf blower to go hiking. Secondly, since it features no valve in order to be advertised as a self-inflatable chair, the large air intakes with fold-seals mean you will not get a whole lot of air pressure inside. In other words, do not jump into the Air Lounger when it is sitting on concrete -- not that I have tried, of course.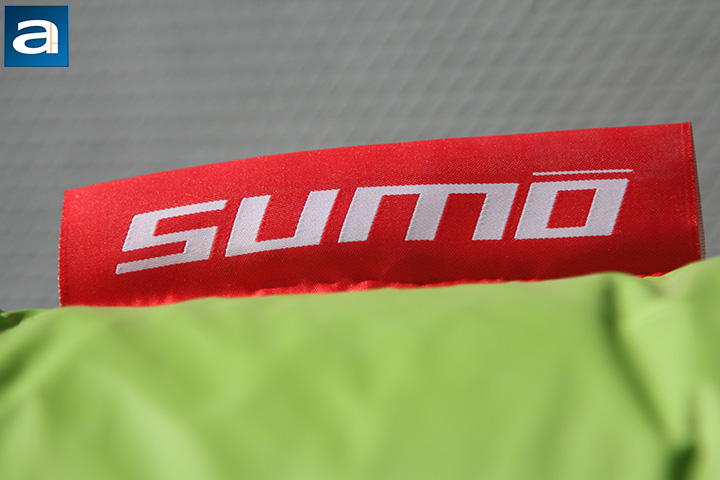 Sumo provided this product to APH Networks for the purpose of evaluation.

Do you have any comments or questions about the Sumo Gamer Suede? Drop by our Forums. Registration is free, and it only takes a minute!