Page 4 - Premiere Elements 8 Interface and Usage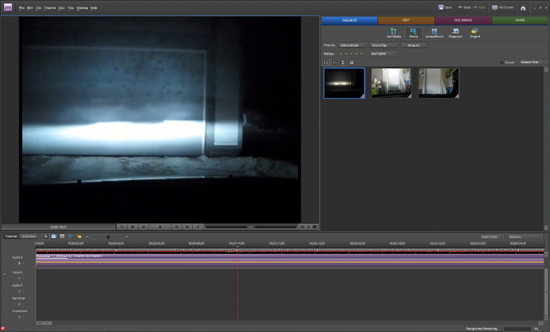 Users familiar with previous editions of Adobe's Elements line would be greeted with the familiar dark gray color scheme used in Premiere Elements, which is consistent with Photoshop Elements as we've examined earlier. While I would much prefer Adobe to follow Windows' UI more closely, there's nothing much to complain about other than the slightly weird feeling at first. The layout is pretty simple and intuitive to use. The "File" menu is at the top left corner, but you won't be going there all too often from my experience. The main stuff you'll be looking at is the large current video preview with navigation occupying about half your screen on the left, and on the right are four main tabs to organize, edit, design disc menu, and share, respectively. The "Organize" tab allows you to get media, as well as organize the available assets. "Edit" provides an array of available effects, transitions, titles, themes, and clip art. Disc Menu lets you produce your user interface for producing optical media, including DVDs and Blu-ray discs. Lastly, the Share tab permits you to export the media to a disc, file, internet, or tape.
At the bottom is an area that allows you to display between sceneline and timeline; with each layer labeled independently -- so you can set multiple layers of videos for various purposes. Located between the sceneline/timeline and preview window is a set of controls for normal Selection Tool, Time Stretch, Properties, Smart Trim, and Motion Tracking. As aforementioned, the interface is simple and intuitive to use, even for the first time user -- it's as easy to use as Windows Movie Maker, except infinitely more powerful and refined for the casual video producer.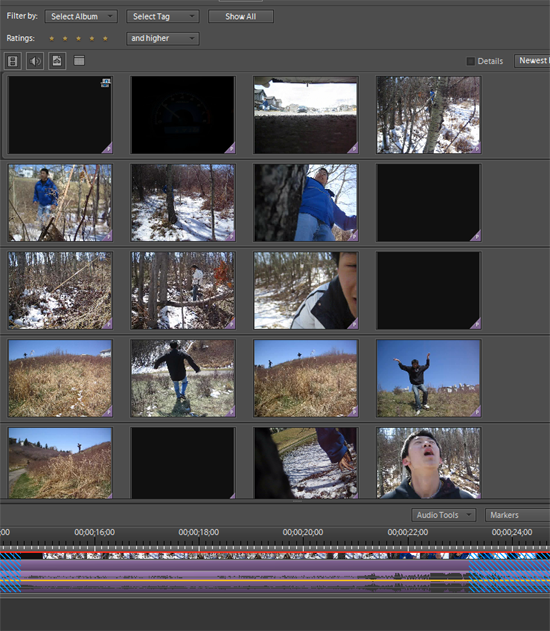 Adobe's Premiere Element 8 relies significantly on the powerful Auto Analyzer for features such as Smart Fix, Smart Trim, Smart Mix, VideoMerge, Motion Tracking, InstantMovie, you name it -- we'll demonstrate the last three in the subsequent page. The Auto Analyzer basically "sees" the clips, and can automatically get a "feel" of what they are and apply automatic quality adjustments, trims, and analyze moving entities on the screen. I imported a short video that I produced last year to see how well it detects the scenes in one clip. The Auto Analyzer did a great job and sorting things out into independent segments, as well as adjusting potential quality issues and detecting solid backgrounds for potential VideoMerge usage. However, I found it to be fairly slow if you have any video more than several minutes long -- and while our test system does not run the latest and greatest hardware, the Intel Core 2 Extreme QX9650 paired with 6GB of high performance DDR3 RAM is certainly no performance slouch.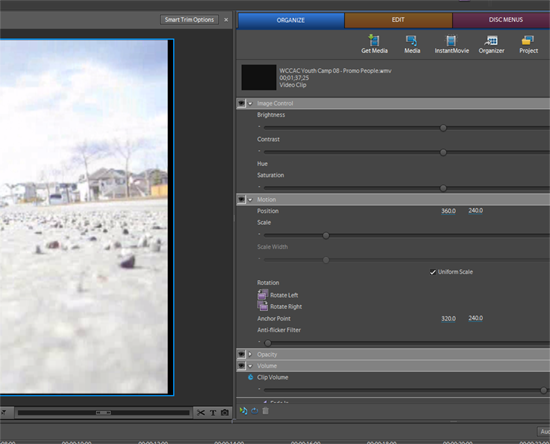 While we are at it, the user can also manually adjust various properties to optimize individual video clips in one convenient screen. This includes standard adjustments such as brightness and contrast, but also clip opacity (This is very useful when working with multiple layers of videos) as well as individual effect adjustments.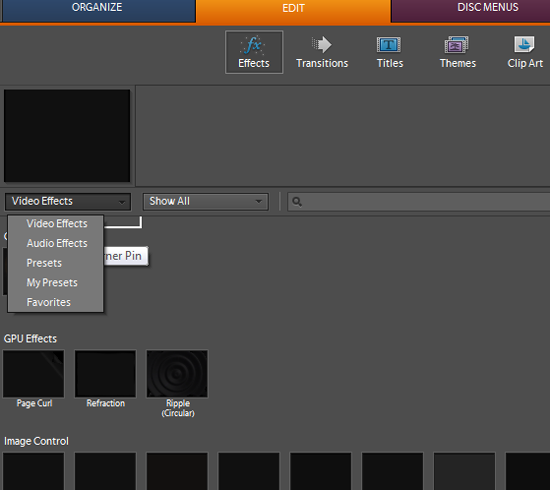 Adobe Premiere Elements 8 includes a long list of effects and transitions -- and thankfully, many of them are actually sensible and useful. Each set of effects are listed into their respective categories, including Adjust, Blur & Sharpen, Channel, Distort, Generate, GPU Effects, Image Control, Keying, NewBlue Art Effect Elements, NewBlue Film Look, NewBlue Motion Effects Elements, Perspective, Pixelate, Render, Stylize, Time, Transform, Video Stabilizer, and VideoMerge. Many are actually useful in enhancing the quality of the video in a very simple manner. A similarly long list of transitions is also available for the user to use. Generally speaking, there is a lot of included effects and transitions for the end user that are actually useful in producing professional looking end products -- not the "cheap old Windows Movie Maker" type things that are often overused. Adobe has included a good list of such to make Premiere Elements 8 worthwhile in this regard.
Before we move on to looking at some feature highlights and demonstrations, my overall impression of Adobe Premiere Elements 8 is generally positive. It is easy to use, but also integrates a good list of quality features for casual video producers and enthusiasts. It is also very flexible in letting the user adjust many aspects the way the user wants it -- which is quite a limitation of many free or even competing applications. My only two complaints are, while I found Premiere Elements to be generally acceptable for daily use, it is a bit buggier and crash prone than I would like. It is also slow even on relatively powerful hardware in running the Auto Analyzer and video encoding performance.
---
Page Index
1.
Introduction, Packaging
2.
Photoshop Elements 8 Interface and Usage
3.
Photoshop Elements 8 Feature Highlights
4. Premiere Elements 8 Interface and Usage
5.
Premiere Elements 8 Feature Highlights
6.
Photoshop.com, Conclusion