Page 6 - Photoshop.com, Conclusion
Photoshop.com is a mix of photo & video gallery, social networking and image editing site that integrates with Photoshop and Premiere Elements. This is certainly one of those features welcomed by many users, since it can be accessed anywhere there is internet access. Out of the box, a generous 2GB of storage and access to Photoshop.com is given for free with the Adobe Photoshop Elements 8 and Premiere Elements 8 package. This storage is used for uploaded pictures and videos; where they can either be uploaded manually by the user or obtained from other sites such as Facebook or Photobucket. With a Plus membership, the storage is upgraded to 20GB, and additional resources and tutorials become available to be streamed to the desktop application. It is also important to note that Photoshop.com is currently only available for users residing in the United States.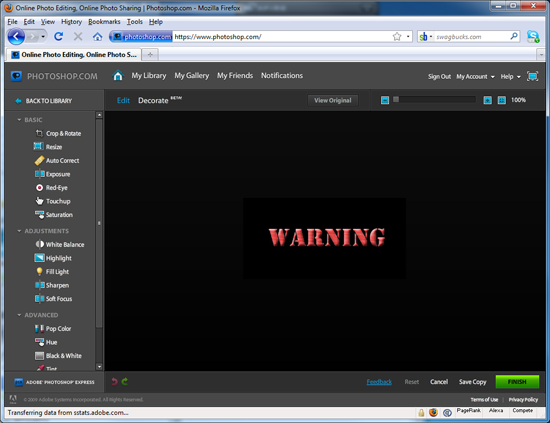 One of the key features on Photoshop.com is the ability to edit photos online. Although nowhere near as powerful as the Photoshop Elements 8 desktop application, it has a good collection of basic photos. This is convenient because you can now take a public computer to edit photos. Tools included in the Flash based interface from top to bottom: Crop & Rotate, Resize, Auto Correct, Exposure, Red-Eye, Touchup, Saturation, White Balance, Highlight, Fill Light, Sharpen, Soft Focus, Pop Color, Hue, Black & White, Tint, Sketch, and Distort. These tools should be good enough to run almost anywhere, and basic enough to touch up photos for Facebook or Myspace or for other purposes as well.
The second feature of the online Photoshop.com image editor is the Decorate function, which is still in beta at press time. From top to bottom, the tools are as follows: Text, Bubbles, Stickies, Party, Animals, Costumes, Sports, Miscellaneous, Expressions, and Frames. All of these are used to spice up a picture by adding available clips and/or text. Again, it is still in beta, so it definitely has a long way to go. We expect updates from it periodically with new content and more features, as the available content is still relatively sparse.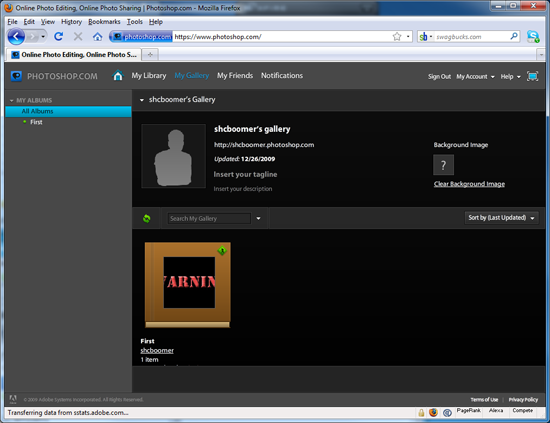 The final aspect of Photoshop.com is the online photo gallery. There are both private galleries for our personal collection, and public galleries for other users to look at, print, or share through a direct link, email, or a social networking website. The public galleries are posted under a subdomain of Photoshop.com. Our demo gallery can be found at http://shcboomer.photoshop.com.
The features of Photoshop.com is definitely an asset, and the online material is free -- but upgrading to Plus gives more templates and tutorials, as well as boosting the online storage to 20GB. Coming in at only $49.99 per year at press time for Photoshop.com, it is a good add-on for those interested in these features. The extra themes and tutorials streamed straight to your desktop application are useful and informative, but the price is steep if the additional online storage is not required in my opinion.
------------------------------------------
It's easy to say what the target market of Photoshop Elements and Premiere Elements 8 is, but to actually achieve the desired claims is a completely different story. As far as Photoshop Elements and Premiere Elements is concerned, version 8 continues the tradition of what the Elements line is about -- offering great value for amateurs and casual enthusiasts in photography and video production, respectively. The latest iteration of Photoshop Elements lets users do relatively complex photo editing tasks through a simple and intuitive interface. It is easy enough to use for many people to optimize their photographs. However, many enthusiasts may find Photoshop Elements to be pretty lacking for many other tasks other than for regular photo touch ups; if you happen to fall within this category, by all means go for the full version of Photoshop from Adobe's excellent Creative Suite series. On the other hand, I found Premiere Elements 8 to be quite an excellent package for the casual enthusiast video producer -- it has a good bunch of excellent features and effects to make a good film production possible. I have directed and produced several short films in the past -- while I cannot say I have a load of experience -- I can confidently say that I am pretty satisfied overall for what Adobe's Premiere Elements 8 is able to provide from my experience in video editing. By the way, they're nothing like the demo videos I've shown in the previous page, haha. Those included with this report are just clips I've slapped together for a quick demonstration, and not necessarily for artistic quality. Generally speaking, for MSRP $149.99 at press time (But I've seen retail prices as low as half of the listed a few weeks ago), Adobe's Photoshop Elements 8 and Premiere Elements 8 proves to be a package of decent value for the intended market! I would highly appreciate it if the programs were more optimized for performance, and stability of Premiere Elements 8 has room for improvement.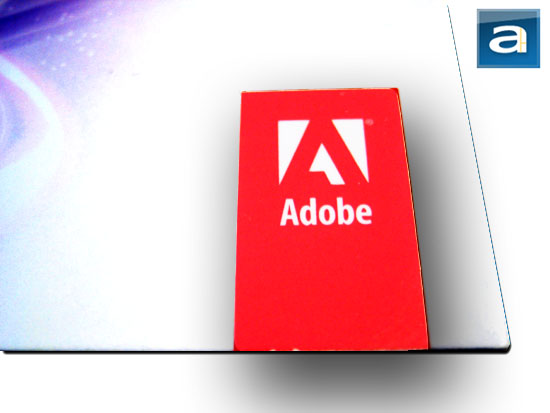 Special thanks to Carolyne over at Adobe for making this report possible.

Adobe's Photoshop Elements 8 and Premiere Elements 8 package provides excellent value -- if you're looking to touch up photos with ease and effectiveness, and/or looking for an excellent video editing suite for the casual enthusiast, this software package certainly would not disappoint.
Adobe Photoshop Elements 8 & Premiere Elements 8 Website: http://www.adobe.com/products/psprelements/
MSRP at time of writing: $149.99 USD (Adobe Photoshop Elements 8 & Premiere Elements 8), $49.99 USD (Photoshop.com Plus)
---
Page Index
1.
Introduction, Packaging
2.
Photoshop Elements 8 Interface and Usage
3.
Photoshop Elements 8 Feature Highlights
4.
Premiere Elements 8 Interface and Usage
5.
Premiere Elements 8 Feature Highlights
6. Photoshop.com, Conclusion