By: Jonathan Kwan
March 24, 2023
"One of my guy friends told me about a dream he had of him and I getting married," my friend said. "According to him, in his dream, I was dragged to the altar and the groom was not there. So I asked him to step in, we got married, and he took me on an adventure." I do not know about you, but the implication of this story is obvious: The guy is interested in my friend, and he is trying to test the waters to see her reaction. Pretty much everyone who heard this story agreed with this interpretation except for my friend. I think a lot of the times, when something is not explicitly clear, people can choose to see things differently no matter how unlikely the alternate interpretation is. In a similar way, while it is easy to get vital PC statistics like CPU temperature or chassis fan speed, what is going on inside your PSU can often be vague. Last year, I took a look at the Cooler Master XG850 Plus Platinum 850W, which allows you software log and display its fan speed, temperature, and power load in real time. Having explicit performance data is invaluable so we know exactly what is going on without leaving any room for subjective interpretation. The Cooler Master V850 Gold i multi 850W we are taking a look at today continues this with their semi-digital platform, allowing you to not only monitor the same vital statistics so we know exactly what is going on, but also control the fan curve in software. The V850 Gold i multi has been updated to be ATX 3.0 compliant and has a PCIe 5.0 12VHPWR cable for the latest graphics cards as well. Is this power supply everything as promised? Read on to find out!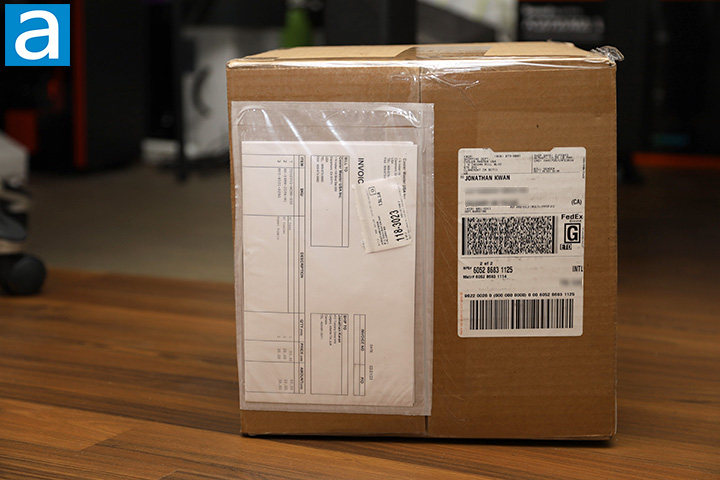 Our review unit of the Cooler Master V850 Gold i multi 850W arrived in a medium-sized brown corrugated cardboard box from the company's American headquarters in Claremont, California, USA. Claremont is a city within the Los Angeles County. Using FedEx Ground, our V850 Gold i multi arrived in very good condition to us here in Calgary, Alberta, Canada for our review today.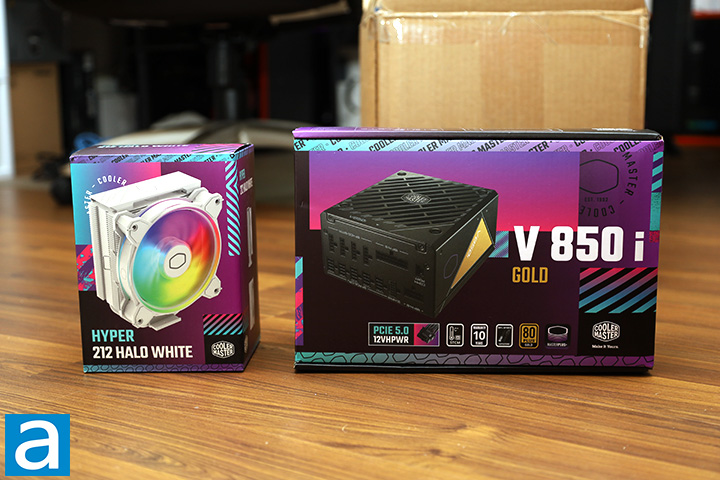 Inside the shipping box are the retail boxes for the Cooler Master V850 Gold i multi 850W and Cooler Master Hyper 212 Halo White, the latter of which will be reviewed by my colleague Jadon. The PSU's box design is consistent with the company's latest design theme. It features a purple gradient background with large, bold font. A photo of the power supply turned on in three-quarters view is placed prominently on the left half of the box. On the right half of the box, we have a form of Cooler Master's logo that looks like it was taken from a T-shirt design at the top. This is followed by the name of this power supply. One thing to note, the full advertised name of "Cooler Master V850 Gold i multi 850W" -- particularly, the word "multi" -- does not appear on anything other than the website's product page. Along with the inconsistent use of spacing, I found all this to be very confusing. At the bottom, there is an array of six badges, showing off its PCIe 5.0 12VHPWR connector, STCM or Smart Thermal Control Mode, 10-year warranty, 100% Japanese capacitors, 80 Plus Gold certification, and MasterPlus+ software. Finally, we have Cooler Master's actual logo on the right. The remaining sides of the box have feature highlights and specifications, including a fan curve and efficiency chart.
Speaking of which, before we move on, let us take a look at the specifications of the Cooler Master V850 Gold i multi 850W, as obtained from the manufacturer's website:
Model: MPZ-8501-AFAG
ATX Version: ATX 12V Ver. 3.0
PFC: Active PFC
Input Voltage: 100-240V
Input Current: 12-6A
Input Frequency: 50-60Hz
Dimensions (L x W x H): 160 x 150 x 86 mm
Fan Size: 135mm
Fan Bearing: FDB
Fan Speed: 2200 RPM
Efficiency: ≥90% @ Typical Load
80 PLUS Rating: 80 PLUS Gold
ErP 2014 Lot 3: Yes
Operating Temperature: 0-50°C
Power Good Signal: 100 - 150 ms
Hold Up Time: ≥ 20ms
MTBF: >100,000 Hours
Protections: OPP, OVP, OCP, UVP, SCP, OTP, Surge and Inrush Protection
Regulatory: UL, TUV, CE, FCC, BSMI, CCC, KC, KCC, EAC, BIS, UKCA, RoHS2.0
ATX 24 Pin Connectors: 1
EPS 4+4 Pin Connectors: 1
EPS 8 Pin Connector: 1
SATA Connectors: 12
Peripheral 4 Pin Connectors: 4
PCI-e 6+2 Pin Connectors: 3
12VHPWR Connector: 1
USB Connectors: 1
Series: V Gold Series
80 Plus: Gold
Modular: Full Modular
Wattage: Above 750W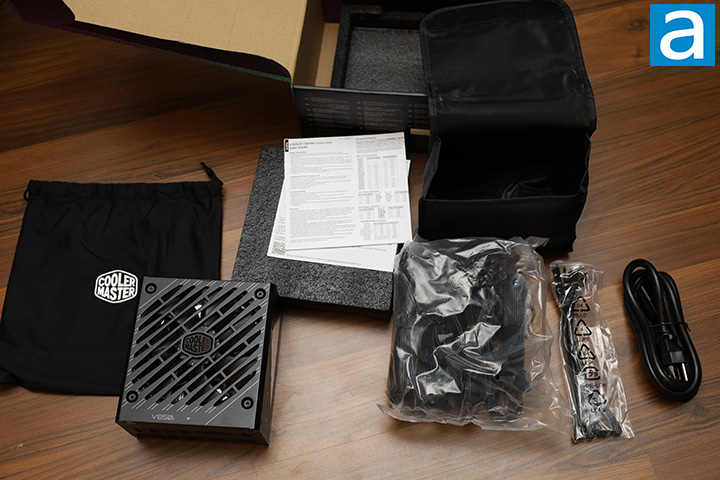 The Cooler Master V850 Gold i multi 850W's retail packaging can be opened by a flap attached on the right. Upon opening the box, you will find everything is neatly organized. The power supply is placed inside a fabric drawstring bag and securely clipped in by two foam brackets. Cables are located inside a nylon Velcro bag.
Out of the box, you will receive the V850 Gold i multi 850W power supply itself, modular cables, internal USB connector cable, AC power cable, four screws, three Velcro straps, bunch of zip ties, and some instructional literature. The bundle is simple and reasonable.
---
Page Index
1. Introduction, Packaging, Specifications
2.
Physical Look - Outside
3.
Physical Look - Inside
4.
Minor Tests, Software, Conclusion