By: Jonathan Kwan
January 13, 2023
I was in Edmonton a few weeks ago with a few friends to pick up some stuff. We left Calgary in the morning arrived around lunchtime, and I was craving some Texas-style barbecue, so we went to a highly-rated restaurant -- 4.6 stars on Google -- in a trendy part of town for food and drinks. We sat down, and the waitress asked whether we have been to that restaurant before. None of us have, so I told her no. She then proceeded to passionately tell us that restaurant is a Texas-style barbecue and explain to us the menu. I smiled and nodded, mainly because I was trying to be polite, and it was rather strange to me how she assumed we never had Texas-style barbecue just because we have never been to that particular establishment -- I have eaten at many actual Texas-style barbecue restaurants in, you know, Texas. And as for the food? Let me just say there are many great Texas-style barbecue restaurants outside of Texas, including in Calgary, and the one in Edmonton just was not it despite having thousands of positive reviews. And on that thought, if I were to ask you, have you ever owned a Seasonic power supply? Even if you have never owned a Seasonic PSU, the company has long been regarded as one of the best PSU manufacturers in the world. With countless positive reviews from professionals and consumers alike, Yours Truly no exception, the company has been delivering hit after hit for decades now. Today, we have the latest from their flagship series, the Seasonic PRIME TX-1300 1300W. But what makes it a flagship PSU? Will it live up to the expectations of those who know? And does it have what it takes to hold that title, unlike the restaurant I was at in Edmonton? Read on to find out!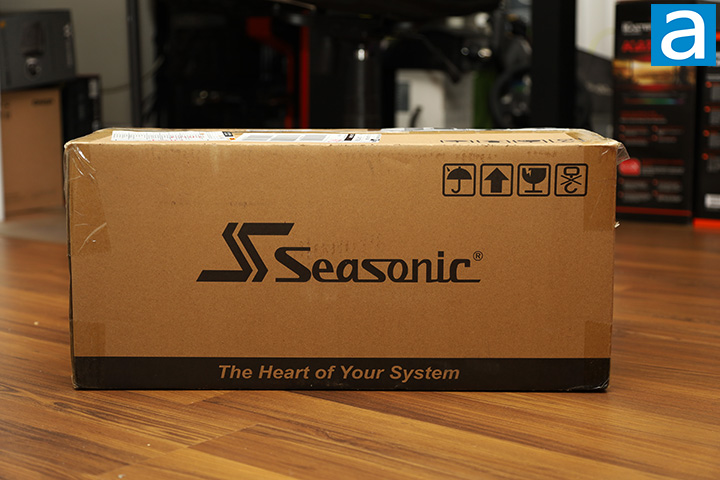 It has been a long time since I reviewed the Seasonic PRIME Ultra Titanium 850W, which was February 2018. I am still using that power supply in my daily driver, and has been more than solid in reliability and performance in the last five years. Our review unit of the Seasonic PRIME TX-1300 1300W came in a rather large brown corrugated cardboard box from the company's Taiwanese headquarters in Taiwan using DHL Express. The company's latest flagship series arrived safely to us here in Calgary, Alberta, Canada today after traveling half way across the world.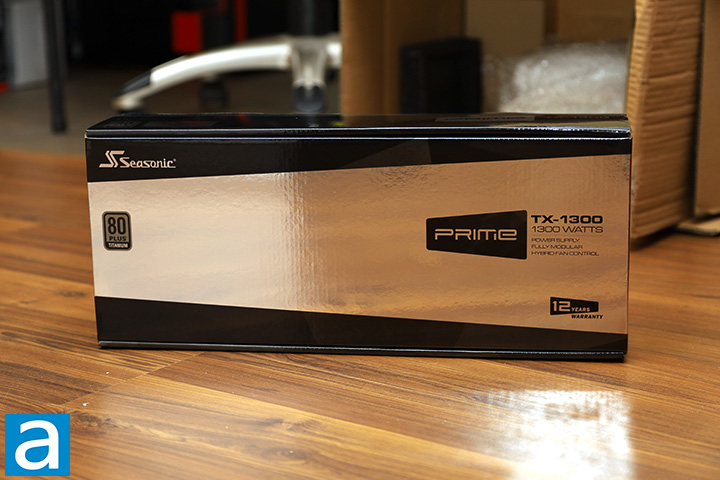 When I first laid my eyes on the Seasonic PRIME TX-1300 1300W's retail box, I almost laughed out loud. This was because it is essentially a comically elongated version of the Seasonic PRIME Ultra Titanium 850W's packaging. That said, it retains all the elements of what I appreciated about the last model I reviewed. Seasonic has done a really good job at making a retail box that can be considered stylish. The otherwise ubiquitous black and silver color scheme of the box is made unique by the use of geometric shapes, as shown in our photo above. The box art is clean in appearance, and it gets the message across very well. At the top left corner, we can see Seasonic's logo, while an 80 Plus Titanium badge can be see along the western edge. On the opposite end, the company's PRIME TX branding and 1300W model designation is present. The box suggests this power supply comes with a very generous twelve-year warranty at the bottom right corner. Feature highlights and specifications can be found on the remaining sides of the box.
Before we move on, let us take a look at the specifications of the Seasonic PRIME TX-1300 1300W, as obtained from the manufacturer's website:
80PLUS: Titanium
Cybenetics Efficiency Level: Titanium
Cybenetics Noise Level: Lambda A
Form Factor: Intel ATX 12 V
Dimensions: 210 mm (L) x 150 mm (W) x 86 mm (H)
Fan Information:
- Fan Size: 135 mm
- Fan Control: Premium Hybrid Fan Control
- Fan Bearing: Fluid Dynamic Bearing
- Life Expectancy: 50,000 hours at 40 °C, 15 % - 65 % RH
Cable Information:
- Modularity: Fully Modular
- Cable type: Flat black cables
Electrical Features:
- Operating Temperature: 0 - 50 °C
- MTBF @ 25 °C, excl. fan: 150,000 hours
- AC Input: Full Range
- Protection: OPP, OVP, UVP, OCP, OTP, SCP
Safety and Environmental:
- Safety and EMC: cTUVus, TUV, CB, CCC, BSMI, EAC, CE
- Environmental Compliance: Energy Star, RoHS, WEEE, ErP Lot 6, REACH
Warranty: 12 Years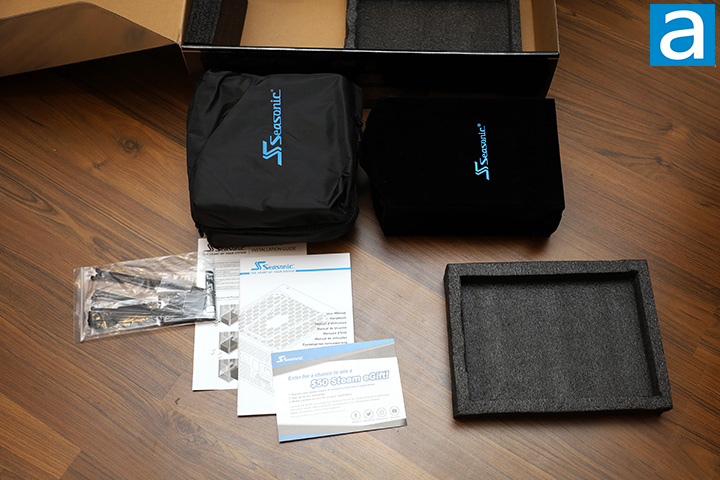 The Seasonic PRIME TX-1300 1300W's retail packaging can be opened by a flap attached on the right. Upon opening the box, you will find everything neatly organized. The power supply is located inside a drawstring suede bag on the right, cables in a nylon bag on the left, and everything else inside a resealable plastic bag. Out of the box, you will receive the PRIME TX-1300 1300W power supply itself, modular cables, AC power cable, power supply jump starter, Velcro straps, zip ties, four screws, case badges, manual, and a quick installation guide. Everything is presented well and appropriate for a flagship PSU.
---
Page Index
1. Introduction, Packaging, Specifications
2.
Physical Look - Outside
3.
Physical Look - Inside
4.
Minor Tests and Conclusion