By: Jonathan Kwan
January 27, 2012
Right now, I am facing a couple of problems. For one thing, I got a communications essay due on Friday. This assignment is for a course that all engineering students here at the University of Calgary is forced to take. Secondly, I have to finish this review by Thursday night as well, which, if you are reading this article right now, is probably some time in the past already. You know, it is Tuesday as I am writing this introductory paragraph. With that in mind, allow me to have some time to rant. The thing is, I don't see a reason why I need to take that course -- my English is just fine the way it is. As Ralph Wiggum would have said, "Me fail grammar? That's unpossible!" But regardless of how unpossible it is for me to fail grammar (My editors tend to disagree), there are two certainties of life: One is death, and the other is taxes. If taxes are a burden to you, sometimes, we just need to reduce spending on things we want, but are not necessarily needs. A couple of weeks ago, we have taken a look at the Thermaltake SMART 730W power supply. The SMART series is a value oriented line of PSUs designed to be not only budget friendly, but also eco-friendly. But the thing is, not everyone needs 730W. To cater to those who only need a power supply that delivers a moderate amount of juice, what we have here at APH Networks this morning is the 630W version in the same product line. With an extra rated 30W and $5 cheaper than the PC Power & Cooling Silencer Mk III 600W after mail in rebate at press time, how does it step up? Read on to find out!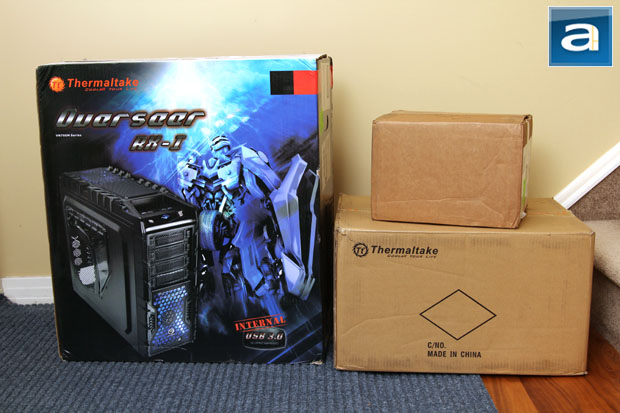 Our review unit of the Thermaltake SMART 630W power supply unit came in a surprisingly small, brown corrugated cardboard box from the company's American headquarters in California, USA; along with the Thermaltake SMART 730W as aforementioned. Traveling via UPS Standard over the course of Christmas, the trip took a little longer than usual to arrive to us here in Calgary, but arrived safely nonetheless. The larger of the two boxes that's not the Overseer RX-I contains the Bigwater 760 Plus reviewed by my colleague Devin recently; whereas the smaller container housed both the SMART 630W and 730W throughout the trip. It is hard to imagine how two power supplies can fit in such a small package, but the fact is, it did.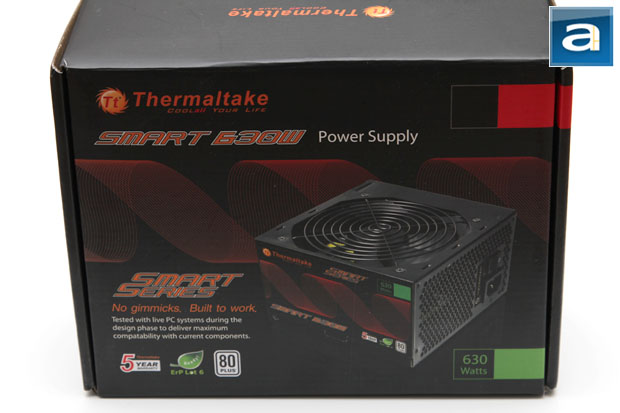 As always, we received our evaluation power supply from Thermaltake in retail packaging form. Because the SMART series is the company's new budget line of PSUs, they have stuck with very basic packaging -- nothing extravagant by a long shot. As such, they take up very little room, hence the reason why two of these can fit into such a small shipping box (That's not to mention the guys at Thermaltake's shipping department did not bother to include any packing material, haha). Incorporating a black and red color scheme, the box design is quite straightforward, as you can see in our photo above. I think the SMART series has two focuses. The first is "No Gimmicks. Built to work", and the second is its eco-friendliness. I am rather surprised to see a 5-year warranty on a PSU in this price range.
Before we move on, let's take a look at the specifications of the Thermaltake SMART 630W, as obtained from the manufacturer's website:
General
- Wattage: 630 watts
- Fan: 120mm Fan; 2000 RPM ± 10%
- Efficiency: 80%+
- PFC: Active PFC
- Hold-Up Time: 16ms at 50% Load @ 230 VAC 50Hz input
- Switches: ATX Logic on-off additional power rocker switch
- Motherboard Connectors: 20+4-pin Main Connector; 4+4-pin Power Connector
- Power Good Signal: 100-500ms
- Form Factor: ATX 12V 2.3
- Dimension: 5.5 x 5.9 x 3.4 inch ( L x W x H ); 140 x 150 x 86 mm ( L x W x H )
- Warranty: 3 years
- Certifications: 80PLUS Certified
AC Input:
- Input Voltage: 100 VAC ~ 240 VAC
- Input Current: 115VAC/10A Max. 230VAC/5A Max.
- Input Frequency Range: 50 ~ 60 Hz
- Inrush Current:
- Operating Range: 100 VAC ~ 240 VAC
- MTBF: 100,000
- RFI / EMI: UL, FCC, TUV, CE, BSMI
Environment:
- Operating Temperature: 10 ℃ to +40 ℃
- Storage Temperature: -40 ℃ to +70 ℃
- Operating Humidity: 20% to 85%,non-condensing
- Storage Humidity: 5% to 95%,non-condensing
Protection:
- Over Voltage Protection: Yes
- Over Current Protection: Yes
- Over Load Protection: Yes
- Over Termperature Protection:
- Under Voltage Protection:
- Short Circuit Protection: Yes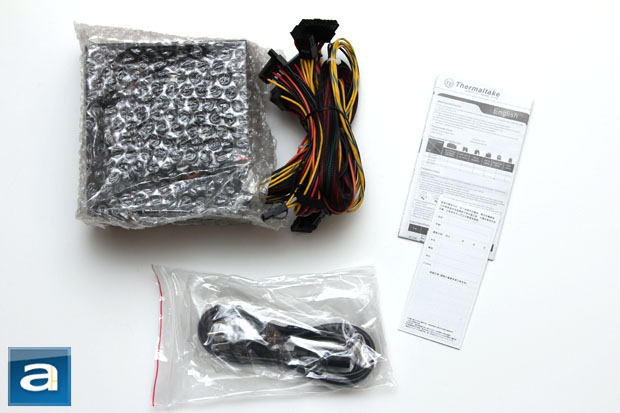 The Thermaltake SMART 630W's packaging is intrinsically simple. When they said "no gimmicks", they were not kidding, haha. After opening the flap top box, what you will get is Thermaltake SMART 630W power supply itself, one AC power cord, four screws, and two pieces of documentation. That's it. No zip ties, no Velcro straps, nothing -- just everything you would expect from a power supply intended for people on a limited budget.
---
Page Index
1. Introduction, Packaging, Specifications
2.
Physical Look - Outside
3.
Physical Look - Inside
4.
Minor Tests and Conclusion