By: Jonathan Kwan
November 10, 2023
How does one find a place to park their car? In general, there are two ways: You can either find a spot designed for parking cars, or you make your own parking spot. The former is obvious, while the latter needs to be done wisely, otherwise you could get your car towed. Earlier this year, my friends and I arrived at camp only to find out the parking lot was full. "Park in the middle of the parking lot," I told my friend who was driving. "Pretend this is a row of parking and others will follow." It was the middle of February here in Canada, and nobody can see any lines anyway due to the snow. Furthermore, we were not blocking anyone, and it is not likely anyone will do any enforcement on private property in the middle of nowhere. Sure enough, everyone arrived after us parked beside us, and that soon became a row of parking spots we basically declared ourselves. In a similar way, how does one make a computer power supply? You can follow all the traditional design rules, or you can create something different that is special or unique in its own way and others will follow. A few years ago, I reviewed the XPG Core Reactor 750W, which is a PSU that followed all the traditional rules for a great product. Today, we have the XPG Core Reactor II 1200W, which is an updated version of the series. Does it continue where it left off, or does it break any rules? Read on to find out!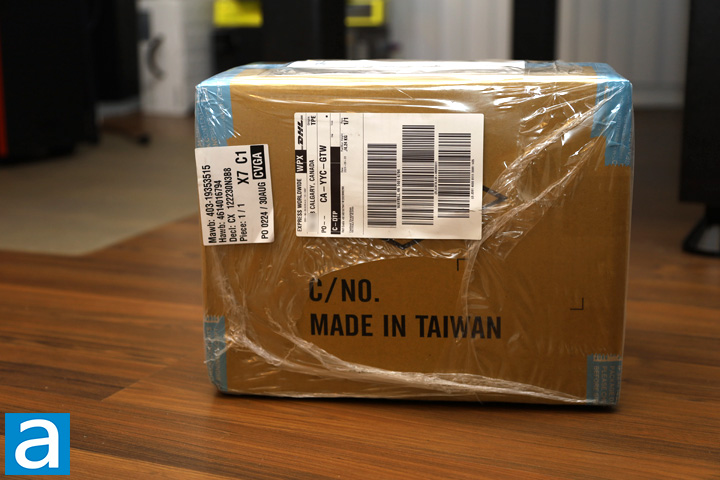 Our review unit of the XPG Core Reactor II 1200W arrived in a moderately large-sized brown corrugated cardboard box from the company's Taiwanese headquarters in Taipei. Using DHL Express, the shipping box arrived in great condition as did its contents to us here in Calgary, Alberta, Canada for our review today.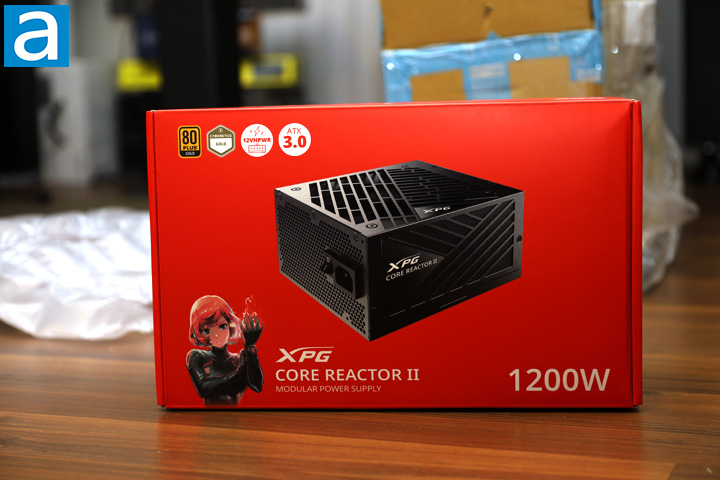 Inside the shipping box is the XPG Core Reactor II 1200W's retail box. It follows the same design template as recent products like the XPG Lancer RGB DDR5-7200 2x16GB DDR5 RAM. If you look at the photo above, they do not advertise the ADATA brand anywhere on the retail packaging as with recent products from the company. Their enthusiast sub-brand, XPG, takes center stage. The Core Reactor II 1200W's retail box is predominantly red with white text. XPG's logo along with the model name, product description, memory capacity, and speed is placed at the bottom left corner next to the female anime character. An array of icons highlights its 80 Plus Gold, Cybenetics Gold, 12VHPWR, and ATX 3.0 compatibility at the upper left corner. Across the middle is a three-quarter view of the power supply itself. Specifications and information like the fan curve profile, efficiency curve, and cable length information can be found on remaining sides of the box.
Before we move on, let us take a look at the specifications of the XPG Core Reactor II 1200W, as obtained from the manufacturer's website:
Dimensions (L x W x H): 160 x 150 x 86mm
80 Plus Rating: GOLD
ATX Version: ATX 12V v3.0 and EPS v2.92
Protections: OCP | OVP | OPP | OTP | UVP | SCP | NLO | SIP
Certification: CE | CB | FCC(IC) | TUV | cTUVus | TUV S-Mark | NOM | BSMI | UKCA | EAC | CCC | RCM
PFC: > 0.99
Input Voltage: 100-240V
Input Current: 15A
Input Frequency: 50Hz-60Hz
DC Output Voltage: +5V | +3.3V | +12V | -12V | +5Vsb
Total Output: +5V/+3.3V :22A, +12V:100A, -12V:0.3A, +5Vsb:3A
Power Excursion: 2820W (*up to 235% of the PSU's rated power for 100μs)
Operating Temperature: 50°C
Fan Size: 135mm FDB Fan
Fan Bearing: FDB (Fluid Dynamic Bearing)
Fan Speed: 2400 RPM
MTBF: 100K hours at full load
ATX 24 Pin Connector: 1
EPS 8 Pin Connector: 2
PCI-E 6+2 Pin Connector: 8
Molex 4 Pin Connector: 3
12VHPWR (12 + 4) Connector (600W): 1
SATA Connector: 9
Weight: Product+cables: 1.77kg+1.28kg; with Package: 3.43kg
Warranty: 10 Years
The XPG Core Reactor II 1200W's retail packaging can be opened by a flap attached at the bottom. Upon opening the box, you will find everything neatly organized. The power supply is securely clipped between two black-colored foam brackets inside a clear plastic bag. Everything else is located inside a black Velcro nylon bag. Out of the box, you will receive the Core Reactor II 1200WXPG Core Reactor II 1200W power supply itself, modular cables, AC power cable, four screws, quick start guide, and some stickers. The bundle is minimalist but sufficient.
---
Page Index
1. Introduction, Packaging, Specifications
2.
Physical Look - Outside
3.
Physical Look - Inside
4.
Minor Tests and Conclusion