Page 2 - Bundle, Chipset, BIOS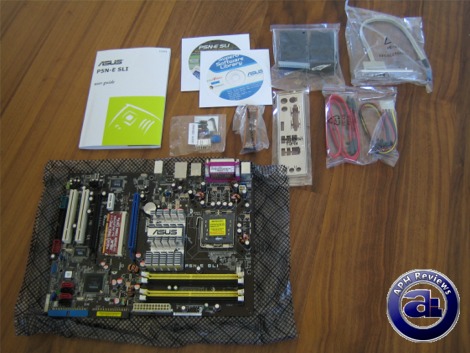 Out of the box, you will get the motherboard itself, along with a bundle of standard accessories. This includes a manual, 2 driver/software CDs, Asus Q-Connectors for case connections (Such as LEDs, switches) as well as a back I/O plate, a IDE and floppy cable, 2 SATA cables, Molex to double SATA power adapter, SLI bridge, and finally an internal USB to external USB connector that will occupy one of your unused add-on card slots at the back of your case.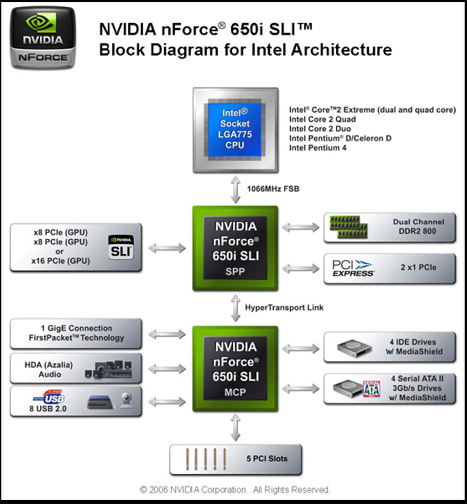 As obtained from NVIDIA themselves, is a chipset diagram for the 650i. While NVIDIA themselves did not advertise support for 1333MHz QFSB CPUs, majority of manufacturers (Including Asus) claims support for upcoming Intel CPUs with this specification.
Another separation between the 680i and 650i is the configuration and availability of PCIe slots. In SLI mode, the 16 available PCIe x16 lane will be shared into two x8 in SLI mode, while the NVIDIA 680i is capable of having full PCIe x16 bandwidth even in SLI mode. 18 lanes for 4 links can be configured in modes 8-8-1-1 or 16-0-1-1 on the Asus P5N-E SLI using NVIDIA's 650i chipset.
The 650i chipset also features native support for 4 SATA and 4 PATA drives, but only a single Gigabit Ethernet -- without NVIDIA DualNet, teaming, and TCP/IP acceleration. A total of 8 USB ports are supported natively.
RAID configurations available include 0, 1, 0+1, and 5. In addition to RAID, as to any/all motherboards, JBOD.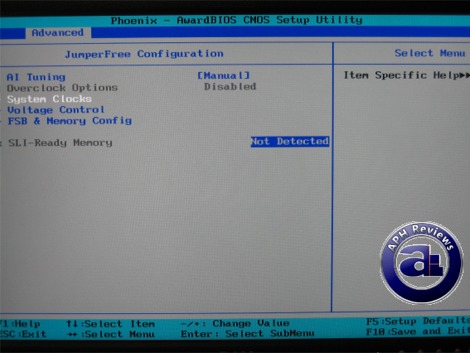 The P5N-E SLI uses a Phoenix Award BIOS. In the initial page of Asus P5N-E SLI's overclocking options, it shows a detection feature of SLI-Ready Memory. It seems that NVIDIA mentioned no support of EPP on the 650i chipset, but I have no SLI RAM to to test if this features work or not. The memory I used for this regard is a set of OCZ Special Ops Edition Urban Elite memory, which are plain old (good) RAM.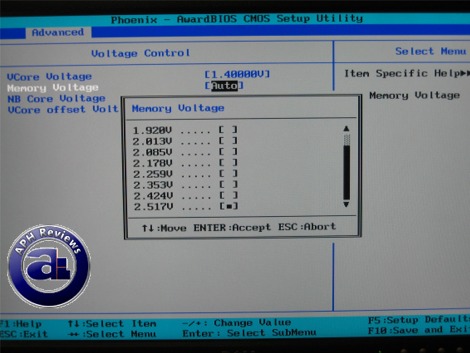 Memory voltage configuration. While traditional configurations include voltages such as 1.80V, 1.90V, 2.00V, etc., the Asus P5N-E SLI has configurations in the order of odd decimal places from 1.920V to 2.517V. To say the least, the range is not the largest I've seen, and RAM such as OCZ's Flex XLC PC2-9200 already requires 2.40V to start off.
VCore voltages ranges from 0.83125V to 1.60000V at 0.00625V increments. Northbridge voltage can be set to either 1.208V, 1.393V, 1.563V, or 1.748V. You can also have a VCore offset of +100mv for the benefit of overclocking.
Overclocking can be in linked or unlinked mode. In linked mode, the RAM speed moves in proportion to the CPU FSB, while in unlinked mode, the motherboard will automatically set a divider to let the RAM run as closely as the desired speed as possible. It will always run below the desired RAM frequency if the next value in the sequence is higher than the desired value -- even if the next value is just 2MHz above the desired speed.
Changing the FSB speed feels sort of weird. Normally, it will show the actual front side bus speed, and not the quad pumped value as on the Asus P5N-E SLI. I had to spend a little more time to do some mental calculations in my head in order to obtain the approximate clock speed of my CPU, which is calculated by (Value on screen / 4) * CPU multiplier. But, a calculator always comes in handy for everyone else who's lazy with math like me!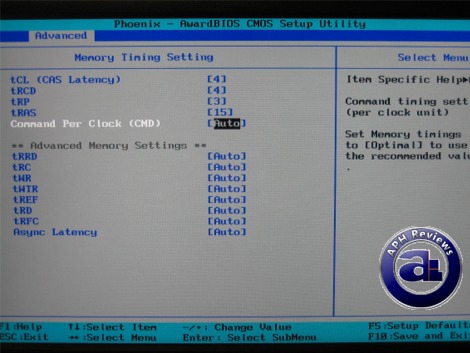 Memory timings are very... customizable, to say the least. It's definitely something welcomed from users who prefer to squeeze the most performance out of their memory in terms of timings and command rate. The tRCD and tRP is in the standard order this time; which confused some users as on other Asus motherboards such as the Asus P5W64-WS Professional, it was flipped around.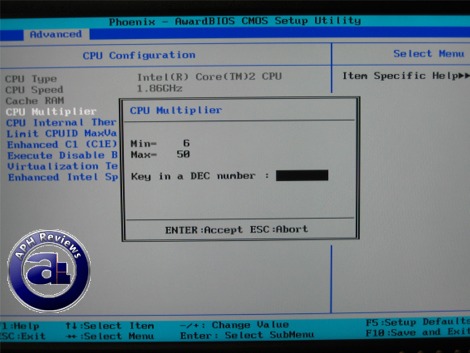 CPU configuration page. The multiplier is limited to the maximum specification determined by Intel, but if your multiplier is unlocked, have fun. Standard CPU feature configurations such as virtualization (If supported) as well as SpeedStep can be configured on this page.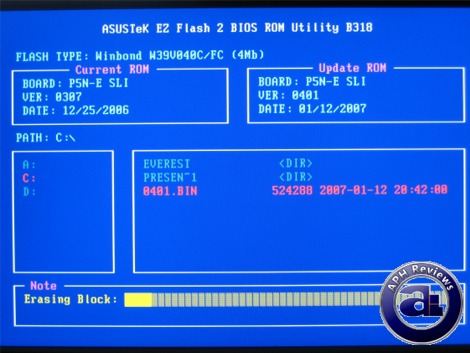 The Asus EZ Flash 2 utility. This utility can be launched within the BIOS to update the BIOS, which provides the end user a lot of convenience without bothering with floppy disks and DOS flash utilities (And, uhh, flashing within Windows haha). I had no problem obtaining a BIOS file and flashing from my USB flash drive.
---
Page Index
1.
Introduction, Features, and Specifications
2. Bundle, Chipset, BIOS
3.
A Closer Look, Board Layout
4.
Test System; Benchmark: 3DMark06
5.
Benchmark: PCMark05
6.
Benchmark: Cinebench 9.5, SuperPI 1M
7.
Benchmark: EVEREST CPU
8.
Benchmark: EVEREST FPU
9.
Benchmark: EVEREST Memory
10.
Benchmark: EVEREST Memory Latency, HDTach 3.0.1.0
11.
Onboard Sound, Overclocking, Conclusion