Page 2 - A Closer Look - Hardware (External)
The ASUSTOR AS4002T's external design is an implementation of the company's latest network attached storage system design scheme, which is an evolutionary update to the AS3202T and its predecessors. The AS4002T has an attractive diamond-cut exterior with a magnetically attached hexagonal plastic front cover. Even though the AS4002T is not meant to be a home entertainment device -- there is no HDMI port -- it does not hurt to have something that looks good in any room. The good news is it will not look out of place in an industrial setting either. The only thing I do not like about glossy black finishes is that they are incredibly fingerprint and swirl prone. That said, while the cover design is a departure from mainstream systems, there is nothing too radical at heart -- and this is a good thing. This is still a two-bay device in its traditional form factor. Measuring in at 11.4cm wide, 23.0cm deep, and 17.0cm tall according to specifications, these figures are nearly identical to other dual bay NAS systems from ASUSTOR. Like every consumer grade network attached storage system we have reviewed in the past, the ASUSTOR AS4002T features an external power brick; we will cover that in detail in just a moment. The advantage of this is that a heat source is placed outside the system for improved thermal efficiency.
One of the biggest improvements with the AS4002T are its removable front-loaded drive trays -- something ASUSTOR was unable to do with the AS3202T and other devices based on the same chassis. In order to access the removable front-loaded drive trays, simply pull the magnetic front cover off. The lack of ventilation slots on the front cover means cooling performance will be affected slightly. For the current design, airflow is over the hard drives driven by the rear mounted cooling fan inside the system and enters the NAS through ventilation slots at the bottom; more on this later.
ASUSTOR's logo is presented in a silver-colored finish recessed into the hexagonal cover and placed near the top right corner; a matching glossy black plastic surface occupies a slim vertical portion on the left. An array of six LEDs is located in this area. Under the power button at the top, the first one glows steady blue when the NAS is turned on and flashes every ten seconds in night mode. Next up is a system status indicator LED. When booting, it will flash green and turn steady when your NAS is ready. Moving below is a network LED, which will light steady blue with the standard Gigabit Ethernet port and purple with the 10 Gigabit Ethernet port. A USB indicator LED glows green when a USB storage device is connected and flashes when there is data access. Lastly, two green hard disk activity LEDs, each corresponding to their respective drives, will glow steady when the disk is idling and flash when data access is in progress. The HDD LEDs will turn red if a hard drive malfunctions. A one-touch backup button and USB 3.1 port are found on the front panel as well.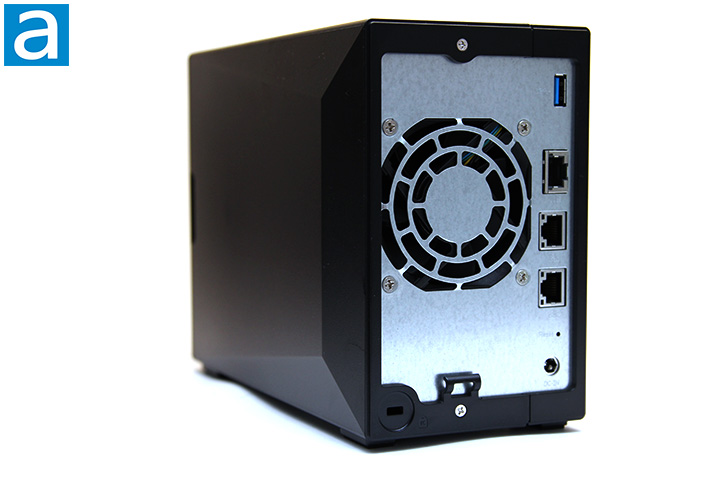 The ASUSTOR AS4002T is constructed on a steel frame, while its shell that covers the remainder of the sides of the system is composed of black plastic. The textured plastic is reasonably resistant to fingerprints and scratches. What we have at the back of the system is an extremely simple array of connectors. Here, we have a USB 3.1 port, 10GbE port, two Gigabit Ethernet ports, reset pinhole, and a DC 12V input from the external power brick. There is also a Kensington lock at the bottom left corner. Occupying a large chunk of space at the back is a single 70mm exhaust fan to pull heat out of your NAS server. Exhaust vents are cut into the steel panel. In my opinion, a proper fan grille would have been better, but this should not affect cooling performance to a significant degree.
The plastic shell is attached by two screws. There are no other user serviceable parts inside, but neither are there warranty seals. We will dig into the AS4002T's interior in more detail on the next page.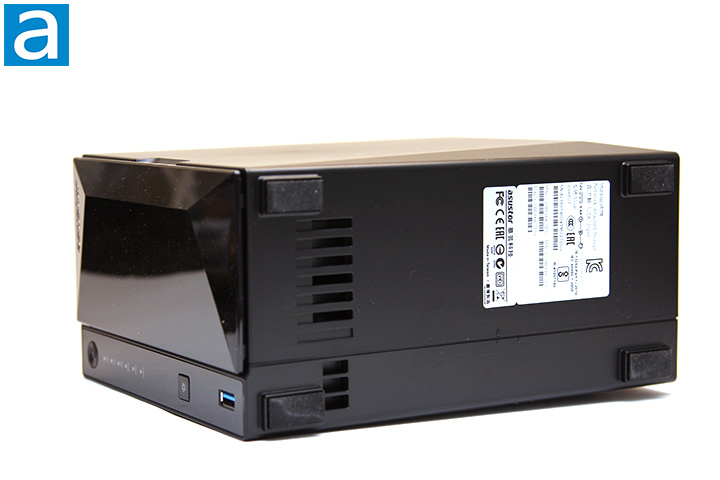 There is nothing particularly exciting at the bottom of the ASUSTOR AS4002T's chassis; what you will see here are four large legs affixed on top of its plastic shell. As always, they are installed to reduce vibration noise, increase grip, and prevent surface scratching. The bottom of the network attached storage system features a neat array of ventilation openings. It is placed right near the front, below the hard drives bays inside, as an air intake. A small inscription at the bottom labeled "Open" and "Close" is present to indicate the position of the plastic shell. You know, in case you could not tell it was open or closed in the first place.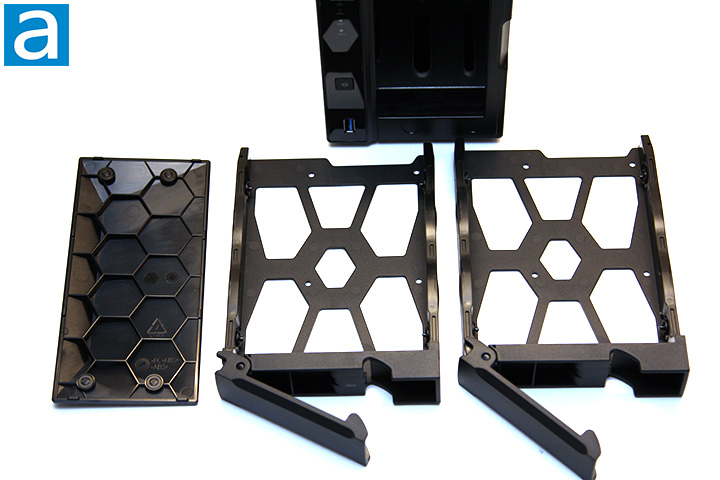 Removing the magnetic front cover and its vertically mounted 3.5" SATA disk trays reveals the connector backpanel. Two SATA 6Gb/s backplane ports are powered by an external Marvell controller. Since this is a SATA system, all hard drives are hot swappable. Removing the hard drive tray is very simple -- just pull on a lever at the top, and it is out. The disk trays are not labeled. Functionally, the installation order does not matter in a RAID system, but I think being able to discern which disk is which by a physical label can be very useful. Obviously, you can grab a permanent marker and mark them by hand, but labeling them "Disk 1" and "Disk 2" from the factory is probably not too hard. Each tray can accommodate a 2.5" or 3.5" drive, along with a maximum amount of ventilation openings at the bottom for improved heat dissipation. 3.5" drives can be installed tool-free with the side rails, but 2.5" drives call for four screws each. The trays are made out of plastic to prevent short circuiting. The ASUSTOR AS4002T supports single disk, RAID 0 (Disk Striping), RAID 1 (Disk Mirroring), and JBOD (Linear Disk Volume). ASUSTOR assured us both RAID 0 and RAID 1 increases the read speed as data is pulled from both drives. If you want to encrypt your data, you have the option to enable its AES 256-bit volume-based encryption.
---
Page Index
1.
Introduction, Packaging, Specifications
2. A Closer Look - Hardware (External)
3.
A Closer Look - Hardware (Internal)
4.
Configuration and User Interface, Part I
5.
Configuration and User Interface, Part II
6.
Configuration and User Interface, Part III
7.
Performance and Power Consumption
8.
Conclusion