By: Jonathan Kwan
September 21, 2018
A few weeks ago, I was eating lunch with a friend and his friend who is from Vancouver. After eating a rather large bowl of pho, I came to the sudden realization of my friend's friend -- who is a young Caucasian guy -- and his rather excellent chopstick skills. "You do not understand," he explained. "I am from Vancouver. Everyone from Vancouver knows how to use chopsticks. You get laughed at and get called a white boy if you asked for forks and spoons. You get tired of it eventually, you know?" Now that I think about it, having lived in Canada for so many years, it is normal to go to an Asian restaurant with people of all different backgrounds and simply expect them to use chopsticks. In fact, I have already long forgotten some people actually do not know how to use chopsticks until last week when I was hanging out with an Egyptian friend who is new to this country. As people change to adapt to culture, companies also change to adapt to changing consumer needs. In the past, I have reviewed the ASUSTOR AS3202T, AS3102T, and AS1002T, all of which has an attractive chassis design but lacks hot swappable drive bays. After repeatedly complaining about this inconvenient design choice in all of my reviews, the company is back today with the AS4002T. Not only does it have hot swappable drive bays behind a slick looking magnetically attached front door, it also features a built-in 10Gbps port along with two gigabit Ethernet ports to push the limits of network throughput. Will this be the dual bay NAS to buy in 2018? Read on to find out!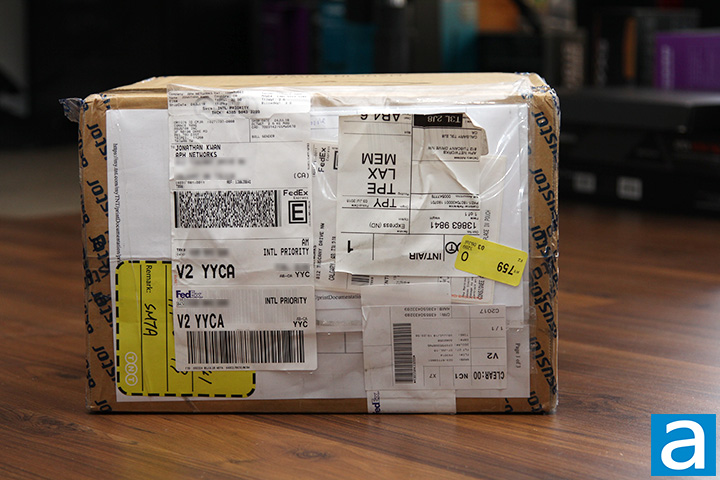 Our review unit of the ASUSTOR AS4002T arrived in a medium sized, brown corrugated cardboard box from the company's Taiwanese headquarters in Taipei, Taiwan. The box was sealed using ASUSTOR tape and plastered with labels on top. After making its trip all the way across the Pacific Ocean to Los Angeles, California, it then got to Memphis, Tennessee before finishing its final leg to us here in Calgary, Alberta, Canada. As always, FedEx got it to us in excellent condition, and the International Priority service is always quick and painless.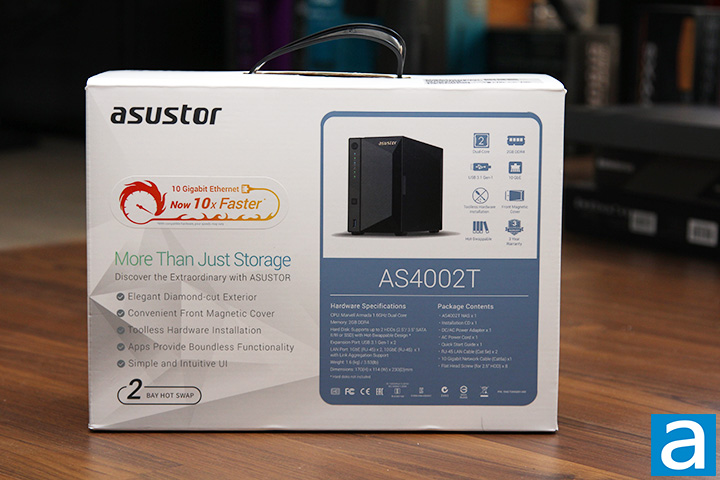 The ASUSTOR AS4002T came in retail packaging as expected. The shape and physical features of the box should be nothing new to people who have purchased network attached storage systems before; it is a familiar mid-sized corrugated cardboard box with a plastic handle on top so you can carry it around without too much hassle. As you can see in our photo above, the front face features a blue box with a photo of the NAS on top, a matrix of icons highlighting its features adjacent to it, model name, hardware specifications, and package contents. You will find ASUSTOR's logo at the top left corner. On the left side, a large sticker points your attention to its 10GbE network adapter. The company then proudly proclaims the AS4002T as "more than just storage" -- and indeed, it is -- a list under it points out the outstanding features of this system. Features highlights and specifications can be found on the remaining sides of the box.
Before we move on, let us take a look at the hardware specifications of the ASUSTOR AS4002T, as obtained from the manufacturer's website:
CPU: Marvell ARMADA-7020 1.6GHz (Dual-Core) Processor
Memory: 2GB DDR4
Memory Expandable up to: not expandable
HDD: 2 x SATA3 6Gb/s; 3.5"/2.5" HDD/SSD¹
Maximum Internal Raw Capacity: 24 TB (12 TB HDD X 2, Capacity may vary by RAID types)
Maximum Drive Bays with Expansion Unit: 10
Maximum Raw Capacity with Expansion Units : 120 TB (12 TB HDD X 10, Capacity may vary by RAID types)
Expansion: USB 3.1 Gen-1 x2
Network: Gigabit Ethernet x 2; 10Gigabit Ethernet x1
Output: N/A
System Fan: 70mm x 1
Power Supply Unit / Adapter: 65W x1
Input Power Voltage: 100V to 240V AC
Certification: FCC, CE, VCCI, BSMI, C-TICK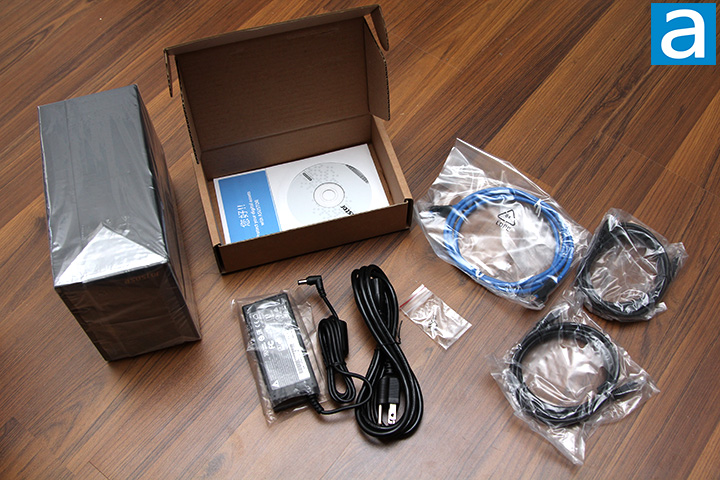 Opening the retail box reveals the ASUSTOR AS4002T clipped between two large Styrofoam brackets and wrapped in a large plastic bag to ensure no bumps and scratches occurs during transport. A separate accessory box holds all your accessories in place, making it organized and easy to find. Overall, I found the packaging to be simple and effective, and I have never had any problems finding what I need from the factory.
The following items are included for the end user:
1x ASUSTOR AS4002T
1x Power adapter
1x Power cord
2x CAT5e Ethernet cable
1x CAT6a Ethernet cable
8x Screws for 2.5" HDDs
1x Quick installation guide
1x Setup CD-ROM
---
Page Index
1. Introduction, Packaging, Specifications
2.
A Closer Look - Hardware (External)
3.
A Closer Look - Hardware (Internal)
4.
Configuration and User Interface, Part I
5.
Configuration and User Interface, Part II
6.
Configuration and User Interface, Part III
7.
Performance and Power Consumption
8.
Conclusion