Page 2 - A Closer Look - Hardware (External)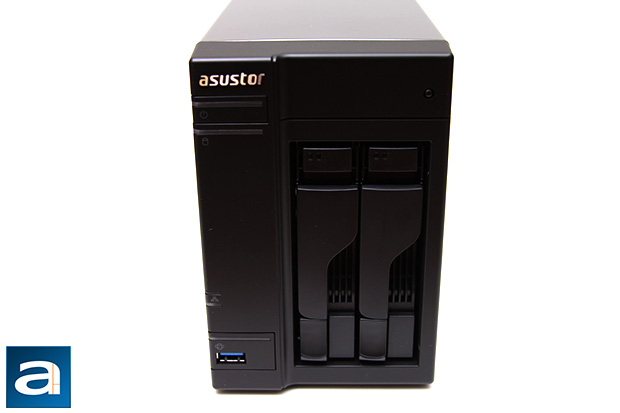 The ASUSTOR AS-202TE's external design is practically identical to the ASUSTOR AS-602T reviewed by my colleague Kenneth Kwok last year. From the angle of our photo above, the only thing that has changed is an infrared receiver above the second drive bay, used for the included remote control. This is a pretty useful feature, especially considering ASUSTOR wants to move their NAS into your living room as a media center system. On the other hand, if ASUSTOR wants to be taken seriously as an entertainment device, I think its industrial/datacenter appearance will need a makeover -- it looks too businessy for home users. As I have said the same in my QNAP TS-470 review, I am sure there is a way to please both groups.
The dual-bay AS-202TE measures in at 10.8cm wide, 23.0cm deep, and 16.4cm tall according to specifications -- just like the ASUSTOR AS-602T, and almost identical to the QNAP TS-219P II. Like every consumer grade network attached storage system we have reviewed in the past, the ASUSTOR AS-202TE features an external power brick; we will cover that in detail in just a moment. The advantage of this is that a heat source is placed outside the system for improved thermal efficiency.
ASUSTOR, like QNAP, has their NAS design more focused on an industrial/datacenter appearance as aforementioned, and fundamentally, they are very similar. The AS-202TE features two prominent and easily accessible vertically mounted disk trays, which can be unlatched when the button is pushed. Once unlatched, you can slide out the drive tray. However, unlike QNAP's business class devices, the ASUSTOR AS-202TE does not have lockable drive trays, but this should not be a problem for home users. The ventilated disk trays provide excellent airflow over the hard drives driven by the rear mounted cooling fan inside the system. ASUSTOR's embossed logo is finished in brushed silver-colored metal, and placed near the top left corner; whereas a black, textured hard plastic surface occupies the rest of the front face.
Under the ASUSTOR logo is a power button with an LED strip in the middle that sits flush with the device. It glows blue when the NAS is turned on, and flashes when it is waking up from sleep. The LED will turn orange when it is sleeping, and will flash every ten seconds in night mode. Another LED strip resides below the power button. This time, it is a system indicator LED. When booting, the LED will flash green; it will glow steady when your NAS is ready. Moving below, there is room for two network LEDs, but one of them is blanked out, probably because the AS-202TE only has one network adapter. The network LED is blue. Lastly, another button that sits flushed with the device is placed at the bottom left corner. This is to be used with the USB 3.0 port placed neatly inside for quick backup processes. Having the USB port in the middle of the button looks pretty cool, but you will sacrifice some usability. Lastly, an array of LEDs can be seen at the top of each hard drive tray to indicate disk status. It will glow steady green when disks are idling, and flash when data is being accessed. A red LED will activate if there are any hard drive errors.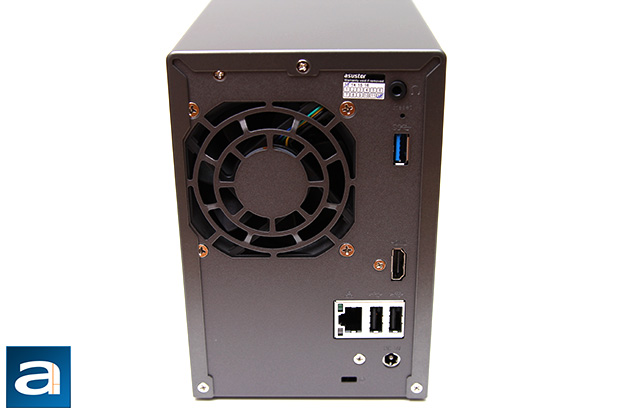 The ASUSTOR AS-202TE is constructed on a steel frame, while its shell that covers three sides of the system is composed of SECC in gunmetal gray. It looks pretty good in my opinion, but it is nothing we have not seen before -- QNAP implements almost the exact same design in their products. For most business users, the NAS will be placed in a room where no one will bother spending time admiring your equipment. But for others, this may end up being in their living room, so appearance is important, although I still do not think the AS-202TE will blend in too well with your home theater receiver and Bluray player. Don't get me wrong. It is not necessarily unfitting, but you can definitely do better.
What we have at the back of the system is a simple array of connectors, but enough to pass as a media center device. Here, we have an HDMI port at the bottom right above the pair of USB ports, and a 3.5mm audio output at the top right corner. Unfortunately, there is no S/PDIF output; the only way to get digital audio from your ASUSTOR NAS is via HDMI passthrough, or if you hook up a compatible USB sound card. The rest of the connection array is quite standard; there is one USB 3.0 and two USB 2.0 ports. You can connect up to three printers simultaneously. One integrated Gigabit LAN port resides next to the USB ports. At the bottom right corner is a DC 12V input from the external power brick. Occupying a large chunk of space at the back is a single 70mm exhaust fan to pull heat out of your NAS server. Exhaust vents cut into the steel panel. In my opinion, a proper fan grille would have been better.
The shell is attached by three screws. You will not void your warranty if you simply need to open the unit to clean out some dust off its fan. What the warranty seal covers is a screw that attaches the metal backplate to the chassis frame. You will void the warranty only if you want to take the motherboard out, but there are no user serviceable parts on it. Therefore, I think the warranty seal is placed in a reasonable location. We will dig into the AS-202TE's interior in more detail on the next page.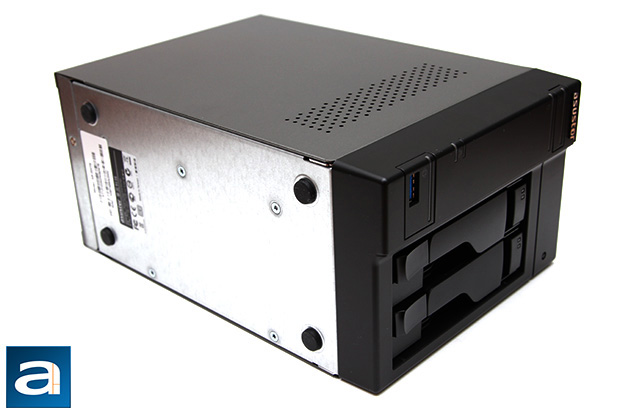 There is nothing particularly exciting at the bottom of the ASUSTOR AS-202TE's chassis; what you will see here are four large legs affixed on top of its steel frame panel. As always, they are installed to reduce vibration noise, increase grip, and prevent surface scratching. The left side of the network attached storage system features a neat array of small openings on its metal shell. It is placed right next to where the motherboard is inside, to make sure hot air does not get congested within.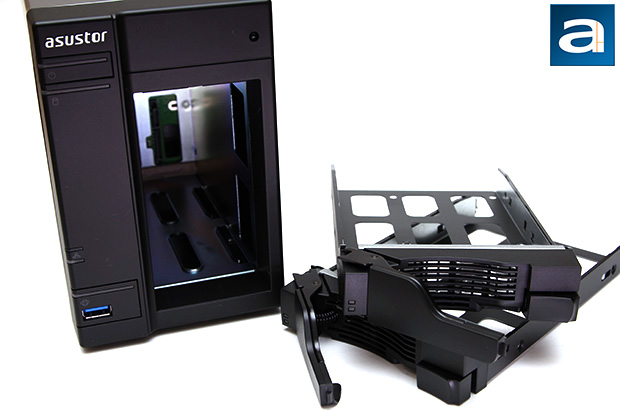 Removing its vertically mounted 3.5" SATA disk trays reveals the connector backpanel. The SATA backplane ports are powered by a controller native to the Intel Atom system on a chip. Since this is a SATA system, all hard drives are hot swappable. Removing the hard drive tray is very simple -- just push a button on the tray, pull on the lever, and it is out. The disk trays are not labeled. Obviously, you can grab a permanent marker and mark them by hand, but labeling them "Disk 1" and "Disk 2" from the factory is probably not too hard. Each tray can accommodate a 2.5" or 3.5" drive, along with a maximum amount of ventilation openings at the bottom for improved heat dissipation. The latest trays are inner lined with a black plastic layer to prevent short circuiting. The ASUSTOR AS-202TE supports single disk, RAID 0 (Disk Striping), RAID 1 (Disk Mirroring), and JBOD (Linear Disk Volume). If you want to encrypt your data, you have the option to enable its AES 256-bit volume-based encryption.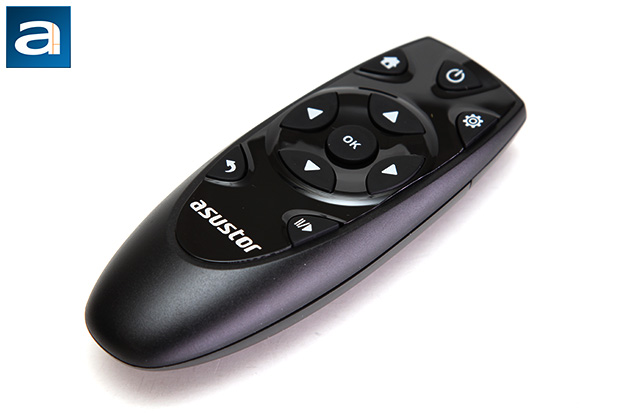 ASUSTOR includes an IR remote with the AS-202TE. It is powered by two AAA batteries; not included. If you are looking to place your network attached storage system in your living room, and use it as a media center PC, this will be an absolutely invaluable accessory. The remote control is very compact, and extremely simple in nature. As you can see in our photo above, there is a power button at the top, with a Home and Settings button under it. A D-pad with an OK button in the middle is present to simplify navigation tasks. At the bottom, you will find the ASUSTOR logo, and a Back button on the left. On the right, a Play/Pause button is aptly labeled with its corresponding symbol. Overall, you won't find a simpler remote control, and I am happy it is quite intuitively designed.
---
Page Index
1.
Introduction and Specifications
2. A Closer Look - Hardware (External)
3.
A Closer Look - Hardware (Internal)
4.
Configuration and User Interface, Part I
5.
Configuration and User Interface, Part II
6.
Configuration and User Interface, Part III
7.
Performance and Power Consumption
8.
Final Thoughts and Conclusion