By: Jonathan Kwan
January 8, 2016
Is six years ago a long time? Recently, I was talking to my friend, and this conversation came about. "Six years ago? You were still an LG -- literally." ('LG', in this context, is an abbreviation of "little girl" -- except used in a literal sense without any further implications.) For some people, six years ago was a long time, like my friend. But for me, without making myself sound too old, was a lot more recent than I perceived. When I was chatting with my colleague Aaron Lai about the last time I wrote an in-ear monitor review, it turned out to be the Arctic Cooling Arctic Sound E352 in early 2010. While we are quite the sound enthusiasts here at APH Networks, and my colleague Aaron Lai has reviewed the EMTEC Stay Earbuds Wireless as recently as August 2015, I am quite picky on the kind of audio products I cover. More often than not, they are either really good, like the V-MODA Crossfade Wireless, or really bad, like the Gigabyte Fly. When I came across Audiofly's product lineup a few months ago, I knew I was interested. The Australian company is a professional musician-driven manufacturer of premium and professional audio products. To see if they are as awesome as they look, we got in touch with them, and took in one of their midrange offerings, the AF56m, for our review today. The AF56m is a features 13mm dynamic drivers for "astonishing clarity over the whole spectrum with a rich and detailed bottom end… all with a nostalgic smirk". The little 'm' at the back means it comes with a microphone. Interesting fact: Six years ago, Audiofly did not even exist. But will that matter? Read on to find out!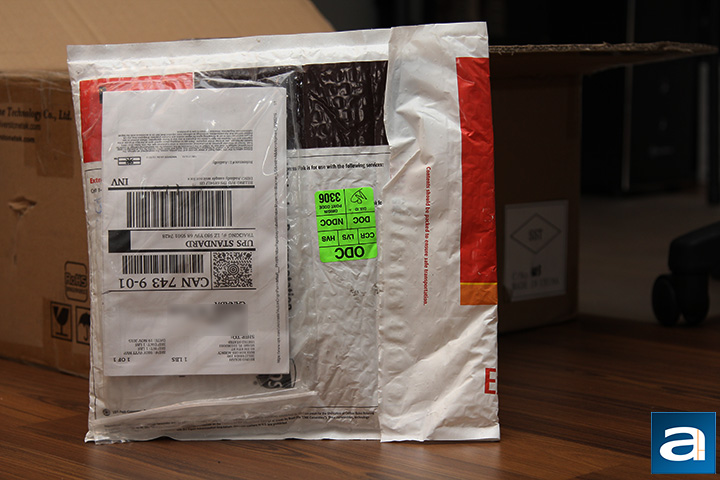 Despite the fact Audiofly is an Australian company, I was slightly disappointed to discover the package actually did not come upside-down to us here in Calgary, Alberta, Canada. Instead, our review unit of the Audiofly AF56m came in a padded envelope from the company's public relations firm in Miami, Florida, USA. While it is not as interesting as something arriving from Down Under, a peek outside the window makes me almost wish I was at Miami right now. Or at least Las Vegas, where my colleagues Preston Yuen and Aaron Lai are both hanging out for their coverage of CES this year. Anyway, UPS got the stuff to us using their Standard service, which arrived in great condition as always.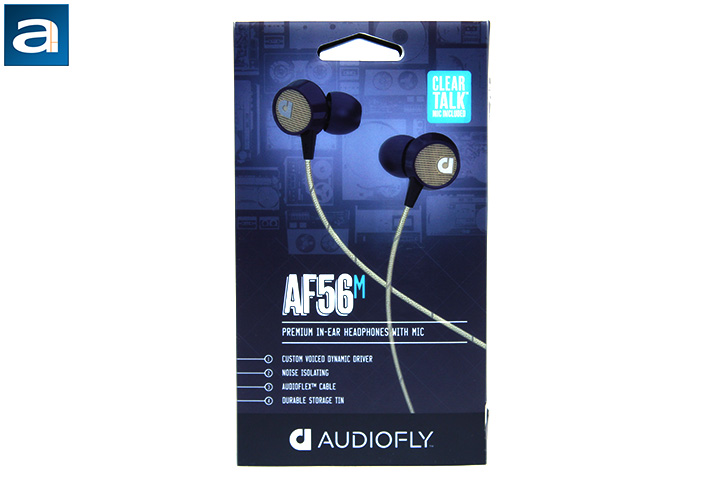 Our review unit of the Audiofly AF56m came in retail packaging. The box art carries a predominantly blue and black color scheme, but may be slightly depressing to look at, considering we are right in the beginning of January when writing this review, haha. That aside, the hang package will fit well in any retail store setting. The earphones in the Blue Tweed color variation is shown more than life-size in the middle, along with a strip showing the Audiofly brand along the bottom. A plastic window at the back of the retail package shows off exactly what is inside. Since this is the 'm' model, a label near the upper right hand corner calls your attention to its "Clear Talk" microphone designation. What I found particularly interesting is the rest of the text on the box is done in some sort of funky comic font. This includes the model number, product description, and feature highlight list, as you can see in our photo above. Thankfully, this novelty is not extended to the back, where a couple of product description paragraphs and expanded feature highlights with thumbnails are found.
Before we move on, let us take a look at the specifications of the Audiofly AF56m, as obtained from the manufacturer's website:
Driver type: 13mm dynamic driver
Magnet type: Neodymium
Frequency range: 18-20 kHz
Sensitivity: 118dB at 1 kHz
Impedance: 16 Ohms
Cable length: 1.2m / 47in
Plug type: 3.5mm gold plated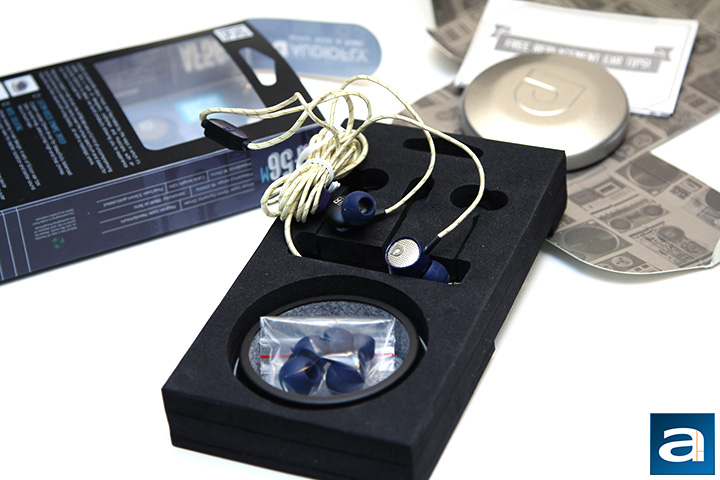 After sliding the contents out from either the top or the bottom, we were met with a second cardboard wrapper to unravel before getting to the meat of the contents. The meat of the contents, of course, are neatly organized on a black foam tray. Out of the box, you will receive the Audiofly AF56m earphones itself, three sets of sleeves (The medium tips are pre-installed for you already), tin carrying case, and a user guide/warranty information booklet. Needless to say, there is nothing fancy, but you will get everything you need to get going.
---
Page Index
1. Introduction, Packaging, Specifications
2.
Physical Look - Hardware
3.
Subjective Audio Analysis
4.
Conclusion