By: Aaron Lai
December 4, 2015
As Christmas is around the corner, or more specifically, twenty one days from the publication date of this review, I think it is only natural I should talk about all the things I like when this time of the year rolls around. Of course, there are the obvious things like the real meaning of Christmas, and spending time with family and friends, but otherwise, the first thing I can think of is the food. We have a lot of gatherings with other people, so there often are a lot of meals. Next, I can say I really like snow. I know this is a bit of a polarizing -- no pun intended -- aspect of winter in general, but I really like snow. I think it just makes everything feel more calm. However, the third thing I really like, and may not necessarily be obvious, are the lights. It is always nice to drive home at night, only to see homes brightly lit with their multiple colors. I was always sad my parents never put lights on our house, but at least I saw it on other houses. In fact, there is always one place I drive by near my neighborhood where the home owners go all out and put up a dazzling display of lighting, lawn ornaments, and inflatable penguins. Sure, this is more than just lights, but without the bulbs shining, it would not be the same. The lights add the right sparkle to the whole scene. When cheero first contacted us to review a product, I was quite happy to get in contact with a new company. However, when I opened up today's review unit, the cheero Ingress Power Cube, I could not believe my eyes. Not only does this power bank charge your devices, but its bright lights and dazzling display of LEDs really "light up my world like nobody else". However, while the cheero Ingress Power Cube is one spectacle to the eyes, how does it actually perform? A couple of weeks back, we saw the EMTEC Power Connect, an impressive-on-paper portable charger, fall flat when it came to actually powering our devices. Will the cheero Ingress Power Cube fare a better fate? Read on to find out!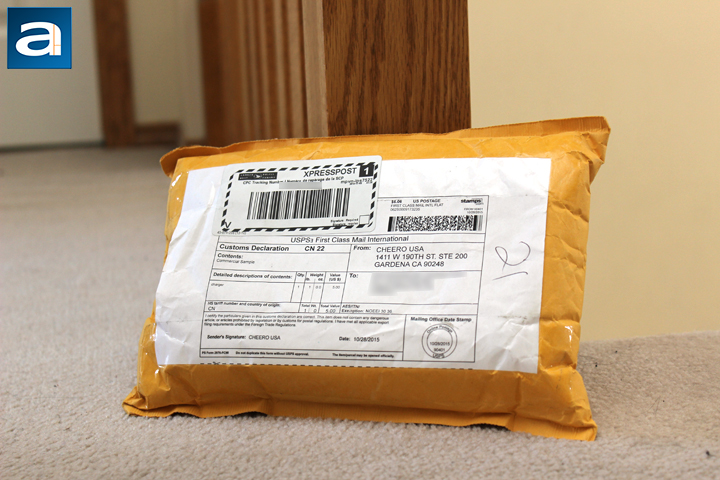 The cheero Ingress Power Cube arrived from cheero's American offices down in Gardena, California. Just like a lot of other California places we have seen, Gardena is located quite close to Los Angeles. Gardena is a city in the South Bay area of the Los Angeles County, with a population of almost 60,000 residents as of 2013. Interestingly enough, Gardena hosts one of the largest percentages of Japanese Americans in California, which would make sense, as cheero is a Japanese company. For some hockey related content, Pittsburgh Penguins forward Beau Bennett is also from this city. As for the parcel itself, it arrived through United States Postal Service and Canada Post, operating in their respective countries. This bright orange padded envelope looked quite wrinkled when I first saw it, but thankfully all the inner bubbles were present to protect the product inside.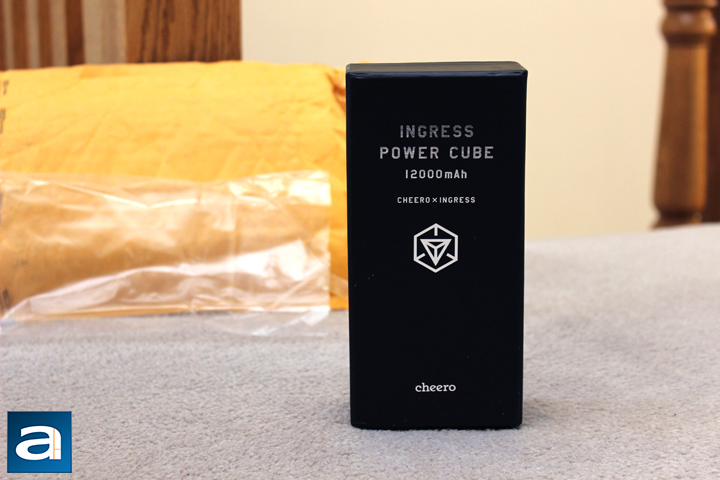 Ripping open the envelope, we have a clean black box housing the cheero Ingress Power Cube. It was held in a plastic bag to prevent any surface scratches on the retail container. On the front there is the name of the product and the size of the internal battery, which is 12000mAh. Cheero's logo is also listed on the front. On the sides there are no words, but rather two vertical blue and green bars just for aesthetics. The back has a few certification information, but otherwise, the box is quite simple. You might be asking why the name is Ingress, and this is because cheero has partnered with the mobile game maker Niantic, Inc. to showcase their game called Ingress. This augmented reality game uses location and places in the world with virtual portals created at certain landmarks in the real world. Niantic is also the same application developer co-developing the much hyped Pokémon GO with Nintendo for their release in 2016. Personally, I am excited for that game, but this is another tangent, so I will move on with my review.
Before I continue, I have pulled up the specifications, for your perusal:
- Output: USB1: 5V/1A, USB2: 5V/2.1A
- Input: 5V / 1.6A Micro USB
- Body Weight: 9.5 oz (270g)
- Dimensions: 6.1(L)× 2.8(W) × 0.7(H) inches (156.5mm×72mm×19mm)
- Recharging time: Approximately 10 hours *With use of 2A USB AC adapter
- Capacity: 12000mAh 3.7V (44.4wh), Lithium polymer battery
- Function: Remaining power level indicator (4 LED lamps)
- Package Included: Micro USB charging cable (Black) / carrying pouch, user manual / warranty card (1 year warranty) / Special Ingress MOD card (Power Cube, ADA Refactor, Jarvis Virus)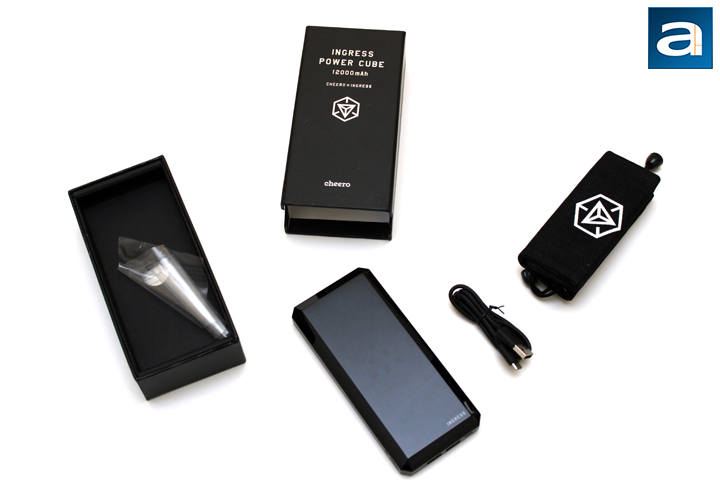 To open up the retail container, you slide out the drawer from the bottom. In addition to the portable charger itself, there is a micro USB charging cable measuring approximately 71cm in length, and a nice mesh bag to hold the charger and the cable. The bag has separate compartments inside, so you can slide your device in while it is being charged. Additional documentation is included, which has the user manual and a warranty information on it. On a related note, the warranty period for the cheero Ingress is one year. Finally, there is a code included with the first 8000 units sold to unlock some Ingress in-game features. Otherwise, there is not much else to note, so let us take a closer physical look at the Ingress Power Cube itself.
---
Page Index
1. Introduction, Packaging, Specifications
2.
Physical Look - Hardware
3.
Test Results
4.
Conclusion