Page 3 - Test Results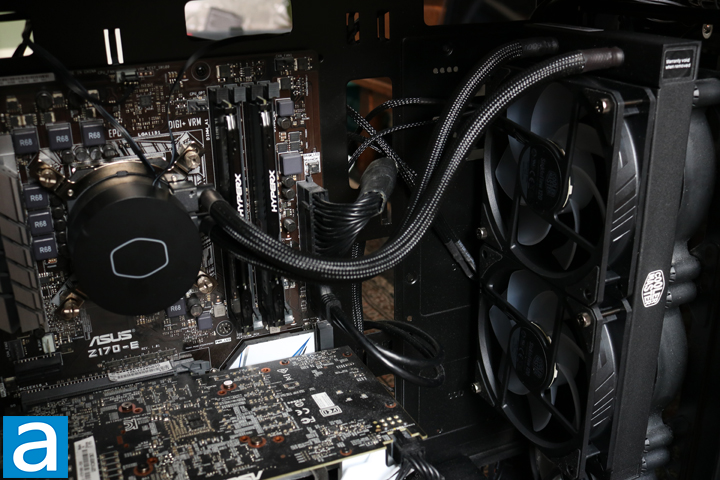 Our test configuration is as follows:
CPU: Intel Core i5-6600K @ 3.9GHz (Stock settings)
Motherboard: ASUS Z170-E
RAM: Kingston HyperX Fury HX421C14FBK2/16 2x8GB
Graphics: ASUS GeForce GTX 1060
Chassis: FSP CMT520
Power: Corsair RM650X 650W
Storage: Kingston SSDNow UV400 480GB; Seagate BarraCuda ST1000DM003 1TB
Operating System: Microsoft Windows 10 Home x64
Compared hardware:
- Cooler Master MasterLiquid ML240 V2 RGB
- Fractal Design Celsius S24
- XPG Levante 240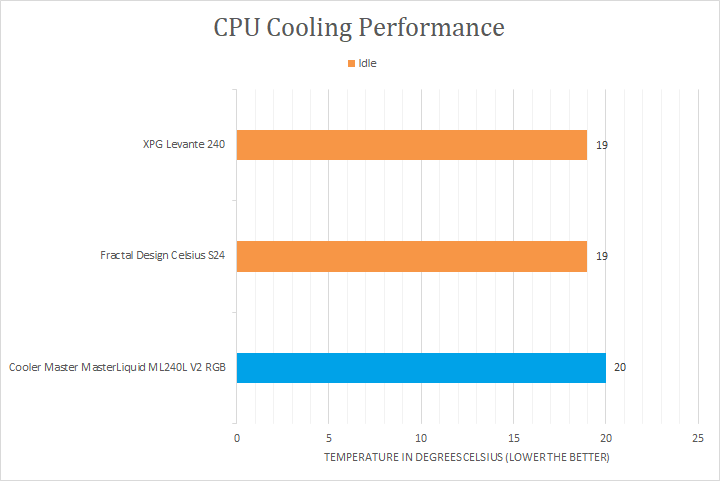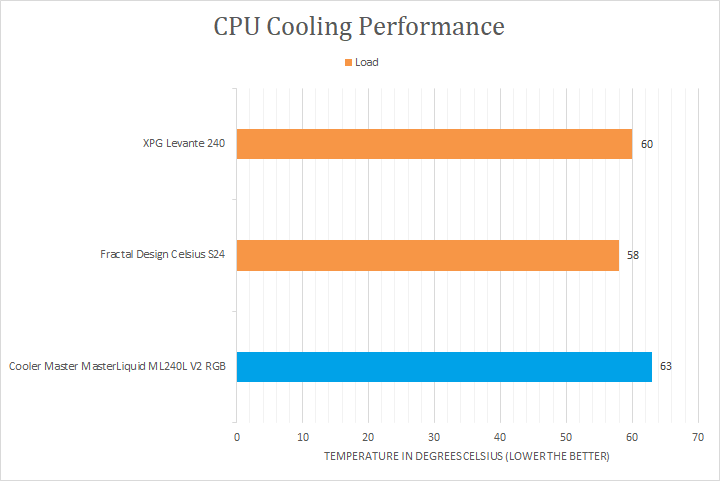 All tests were run in our custom-built computer to best reflect real life performance. The computer remained in the same place and room throughout all tests. The ambient temperature in the room was around 19 degrees Celsius. The thermal paste applied to each cooler was stock respective to their manufacturer to rate its performance; all pastes had sufficient time for them to settle. The fans on all heatsinks were connected to the same motherboard 4-pin connector. The test computer was turned on and idling for at least one hour for the idling tests. High CPU load results were obtained using the Prime95 in place large FFTs test with four worker threads for a minimum of fifteen minutes and recorded when the temperature was deemed stable.
After idling the system for a while, the idle results were found. The other two coolers on the list, the Fractal Design Celsius S24 and the XPG Levante 240, performed the same. However, the CPU cooled using the Cooler Master MasterLiquid ML240L V2 RGB was just a bit higher in temperature. All the coolers were still quiet at this point, since they do not need to work very hard. The idle tests are a small indication of the actual cooling performance, so let us move on to the load tests.
When it came to the tests under load, there were some differences. The Fractal Design Celsius S24 did the best at 58 degrees, while the XPG Levante 240 was not far behind at 60 degrees Celsius. The Cooler Master MasterLiquid ML240L V2 RGB added a few more degrees at 63 degrees Celsius. Overall, the Cooler Master MasterLiquid ML240L V2 RGB delivered acceptable performance, albeit behind the other two 240mm coolers.
Noise emissions is subjective to the human ear, but we still try to give an accurate rating for these coolers. On a scale of 0 to 10 using the APH Networks standard subjective sound scale, where 0 is silent and 10 is loud, I would rate the Cooler Master MasterLiquid ML240L V2 RGB at 2.5/10 at idle and 4.0/10 when under load. It is overall a quiet cooler, and the fans generally do not get very loud.
---
Page Index
1.
Introduction, Packaging, Specifications
2.
Physical Look - Hardware; Installation
3. Test Results
4.
Conclusion