By: Ben Joubert
June 19, 2020
One of Calgary's great advantages is how close the mountains are. During the winter, there are a few ski hills to choose from, but skiing is only one of the many activities one can do during the winter. The summer is also not without a myriad of activities to choose from. One of them is hiking. There are all sorts of trails to choose from. All the trails range in skill level from easy to hard. There are options to hike more in the mountains or more in the foothills. In the last few weeks, I have gone on a few hikes and have seen some magnificent views. There is a complete abundance of choices of which trail to take. It could be quite crippling to know which trail to take and where to go to have the best hike for the day, especially since some of the trails are difficult to find or difficult to navigate. My wife and I went on a hike the other day and missed our turn onto a trail. The instructions we had were to look for a trail on the right immediately after crossing a river. The trail we were looking for was very small and easy to miss. We walked a bit further than needed, but turned back and spent some time trying to find it. Having friends who know the mountains make it much easier to decide on where to go, particularly if they are familiar with all the trails. There is a similar issue when it comes to deciding on a cooler for a processor. There are many choices from air coolers to water coolers to having RGB LEDs; finding the right one is a challenge. Today, we have the Cooler Master MasterLiquid ML240L V2 RGB up for review, which will hopefully make it easier for someone to decide on a future cooler for their computer. Read on to find out if it is any good!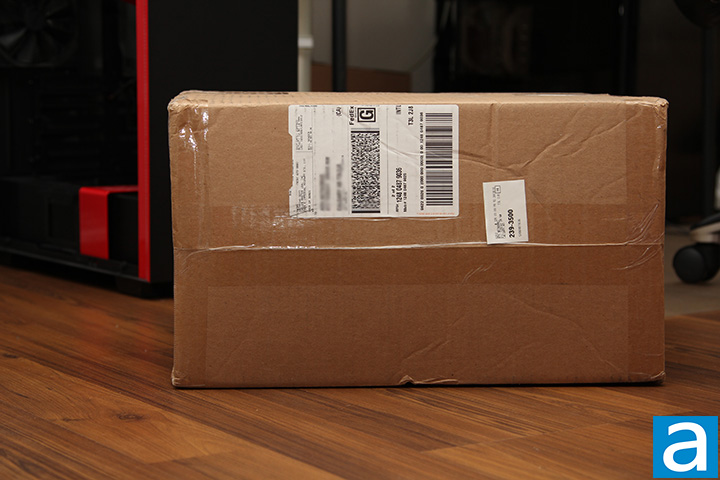 The Cooler Master MasterLiquid ML240L V2 RGB arrived in a rather big box, since it contained multiple other Cooler Master products. It arrived all the way from Brea, California to Calgary, Alberta. In addition to the cooler, we also received the Cooler Master SickleFlow 120 Series, Cooler Master MWE 650 White V2 650W, and the Cooler Master MM831. As you can see in the above picture, the box arrived in good condition without any concerning damage. There were a few grooves in the box with the corners beat up slightly, but nothing to get worried about. After opening the box up, there was also some brown paper inside to cushion the contents even more.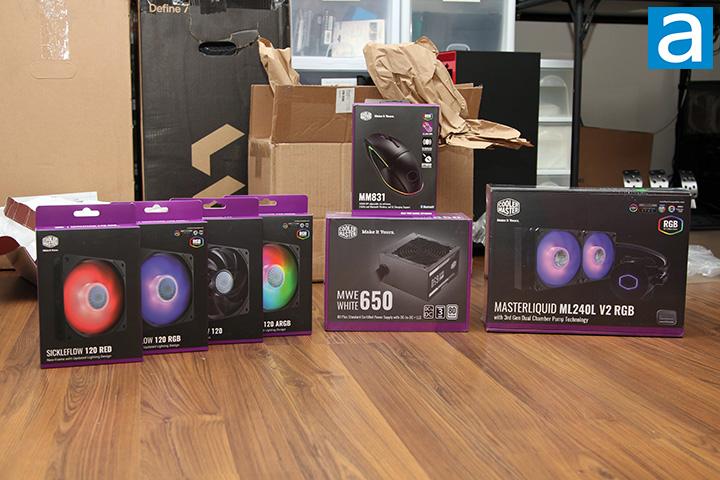 There were quite a few other Cooler Master products included in the box as mentioned previously. You can see them all in the above picture. Some have either been reviewed or will be reviewed in the near future. As you can see, the retail packaging for all of them follows a similar theme of a black box with some purple accents. Specifically for the Cooler Master ML240L V2 RGB, its RGB capabilities are placed front and center. The top right of the box details all the motherboards that the ARGB LEDs can be connected to. If you do not have an ARGB capable motherboard, Cooler Master has helpfully added an RGB controller, which they advertise in the bottom right of the packaging. Below the name of the cooler, we see it has Cooler Master's third-generation pump, promising good performance. The rest of the box has either a blank side or some more detailed information on the cooler.
Before we move on, here are the specifications of the Cooler Master MasterLiquid ML240L V2 RGB from the manufacturer's website:
Exterior Color: Black
CPU Socket: LGA2066, LGA2011-v3, LGA2011, LGA1200, LGA1151, LGA1150, LGA1155, LGA1156, AM4, AM3+, AM3, AM2+, AM2, FM2+, FM2, FM1
Radiator Material: Aluminum
Radiator Dimensions: 157 x 119.6 x 27.2 mm / 6.2 x 4.7 x 1.1 inch, 277 x 119.6 x 27.2 mm / 10.9 x 4.7 x 1.1 inch
Pump Dimensions: 79.9 x 76 x 47.1 mm / 3.1 x 3 x 1.9 inch
Pump MTTF: 70,000 Hours
Pump Noise Level: < 15 dBA
Power Connector: 3-Pin
Pump Rated Voltage: 12 VDC
Pump Power Consumption: 2.36W (LED 2.21W)
Fan Dimensions (L x W x H): 120 x 120 x 25 mm / 4.7 x 4.7 x 1 inch
Fan Quantity: 1 PCS, 2 PCS
Fan LED: RGB
Fan Speed: 650-1800 RPM ± 10%
Fan Airflow: 62 CFM (Max)
Fan Noise Level: 8 - 27 dBA
Fan Pressure: 2.5 mmH₂O (Max) (mmH2O)
Fan Life Expectancy: 160,000 Hours
Fan Power Connector: 4-Pin (PWM)
Fan Rated Voltage: 12VDC
Fan Rated Current: 0.15A (LED 0.2A)
TDP: 200 W
Warranty: 2 years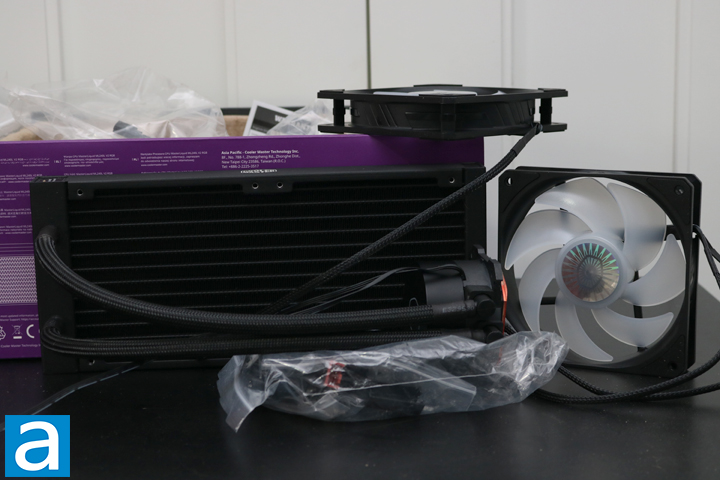 Inside of the packaging, we find quite a few pieces. The radiator was in a plastic bag to prevent surface-level damage, while the fans were kept close by. Around the perimeter of the components was soft cardboard to keep everything cushioned. A little plastic bag held all the parts required for installation. Cooler Master included quite a few cables and a small tube of thermal paste. Many manufacturers choose to pre-apply the thermal paste to the water block instead, which is helpful. By having a small tube, one can reinstall it without having to buy extra thermal paste, which is also nice. Overall, the packaging is done well and there are some useful extra pieces we will explore in more detail later in the review.
---
Page Index
1. Introduction, Packaging, Specifications
2.
Physical Look - Hardware; Installation
3.
Test Results
4.
Conclusion