Page 2 - Physical Look - Hardware and Software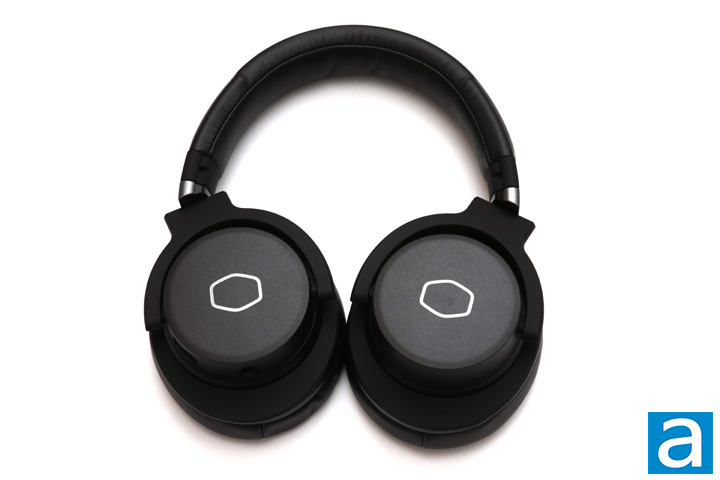 If there is one trend Cooler Master has been moving towards, it has been about aesthetically making their products look like an everyday item rather than confined to just gaming sessions. With a black finish all around, the MH752 fits this bill by looking quite understated and like some pair of cans from the audio world. Cooler Master has kept the branding to a minimum with just the hexagonal outlines on each ear. Anyone who does not know the brand would probably just think this is a pair of audiophile headphones. The outside of the ears are coated with a roughed black material to prevent fingerprints that could be left while handling the headset. The holders of each ear are covered with a soft touch material. Meanwhile, the headband is covered in PU leather. The same leather can be found on the earcups, as we will see later on. As for other materials, you can see most of the headset is plastic, but the extending arms are held together with an internal steel frame and a plastic shell around it. Overall, I really like how clean this design is, and I hope Cooler Master sticks to this formula going forward. Its build is also great and does not creak or make unwarranted noises under pressure. Everything feels solidly put together, which is another plus.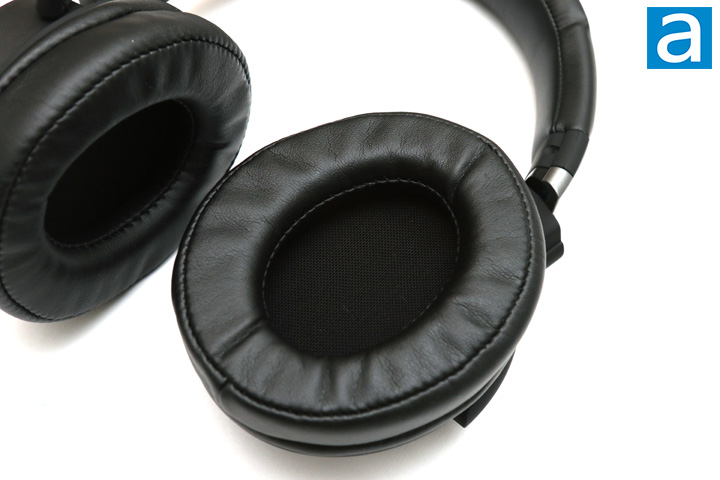 Taking a closer look at the ears, you can see Cooler Master has used an oval shape with a leatherette surface wrapping the ears sufficiently. Underneath this surface, we have a layer of foam that is plush and cushions your ears nicely. A padded fabric can also be found in between the headset and the earcups, which prevent your ears from touching any hard surface. The ears, as you can see, have the ability to rotate with a range of about 125 degrees. It also can tilt around a bit to better mold to the shape of your head. Internally, Cooler Master has used 40mm neodymium drivers in each ear with a frequency response of 20Hz to 20kHz. This should cover the entire audible spectrum for human hearing. In addition, the MH752 has a sensitivity of 97dB with a total impedance of 26 ohms. We will see how all of these play a factor into the audio testing later on.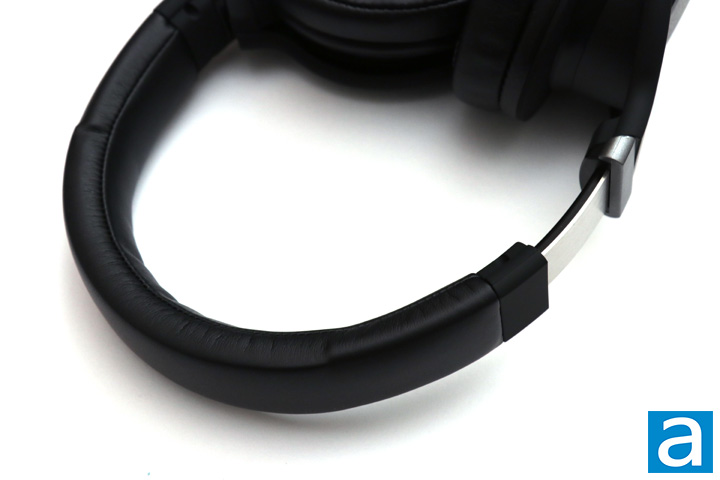 Flipping to the top of the Cooler Master MH752, you can see the headband. As we previously mentioned, this area is wrapped in bicast leather with a foam layer above and below the steel frame. I found this offered sufficient padding from preventing any pressure being felt at the top of my head. As for adjustments, you can increase the size of the headphones by extending the ears down on each side. Both sides are notched and provide enough friction from accidentally slipping out during use. I would have liked these notches to be marked on the headset with some sort of visual indicator. Otherwise, I like the exposed steel here, as it sticks with the clean and classy look.
In terms of overall comfort, I have to say I really am impressed with what Cooler Master has done. When I first put the MH752 on, I would never expect them to rival headsets in the comfort department like HyperX, but yet they have. Between the soft padding at the top and the sufficiently plush ears, Cooler Master have found an excellent formula here in the MH752. After adjusting the headset to a comfortable size, I never found the MH752 to apply too much pressure while still staying attached to my head. In addition, at a light weight of 250g without the cable, these headphones never felt too heavy to use. The only thing I did find was how warm the headset would get after several hours of use. If they want to keep the closed-back design, I would like to see interchangeable earcups with fabric covers to let users swap to a more breathable ear pad.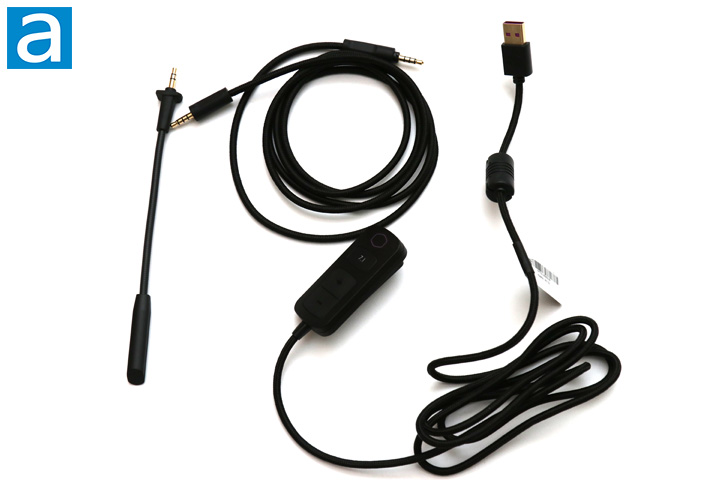 All of the inputs can be found on the extra cables provided by Cooler Master. Starting with the microphone on the left, this is an omnidirectional one that plugs into the left side of the headphones. It has a frequency response of 100Hz to 10kHz with a sensitivity of -42dB and a signal-to-noise ratio of 55dB. It is also placed on a very flexible boom arm, which can bend and stay whichever way I leave it. Next, we have a braided 3.5mm to 3.5mm cable measuring 1.5m in length. Cooler Master designed this cable to plug into the left side, but also lock in there with some neat plastic molding. This way the cable should not be coming out unintentionally. The braiding and the cable is pretty flexible, though not as smooth as some we have seen, such as the one on the Sennheiser GSP 500. Finally, we have the USB control box, which can be used if you plug the Cooler Master MH752 into your computer. On the unit itself, we have several controls. At the top we have a button marked 7.1 to enable and disable the virtual 7.1 surround sound. This button lights up red when it is enabled. Underneath, we have a single volume rocker to let you change the volume on the fly. As this is a USB unit, this will adjust the volume on your PC directly. On the left side of the controller, we have a switch to mute the microphone, while the volume rocker below lets you adjust the input volume of the microphone. Finally, on the back we have a plastic clip to let you fasten the USB sound card to your shirt so it does not dangle about. Otherwise, the attached braided cable leads out to a gold plated USB cable and measures 1.5m in length. This makes for a total of 3m of usable cable when plugged into a computer.
You may be looking for some software, but unfortunately, Cooler Master was unable to provide us with software prior to the review. I was able to find a link online, but when I tried to install the software, it would not detect my pair of headphones. Hopefully, it will be available when the product is available to the public. From what I understand though, the main thing the application adds to the MH752 is the ability to create and use different equalizer settings. Otherwise, the Cooler Master MH752 is a very solidly built pair of headphones with a timeless design and good attributes all over. We will now see how this pair of headphones competes in our audio testing.
---
Page Index
1.
Introduction, Packaging, Specifications
2. Physical Look - Hardware and Software
3.
Subjective Audio Analysis
4.
Conclusion