By: Preston Yuen
February 20, 2015
In this day and age, the capability of computers and software design tools producing high quality visual effects are exponentially becoming more prominent. In addition, performance-driven hardware are also produced to be able to support the output of high end visuals. Such examples include the release of full HD, and subsequently, UHD or 4K videos with respective compatible (U)HDTVs and the likes. By this logic, one may assume that with each incremental increase in performance, we would expect that their respective hardware will be working harder, and unfortunately, often comes at the expense of heat. Ultimately, this begs the question for manufacturers to consider new alternatives to cool their products without hindering its performance. First and foremost, using fans to circulate hot and cold air is one of the easiest and cheapest forms for such a concept. With technology progressing at such an exponential rate, we quickly arrive at the solution of using heatsinks and liquid coolants for better thermal transfer in addition the traditional fan, which conveniently leads us to the topic of discussion for today. What we have at our APH Networks headquarters is yet another closed loop liquid cooling product designed for cooling CPUs: The Cooler Master Nepton 240M. Not too long ago, we have reviewed the Cooler Master Nepton 280L by Yours Truly, and found it holds up quite well, even for the high end CPUs. The Nepton 240M, as its name suggests, features a smaller radiator, but with other minor improved features over its predecessor. Will the Nepton 240M be just as great as the Nepton 280L? We cracked opened the box upon arrival to find out just that.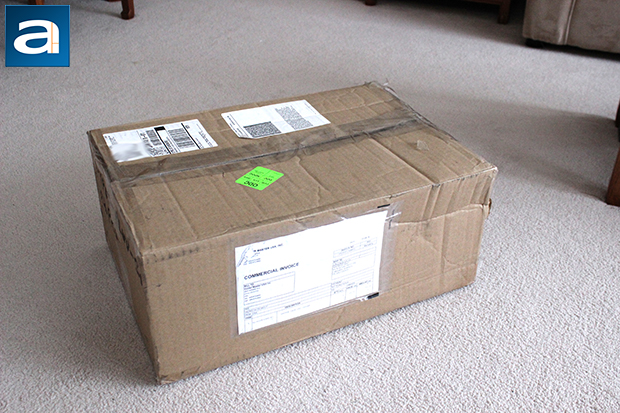 Our review unit of the Cooler Master Nepton 240M came in a large, brown corrugated cardboard box with photo credits courtesy of Aaron Lai, one of my colleagues. UPS Standard was in charge of delivering this parcel to our Calgary location in one piece and in rather decent condition. Pulling our product out of the box, we are glad to see that everything is with no bumps or bruises, as it has been packaged well.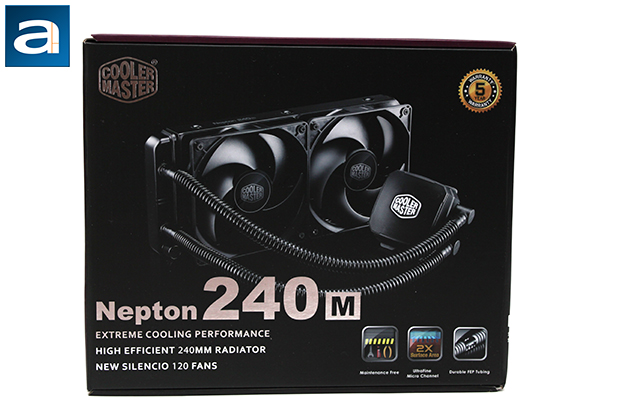 Taking a look at the packaging, you will notice that it is very straightforward, much like its older brother, the Cooler Master Nepton 280L. The background is predominately black, with the Nepton 240M blending right in. The contrasting font in silver and icons are printed around the box to further inform the end user of its features. As specified by its name, the Nepton 240M features a 240mm radiator, and as such, your chassis must be able to support its size. Enough with the chat, let us quickly take a look at the specifications of the Cooler Master Nepton 240M before moving on, as obtained from the manufacturer's website:
Specifications
- Model Number: RL-N24M-24PK-R1
- CPU Socket: Intel LGA 2011V3, 2011, 1366, 1150, 1156, 1155, 775; AMD Socket FM2, FM2+, FM1, AM3+, AM3, AM2+
- Radiator Dimensions: 274 x 119 x 27 mm; 10.8 x 4.7 x 1 inch
- Radiator Material: Aluminum
- Pump Dimensions: 75 x 69.8 x 49.1 mm; 3 x 2.7 x 1.9 inch
- Pump Waterblock Material: Copper
- Pump Noise Level: < 15 dBA
- Pump Rated Voltage: 12VDC
- Pump Power Consumption: 4.8W
- Pump Power Connector: 3-Pin
- Fan Dimensions: 120 x 120 x 25 mm; 4.9 x 4.9 x 1 inch
- Fan Color: Black
- Fan Speed: 800-2400 RPM (PWM) +/- 10%
- Fan Airflow: 16.5-76 CFM +/- 10%
- Fan Noise Level: 6.5-27 dBA
- Fan Pressure: 0.48-4.8 mm H2O
- Fan Bearing Type: Loop Dynamic Bearing (LDB)
- Fan Life Expectancy: 160,000 hours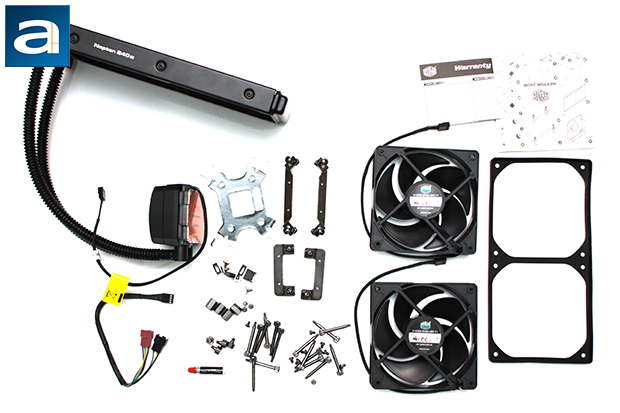 Pulling everything out of the box, you will notice all the corresponding parts are organized neatly in bags. I simply took the liberty to take all the small parts out and have laid them together accordingly to their respective piles. You will receive mounting brackets for Intel and AMD sockets with their respective screws already mounted. Additionally, you will receive the backplate, two fans, a Y-splitter, thermal paste, rubber dampening grommet, manual, and warranty information. Of course, you will find the Nepton 240M itself.
---
Page Index
1. Introduction, Packaging, Specifications
2.
Physical Look - Hardware; Installation
3.
Test Results
4.
Conclusion