By: Preston Yuen
April 11, 2014
"In the beginning, God created the heavens and the earth. The rest were Made in China." Unless you have been living under a rock, many products are made in China for one reason or another, whether it is for cheaper labor, cheaper parts, or just because. This is true for products such as Apple's iPads and iPhones. Not only are many products made in China, some products may look awfully alike. For those Apple lovers out there, one could say that every iteration of the Mac pretty much looks the same. And although designed in California, everything is assembled in China, as with many other products these days. By this logic, the quote as stated in the beginning seems to be very applicable Mac products. That said, as technology evolves overtime, some products become slimmer, lighter and faster, but there are also those that become bigger, yet they're still just as great for the most part. But is bigger necessarily mean that the product isn't as great as slim and light products? Wait... what? As paradoxical as it sounds, take mainframe computers. Back in the days, these computers were massive, but comparing with today's super computers and servers, there is simply no competition in terms of processing power and other such factors. No doubt, slim HDTVs, laptops, ultrabooks, and tablets work the same way. But when it comes down to aftermarket coolers, the more surface area it has, the more heat it would be able to dissipate, given the same material that are used. What we have here today at APH Networks is Cooler Master's very own closed-loop liquid cooling system, the Nepton 280L. Like Apple's philosophy, its radiator design looks awfully like the Thermaltake WATER2.0 Performer and Thermaltake WATER2.0 Pro, but they are not related at all. Will the philosophy of "bigger is better" apply? Let us take a closer look to see how well this beast performs!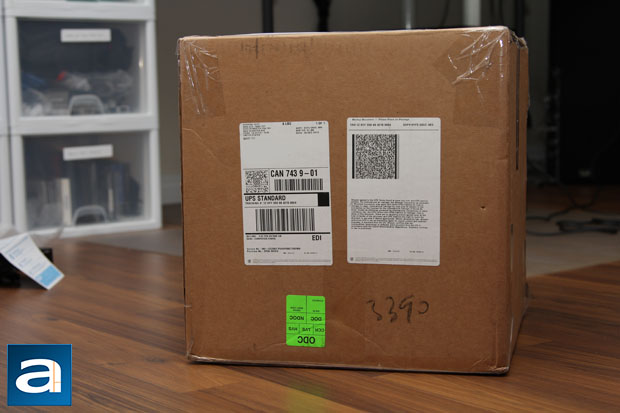 Our review unit of the Cooler Master Nepton 280L came along with the Cooler Master Storm Ceres 500 reviewed by fellow colleague Aaron a couple months back. Unfortunately, due to our busy schedule here at APH Networks, our review of the Nepton 280L is backlogged a bit. Regardless, we are able to present the review today. These items are all packaged together in a brown corrugated box. UPS Standard was in charge of getting this parcel to our Calgary location in one piece, and they did a decently good job as there are no bumps or bruises on the parcel. This usually means that the products inside are in good condition. Pulling our products out of the box, we are glad to see both the headset and the cooler are in good shape protected by standard brown packing paper to ensure that the products arrive safely to the destination.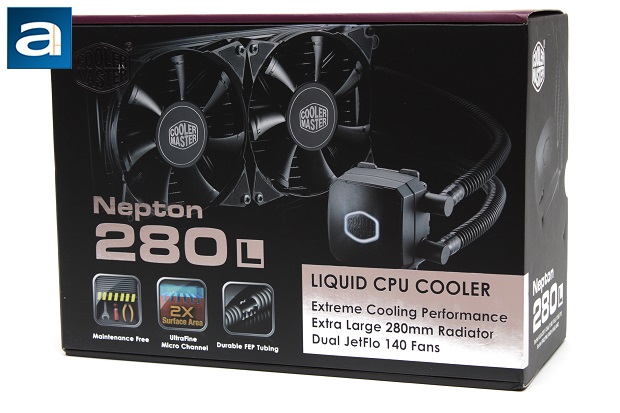 Taking a quick look at the packaging, you will notice that it is very simplistic and straightforward. The background is predominately black, which blends in with the color of the Nepton 280L itself, which is printed across the front of the box. Its model and other features are also shown around the box for your convenience. Note that your chassis must be able to support a 280mm radiator; hence its name. I have a SilverStone Fortress FT04, which supports 360mm radiators. Luckily for me, I was able to make some slight modifications to my chassis to support the radiator. In the ideal situation, you would want a chassis that is able to support its size. Enough with the chat, let's quickly take a look at the specifications before moving on, as obtained from the manufacturer's website:
Specifications
- Model: RL-N28L-20PK-R1
- CPU Socket: Intel LGA 2011 / 1366 / 1150 /1155 / 1156 / 775
- AMD Socket: FM2 / FM1 / AM3+ / AM3 / AM2
- Dimension: 75 x 69.8 x 49.1 mm (3 x 2.7 x 1.9 in)
- Radiator Dimensions: 311 x 139 x 30 mm (12.2 x 5.5 x 1.2 in)
- Radiator Material: Aluminum
- Fan Dimension: 140 x 140 x 25 mm (5.9 x 5.9 x 1 in) *support 120mm fan x 2
- Fan Speed: 800~2000 RPM (PWM) ± 10%
- Fan Airflow: 54~122.5 CFM ± 10%
- Fan Air Pressure: 0.7~3.5 mm H2O ± 10%
- Fan Life Expectancy: 40,000 hours
- Fan Noise Level (dB-A): 21~39 dBA
- Bearing Type: Rifle bearing
- Connector: 4-Pin
- Fan Rated Voltage: 12 VDC
- Fan Rated Current: 0.3A
- Power Consumption: 3.6W
- Pump Life Expectancy: 70,000 hrs
- Pump Noise: <25 dBA
- Pump Rated Voltage: 12 VDC
- Pump Power: 2.9W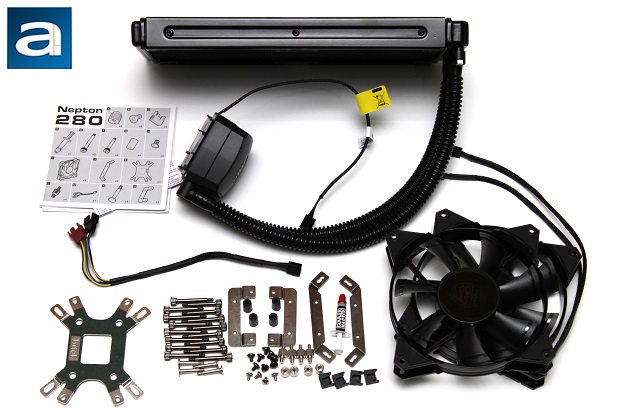 Pulling everything out of the box, you will notice that everything is organized neatly in bags. I simply took the liberty to take all the small parts out of the bag for my own personal organization. You will receive mounting brackets for Intel and AMD sockets and their respective screws. Other accessories include the backplate, two fans, Y-splitter for the fans, thermal paste, and a manual. Of course, you will also receive the Nepton 280L cooler itself. With everything in place, let's take a look at the water cooler itself.
---
Page Index
1. Introduction, Packaging, Specifications
2.
Physical Look - Hardware; Installation
3.
Test Results
4.
Conclusion