By: Preston Yuen
December 20, 2013
"I utterly hate them," my friend said one day. "Those software updates are so annoying -- there's so many of them!" Let's get to the heart of the problem -- why do we need them in the first place? Well, for one thing, they fix bugs that exist in current software code, whether it is a glitch, a security issue, or some other problem. It could be as simple as implementing new and improved features. It is a necessity for people to do work on their computer. But when it comes down to updating twenty different programs you have installed on your computer, it becomes a pain to do every single one, especially when all of them release a new update at the same time every two weeks. Now, the real question is: What is the most efficient way of updating all of my programs without doing so manually? I don't know about you, but the first thing that comes to my mind is to either program a script to retrieve and update everything, or to have my server push out all the updates to the numerous computers at the same time. Automation? Check. Efficiency? Check. Laziness? Well, that depends on your perspective. The point is, I have just turned tedious and potentially time-consuming work into efficient work. What we have here at APH Networks today is SilverStone's Fortress FT04 chassis. It's loaded with two giant 180mm fans and a one hundred and eighty degree rotated motherboard for maximum airflow, thus, minimizing on the number of fans needed to push air around. Automation? No. Laziness? Does not apply. Efficiency? Check. Now, let's get the show on the road and see what else this beastly chassis is capable of.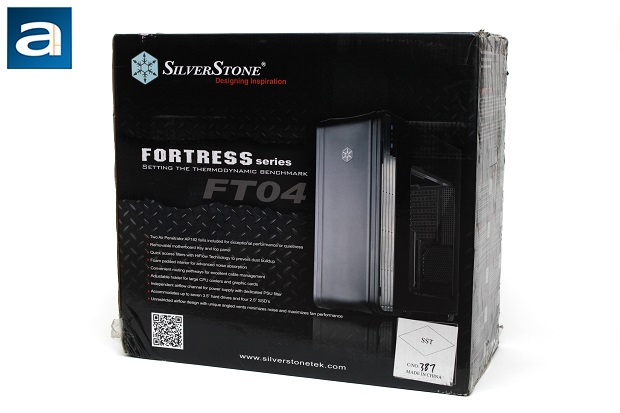 Our SilverStone Fortress FT04 unit arrived in a subtle black box with a studded pattern background, just like the Raven RV04 I have recently reviewed, from our good ol' neighbors down south in California, USA to our Calgary, Alberta office via FedEx Ground. There were a few bumps and bruises around the box, but it's not a big concern as our unit came well protected inside. Around the box, you will prominently see all the great features and specifications, along with the graphical designs used to portray the Fortress FT04 in all its glory.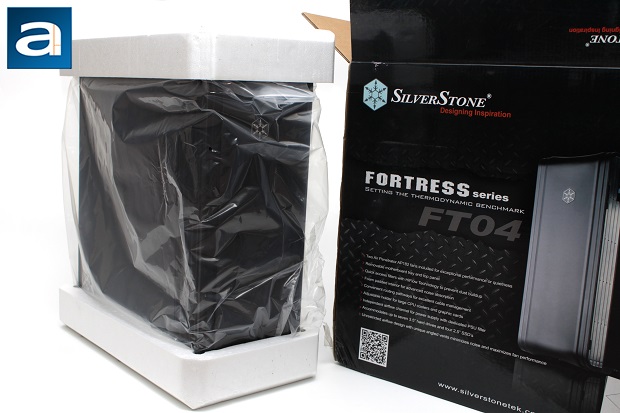 As per usual, like many cases that we have reviewed in the past at APH Networks, our unit of the Fortress FT04 was wrapped neatly in a plastic bag to prevent any kind of miscellaneous scratches, and was kept sandwiched between two large Styrofoam brackets to prevent bumps and bruises in transit. Furthermore, there is a perfectly cut out hole in the foam blocks for accessory box in one of the foam brackets. As always, we have taken the features and specifications from SilverStone's website for your convenience:
Features
- Two Air Penetrator AP182 fans included for exceptional performance or quietness
- Removable motherboard tray and top panel
- Quick access filters with HiFlow Technology to prevent dust buildup
- Foam padded interior for advanced noise absorption
- Unrestricted airflow design with unique angled vents minimizes noise and maximizes fan performance
- Convenient routing pathways for excellent cable management
- Adjustable holder for large CPU coolers and graphic cards
- Independent airflow channel for power supply with dedicated PSU filter
- Accommodates up to seven 3.5" hard drives and four 2.5" SSD's
Specifications
Model No.
- SST-FT04B (black)
- SST-FT04S (silver)
- SST-FT04B-W (black + window)
- SST-FT04S-W (silver + window)
Material
- Aluminum door and top panel, steel body
Motherboard
- SSI-EEB, SSI-CEB, Extended ATX, ATX, Micro-ATX
M/B Support
--
Multimedia
--
Drive Bay
- External: 5.25" x 2
- Internal: 3.5" x 7 (2 hot-swap), 2.5" x 4
Cooling System
- Front: 2 x AP182 180mm intake fan 500~2000rpm, 17~42 dBA (compatible with 3 x 120mm fan)
- Rear: 1 x 120mm fan slot
- Side: --
- Top: --
- Bottom: --
- Internal: --
Expansion Slot
- 8
Front I/O Port
- USB 3.0 x 2
- audio x 1
- MIC x 1
Power Supply
- 1 x Optional standard PS2(ATX) no length limitation
Operating system support
--
Expansion Card
- Compatible up to 13.3" long, width restriction-6.69"
Limitation of CPU cooler
- 165mm
Limitation of PSU
--
Net Weight
- 11.5kg
Dimensions (WxHxD)
- 219mm x 546mm x 482mm, 57.6 litres
Extra
- Support Kensington locks One CP05 included for single hot-swappable SATA hard drive, additional CP05 can be purchased separately
- Support VESA Mount
---
Page Index
1. Introduction, Packaging, Specifications
2.
Physical Look - Outside
3.
Physical Look - Inside
4.
Installation and Conclusion