Page 4 - Installation and Conclusion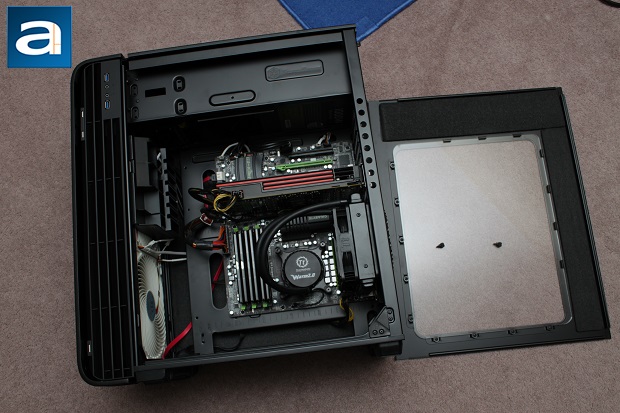 Because the hard drive rack and motherboard tray are fully removable from the SilverStone Fortress FT04, it really does not matter what you install first, because you could use almost all the room in the world to do your work. This is definitely a welcomed addition, after all, when is the last time you have seen a chassis with a removable motherboard tray in 2013? Because it houses the same interior design as the Raven RV04, I've skipped over showing how the motherboard tray is removed and went straight to installing everything in place. First, I installed my Gigabyte G1.Sniper. I then moved onto my power supply, and made sure all the cables were in the right place. Since I did not need to worry about hard drives, I simply left the hard drive rack out, so I would have a little bit more room to work with. I would also get a little bit more airflow, technically speaking -- not that it makes a significant difference. It would also make my setup look a bit cleaner with less clutter in my chassis.
Once all my components were in, I made sure my cabling job was neat and tidy, because the nice big window always showcases your hard work. With the plethora of space to work with, it is easy to manage cables, especially with all the cable management openings, so I quickly zip tied many cables together, and hid them behind the motherboard tray. The above probably is not my best cabling job, but simply for demonstration purposes, you can see that it does not take much effort to tidy up a bit. In my honest opinion, it is worth the effort to make it neat, especially for cases that display the inner beauty.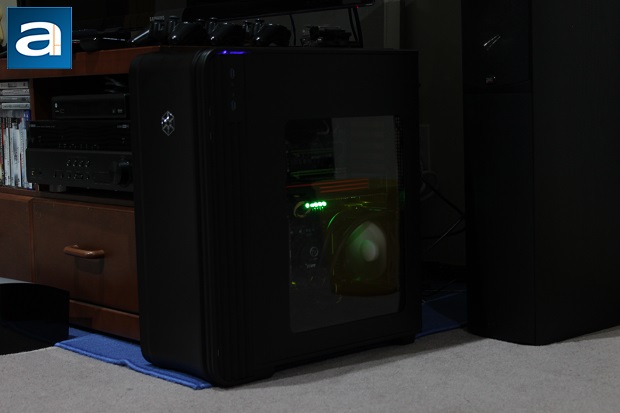 After plugging everything in the right place, our SilverStone Fortress FT04 system was ready to roll. Powering it up via the power button at the side brings my computer to life. Add interior lighting and will make it look even more extraordinary. If you like what you see, the SilverStone Fortress FT04 is a solid case to consider for your next shopping list.
While the Fortress FT04 has two large 180mm fans, it was surprisingly quiet in my opinion. On a scale of 0 to 10, where 0 is silent and 10 is loud, I would rate the fans at 2.5 subjective sound rating while leaving both fans on low speed setting. On high speed setting, I would rate it in at 3.5. Much like everyone else here at APH Networks, I am very picky when it comes down to sound emission, and I must say that the Fortress does a fine job at keeping the noise level to a minimum, even though it was not made to be a quiet case as a top priority.
-----------------------------------------
You know what they say -- two is better than one. The SilverStone Fortress FT04 may be superficially a reskinned version of the RV04, but trust me, it is better. It doesn't take much to see that I am a big fan of SilverStone's enthusiast chassis. But enough said; let's get back to the meat. The SilverStone Fortress FT04 keeps its clean and simplistic looks all around without compromising airflow performance. Although the side panels are constructed out of steel, it is surprisingly lightweight, as the other panels are made of aluminum. SilverStone also makes it convenient for you to clean your computer by placing a large dust filter in front of the dual fans, along with dedicated dust filter for the power supply fan to prevent the nasty stuff from clogging up your PC. If you buy the window version, and slap in your favorite lights, the FT04 will definitely flatter your friends. The front door keeps everything looking clean, while providing you convenient access to two 5.25" drives. In addition, there is plenty of space to work with in the FT04, even if you decide not to remove the motherboard tray. It draws plenty of cool air via the two AP182 180mm fans for high airflow; each with its own controller knob, too. To top it off, it comes with a one hundred and eighty degree rotated removable motherboard tray for easy installation and optimal cooling without compromising noise. The only thing I will nitpick about is the need to remove the entire hard drive rack to install HDDs may be a minor inconvenience to some users. Other than that, the SilverStone Fortress FT04 is a well designed piece of engineering. For those people who cannot decide between the Raven RV04 and the Fortress FT04 by looks alone, I would recommend putting the FT04 on your next shopping list, simply because it has better fans, sound insulation material, and a dust filter that's easier to remove on the top panel compared to the RV04. The Fortress FT04, without doubt, is a one-of-a-kind chassis.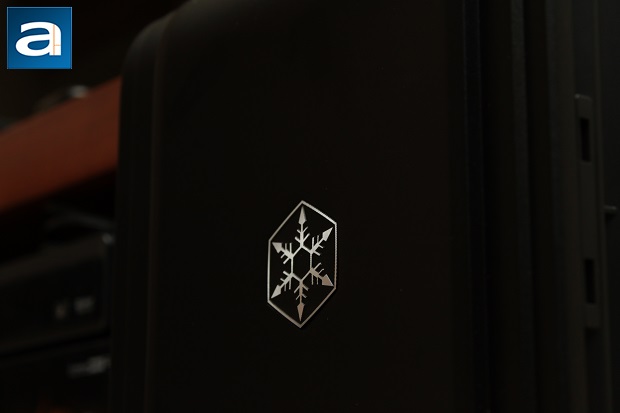 SilverStone provided this product to APH Networks for the purpose of evaluation.

APH:Recommended Award | APH Review Focus Summary:
9/10 means Excellent product with very minor drawbacks that does not affect the overall product.
8/10 means Definitely a very good product with drawbacks that aren't likely going to matter to the end user.
-- Final APH Numeric Rating is 8.1/10
Please note that the APH Numeric Rating system is based off our proprietary guidelines in the Review Focus, and should not be compared to other sites.
The SilverStone Fortress FT04 is a clean, yet simplistic, enthusiast chassis with many great and unquestionably awesome features that you cannot afford to miss on your next shopping trip.
Do you have any comments or questions about the SilverStone Fortress FT04? Drop by our Forums. Registration is free, and it only takes a minute!
---
Page Index
1.
Introduction, Packaging, Specifications
2.
Physical Look - Outside
3.
Physical Look - Inside
4. Installation and Conclusion