By: Jonathan Kwan
September 29, 2023
"你去死啦!" I said to my friend who was being annoying in a not-so-quiet voice in Cantonese, which literally translates to "go die" in English. I say it to her quite a bit, as the response is often warranted -- it does not sound nearly as bad in Cantonese as it does in English, given the cultural context -- but this time, she just glared at me. "Dude, we are in a funeral home," she replied. I looked around and made sure nobody else heard it, and thankfully there were not many people within proximity of our conversation, mainly because the expression was literally too appropriate, albeit also inappropriate at the same time, for the place. But what if we had something that was actually appropriate for the context without the inappropriateness? Crucial recently released the X10 Pro series, a flagship portable SSD for creative professionals. It promises large capacities between 1TB to 4TB, fast speed of up to 2100MB/s over the USB 3.2 Gen 2x2 interface, 256‐bit AES hardware encryption with password protection, IP55 certification for water and dust resistance, one month of Adobe Creative Cloud All Apps subscription, and universal systems compatibility over USB Type-C. At first glance, it looks like it is everything that someone like a videographer or photographer would want to complement their workflow. But will it deliver as promised? We tested the 2TB variant to find out.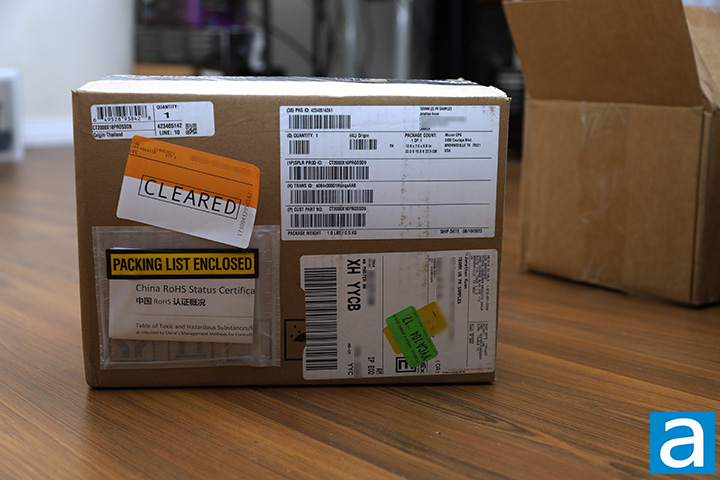 Our review unit of the Crucial X10 Pro 2TB arrived in a medium-sized brown corrugated cardboard box from Brownsville, Texas, which is nowhere near any Micron offices. However, this is where Avant Technology is located, which Micron partners with. Using the FedEx International Priority service, everything arrived in excellent condition to us here in Calgary, Alberta, Canada for our review today.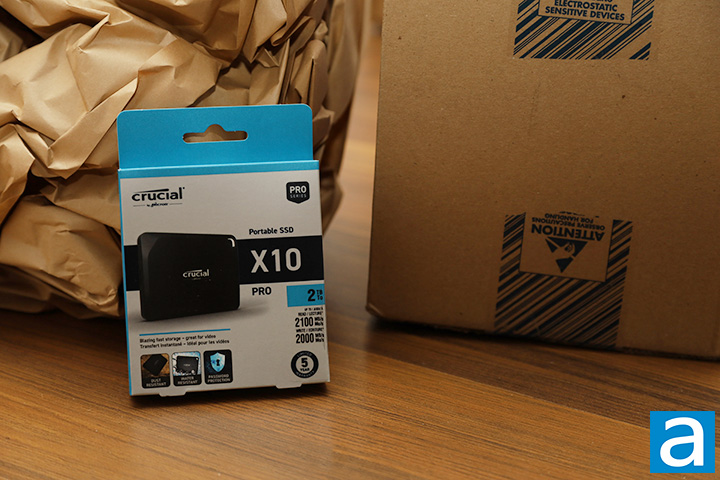 Crucial's retail package designs have always been about business, and the X10 Pro is no different. The simple, environmentally friendly box is revised with the same template as the Crucial P5 Plus 2TB (Heatsink Version) I recently reviewed. This relatively compact hanging box delivers the SSD into the hands of consumers with miscellaneous information printed on the back. As you can see in our photo above, the box art evokes a strong business feel. A photo of the Crucial X10 Pro portable SSD is shown in front of a white background. At the top, you will find Crucial's logo. Across the center inside a black band, you will find the X10 Pro model name. At the bottom is an array of icons indicating its dust resistance, water resistance, and password protection capabilities. Its product description and a sticker indicating its speed and capacity are located in various areas.
Before we move on, let us take a look at the features and specifications of the Crucial X10 Pro 2TB, as obtained from the manufacturer's website:
General tech specs
Interface: USB 3.2 Gen-2 2x2 (20Gb/s)
Form factor: External Portable
SSD series: X10 Pro
Capacity: 2TB
Speed & timing
Sequential Read: 2100
Sequential Write: 2000
Warranty & returns
Warranty: Limited 5-year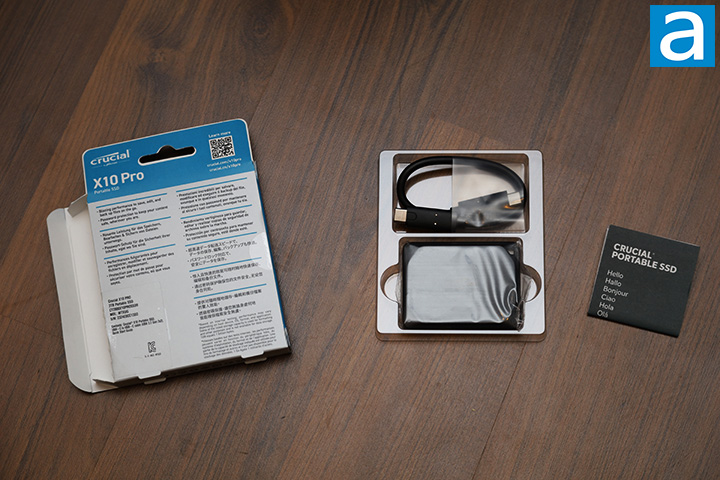 Out of the box, everything is neatly laid out thanks to a clear plastic tray and the fact there is not a whole lot of stuff to begin with. You will receive the Crucial X10 Pro 2TB itself, USB Type-C to USB Type-C cable, and a multi-language quick start guide. This no-frills approach keeps the retail box small and excess waste low, and I am always appreciative of companies who do not throw in extras for the sake of throwing in extras.
---
Page Index
1. Introduction, Packaging, Specifications
2.
A Closer Look, Test System
3.
Benchmark: AIDA64 Disk Benchmark
4.
Benchmark: ATTO Disk Benchmark
5.
Benchmark: Crystal Disk Mark 8.0
6.
Benchmark: HD Tune Pro 5.70
7.
Conclusion