By: Kenneth Kwok
Edited by: Jonathan Kwan and Herbert Lui
July 19, 2008
Today, SATA hard drives are still the most popular type of mass storage devices on the market today. Sure, there are flash SSDs -- but these SSDs easily cost around $500 for a 128GB unit. Even though SSDs are known for their performance, they are still undeniably pricier than a SATA hard drives with several times the storage capacity. With these cheaper SATA hard drives floating in the market today, we could easily buy more of them and obtain more storage for the price. On the other hand, if you are thinking about what you should do with extra hard drives laying around, you could always get an enclosure and put it in for additional storage as well. Such enclosures are especially good for those users with smaller cases, or just want to make use of unused SATA drives for external storage. Eagle Tech is not a new producer of hard drive enclosures, and promises solutions to external enclosures. To be honest, before this review I have never heard of the brand Eagle Tech. But after some research, I have seen many Eagle product on sale at online computer retailers for somewhat competitive prices. Today, we will be reviewing the Eagle Consus I-Series SATA to USB 2 Bay JBOD External Storage System; a mid-range dual bay hard drive enclosure, which retails for around $40 at press time.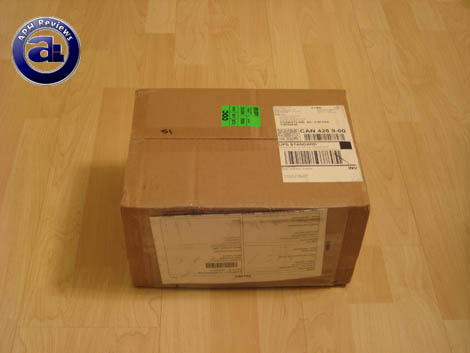 For once, when I received my review unit, I was able to answer the door and actually sign for the package. This package was shipped via UPS using Standard service from Eagle's offices in California, USA. As shown in the picture above, it came in perfect condition, with zero visible damage to the corrugated cardboard box on the outside. The retail box inside also came in mint condition, because the shipping box was filled with white packing peanuts.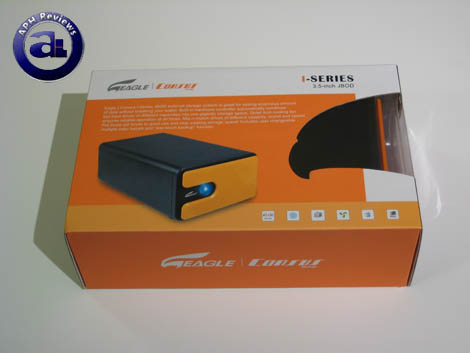 The Eagle Consus I-Series came in retail packaging. The colorful retail box consists of a light orange and white scheme on the front and back. There is a wave-shaped opening on the right side to allow for the potential buyer at a retail location to view the enclosure itself. A dominating black color scheme on the left and right sides of the box complement the light orange color scheme nicely. Overall, this is great product to put on retail shelves as the retail package design on the outside is quite impressive.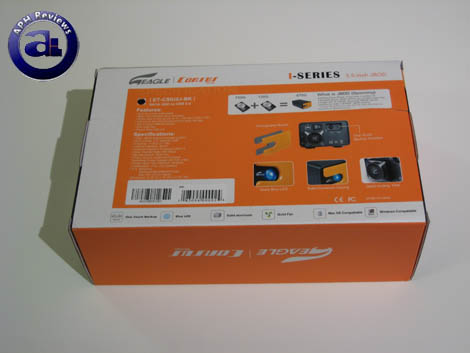 The back of the box has pictures displaying the features of the Eagle product in color. In terms of design, is very good; and the color scheme flows very well with the product itself. Before we move on any further, let's take a look at the specifications and features as obtained from Eagle's website:
Features
- 1-Button Backup with FNet software
- Changeable Bezel
- Built for media enthusiasts
- Works with 2 SATA hard drives
- JBOD (Spanning) Technology
- Massive 2.0 TB external storage subsystem
- Mix-n-Match hard drive of different size & speed
- 4cm smart fan cools your hard drives
Specification
- Internal Interface: SATA
- External Interface: USB 2.0
- Transfer Rate: 480mbps (USB)
- Supported Hard Drive: 2x SATA (Serial ATA-150 / Serial ATA-300)
- Power Source: External Switching Power Adapter
- Power Input: 100~240VAC, 47~63Hz, 1.2A
- Power Output: 5.0V, 2.0A / 12.0V, 2.0A
- Certification: FCC, CE Certified
- Microsoft O.S. Support: Vista/XP/2000/ME
- Others O.S. Support: Mac OS 9.0 or higher
- Dimension: 7.5" (L) x 3.25" (H) x 4.5" (W)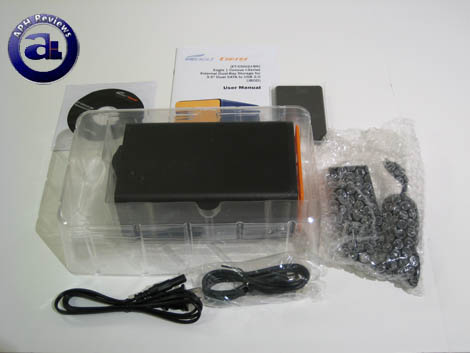 Out of the box, you will get the power adapter/cables, USB cable, screws for mounting the hard drive, and most importantly, the user manual. (Well, actually.) All these are all stored underneath the clear PET shell that surrounds the Eagle Consus I-Series ET-CSIU2J-BK with the default orange faceplate on. Meanwhile, a gray faceplate is also stored under the plastic enclosure for the Eagle Consus I-Series that the user can choose to swap between. The gray faceplate also had some plastic stripping on it, in order to protect the faceplate from being scratched inside the box. All together, the packaging did a great job of protecting everything in the box; and allows for easy access to its contents.
---
Page Index
Page 1 - Introduction, Packaging, Specifications
Page 2 - A Closer Look - Outside
Page 3 - A Closer Look - Inside, Installation
Page 4 - Testing & Conclusion